The Fluval UVC In-Line Clarifier is a new type of ultraviolet sterilizer that uses a less common form of lighting technology, cold cathode fluorescent lighting. Also known as CCFL, this type of illumination has been extensively used as a backlight for large televisions and computer monitors, but the Fluval In-Line Clarifier is the first UV Sterilizer we've seen using the technology for aquariums.
While many of the smaller UV Sterilizer models made for aquarium these days use some form of compact fluorescent lamp and to a lesser degree LEDs, by using a CCFL lamp the Fluval UVC In-Line Sterilizer can be smaller than comparably rated devices. With a power rating of just three watts, as the name implies Fluval is really targeting this UV sterilizer at clarifying aquarium water of either green algae or white bacterial blooms.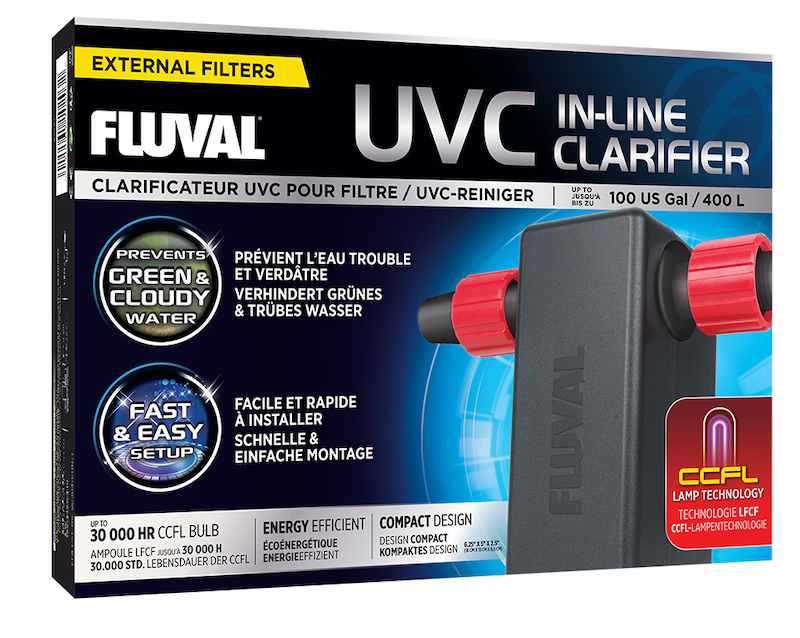 The 100 gallon aquarium volume rating is a generous one for simply clarifying applications where the clarifier can easily be placed in-line with the return hose of a canister filter with a maximum flow rate of just under 250 gallons per hour. The dual pass design maximizes the exposure of the water to the ultraviolet light emission peak of 235 nanometers. This is fully in the germicidal spectrum of ultraviolet light and perhaps you would see some reduction of aquarium pathogens on a smaller volume of water, and with a slower flow rate to increase exposure.
Two pronounced benefits of using a CCFL instead of a CFL is that the cold cathode tube runs cooler and won't contribute as much to heating of the aquarium water, and it lasts much longer at up to 30,000 hours according to Fluval. Better yet, the Fluval UVC In-Line sterilizer also includes a timer to allow the lamp to be run at 5 intervals from 4 to 12 hours a day, thereby extending the life of the CCFL even longer.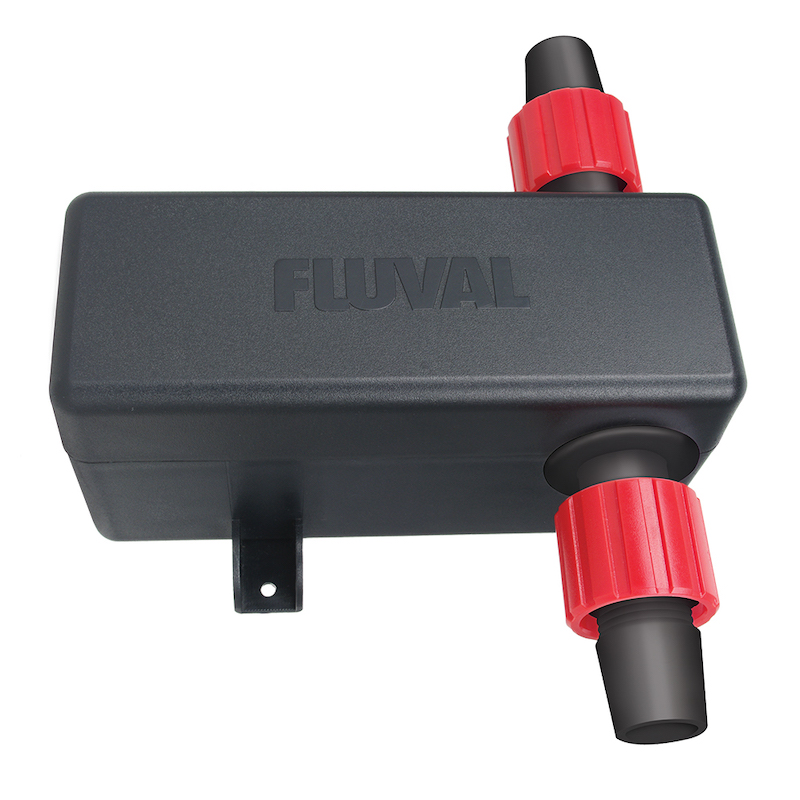 The one thing we're not certain about is the efficacy of the CCFL lamp to produce Ultraviolet light rays compared to LED and CFL ultraviolet sterilizers on the market. It would be very helpful to have an actual milliwatt rating of the UV light produced in order to compare it to similar in-line aquarium UV sterilizers. There's already many products using other more powerful UV light sources that cost less than half the Fluval UVC In-Line Clarifier's proposed $120 price tag so we'll have to see how it holds up when big tank owners starting putting it to use. [Fluval]