Ever since we posted our first story about a 'Japanese Style Reef Tank' almost 12 years ago we've been asked very often what exactly qualifies as a Japanese Style. We've yet to really be able to come up with a good answer to aquariums that meet this loose criteria, but that doesn't mean we recognize know a good Japanese Style reef tank when we see it, and Reef Trigger is probably one of the latest and most modern examples to catch our attention.
The Reef Trigger SPS Reef is similar to Ali's Japanese reef with minimal aquascape and fewer but larger coral colonies, conveying a sense of serenity and natural aesthetic, and how Takaki's dual Nature Aquarium reefs have a feeling of cleanliness and order. One big 'feature' of all these tanks is a pronounced open volume of water, a negative space to really frame and highlight the reef scape and corals growing on it.
The very pastel and balanced color of the mostly Acropora corals is also much more natural and comparable to nature, with more refined hues like what you would expect to see on a wild, shallow reef crest. One look at the branching shape and density of the stawberry shortcake, spathulata, millepora and many other Acros and it's obvious that these corals are thriving in the Reef Trigger SPS tank, and that's due in no small part to the equipment powering it, especially the lighting.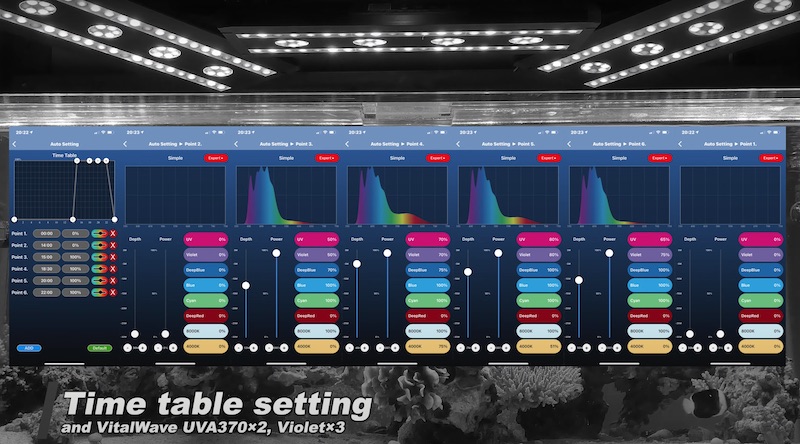 The lights powering this tank are primarily the boutique Spectra SP-200 with natural depth-accurate color shifting spectrum – instead of tweaking the LED color channels manually, which you can do, you can set a depth within the app and the Spectra SP-200 will automatically adjust to create a realistic spectrum at 10, 20, 30 or 60 feet deep. The Reef Trigger SPS sues three of these fixtures, one in the back and two set at an angle on the sides, with a trio of Vital Wave spotlights to fill in the center.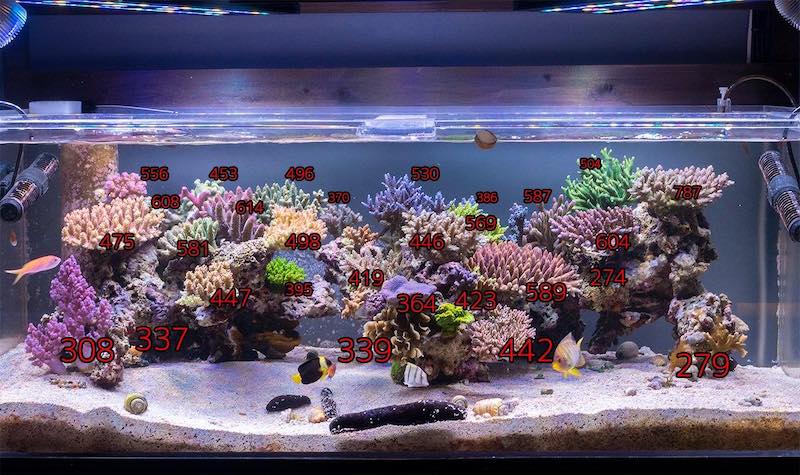 Although many newer fixtures have developed optics that really spread out the light, the smaller beam angle of the Spectra and Vital Wave LEDs is reminiscent of the spotlighting that Japanese aquarists have always been particularly fond of. The resulting powerful light field of all these lights produces an average PAR value of 400-600 umols over much of the aquascape where the corals are, and only drops below 300 umols at the bottom front corners of the Acropora display tank.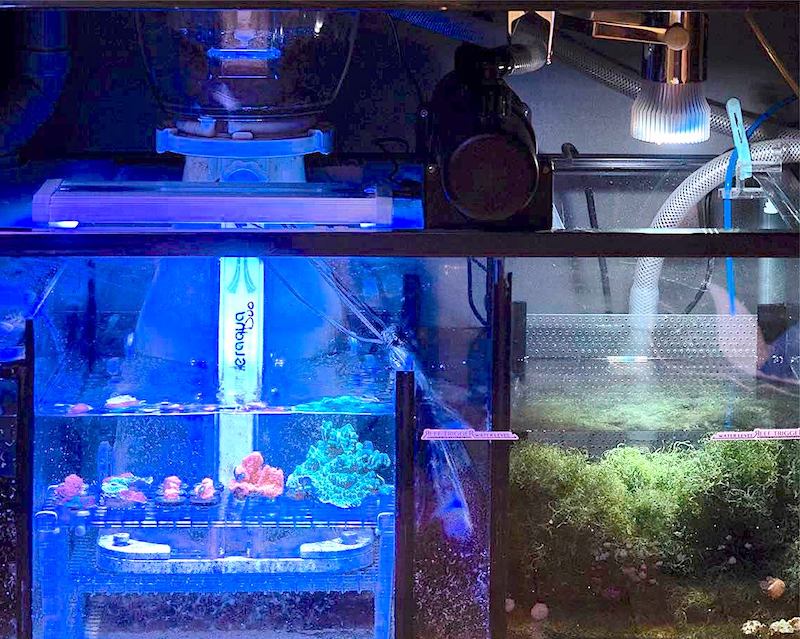 This four foot, 90 gallon aquarium was set up almost a year ago in November of last year and also uses the MaxSpect Aeraqua Duo protein skimmer, two Maxspect Jump 4K Gyre pumps, a controllable DC pump for the return, a Reef Octopus calcium reactor, a chiller and a 15 watt UV sterilizer. One might think that two Gyre pumps would be barely enough for a tank full of Acros but one important design feature of the Reef Trigger SPS tank is the minimal use of rock in the aquascape, allowing the water movement to build up inertia for faster flow speeds, creating idea water movement for these high energy corals.
As you can clearly see from the photographs and video the corals are thriving in the Reef Trigger SPS tank and this is one of the best looking 'daylight' Acropora and SPS coral displays we've seen in a really long time.