Simple LED Spotlights have mostly given way to controllable fixtures in the Western reefing aquarium scene, but new controllable versions from Vital Wave are packing a ton of new heat. Not only are these new Vital Wave LED spotlights controllable via bluetooth, but they are also offering LEDs that produce light colors in some very exotic spectra.
The new Vital Wave spots with bluetooth will come in two different types, a supplement version which are primarily one spectrum for tweaking nutritious light, and a main type which are a balanced spectrum for specific needs. However unlike what we are used to with LED fixtures, each of these spotlights will be one channel of control, and each spotlight represents a channel of color.

The Vital Wave Supplement spotlights come in a 9 watts of four colors, a violet, cyan, green and amber models, each with strong spikes of light coming from closely matched LED types. The 9 watt amber is designated for stimulating 'chromoproteins', and especially intriguing for really warming up our frosted looking reef tanks, but so is the 5 watt UV spotlight which has a single powerful 370nm which seems like it would be mostly outside the range of visible light for human eyes.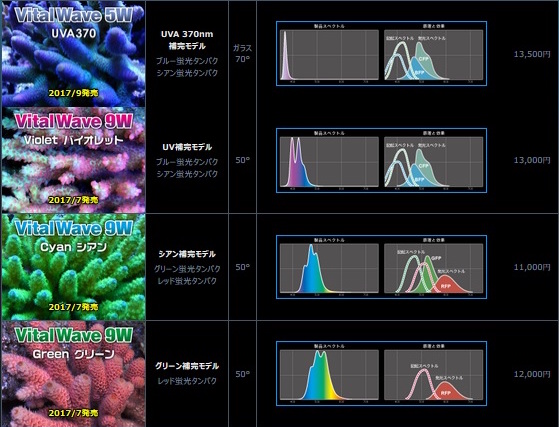 There's also three models of the Vital Wave LED in a 9 watt for Main type lighting, each with groups of LEDs to provide balanced spectrum for either Sun, Chlorophyll or Plants. Unlike the Rx122 from Grassy Ledio, it seems like the Bluetooth chip is permanently built into the spotlight, so there's no BT Dongle dangling from the spotlight itself.
The Violet and Cyan versions of the Vital Wave spotlights look especially tantalizing with nearly 3,000 mW of strong blue lighting power, each with a different effect on specific fluorescent proteins. At around $120 per lamp, these two model and the 5 watt of pure UV light could be very interesting coral-lighting experiments and we look forward to testing them out when some of these make their way out of Japan. [Reef Builders Japan]