The Spectra SP200 is an interesting and ambitious new reef aquarium light that was built from a whole different type of desire and requirement. The sleek actively cooled fixture shares the same basic structural design as we've seen from many different models of EcoLamps and AcanLighting fixtures, but years of tweaking and refinement have coalesced into a completely unique light for growing corals from all different depths.
With eight channels of color control, users of the EcoLamps Spectra SP-200 can fine tune the spectrum from the deepest blues to the bright and warm sunlight of the shallows. Since EcoLamps is targeting a very niche 'research' market with the newest Spectra light, this light is really optimized for recreating an accurate color spectrum representative of the attenuation of sunlight as it becomes filtered and dispersed by tropical sunlight.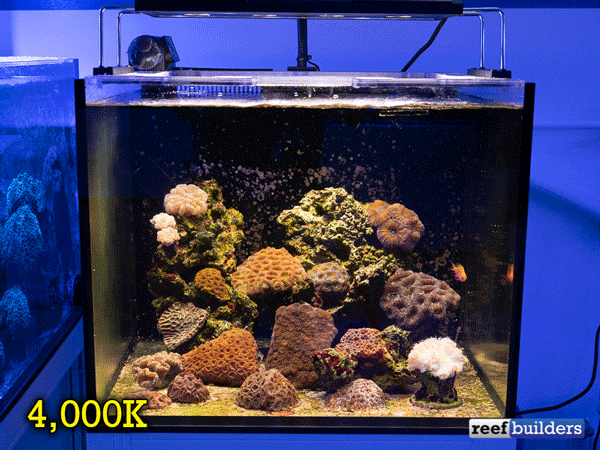 Even with eight channels of color control, we wouldn't know precisely how to recreate the spectrum found at a given depth, but this is where the Spectra app does something we haven't seen in any other light. With the simple adjustment of a slider, you can fine tune the lighting color spectrum to simulate the lighting found at the surface down to 30 meters, or just about 100 feet down.
The app makes it super easy to create an automatic schedule to simulate dawn and dusk, while the manual mode gives a live preview of any depth you select. A few other useful tools in the options gives users the option to turn off the DeepRed and UV channels – so as to not get yourself into trouble or shock corals who may be sensitive to those wavelengths of light.
Another option allows users to set the ceiling for the maximum output of the light based on the drive current of the LEDs themselves with a slider for 1 watt, 2 watts and 3 watts per LED, perhaps to create a kind of acclimation mode to this powerful, 200 watt light. We've been using the Spectra SP200 on a 40 gallon cube tank filled with LPS corals which all display and fluoresce as much as you would expect with so many LED colors.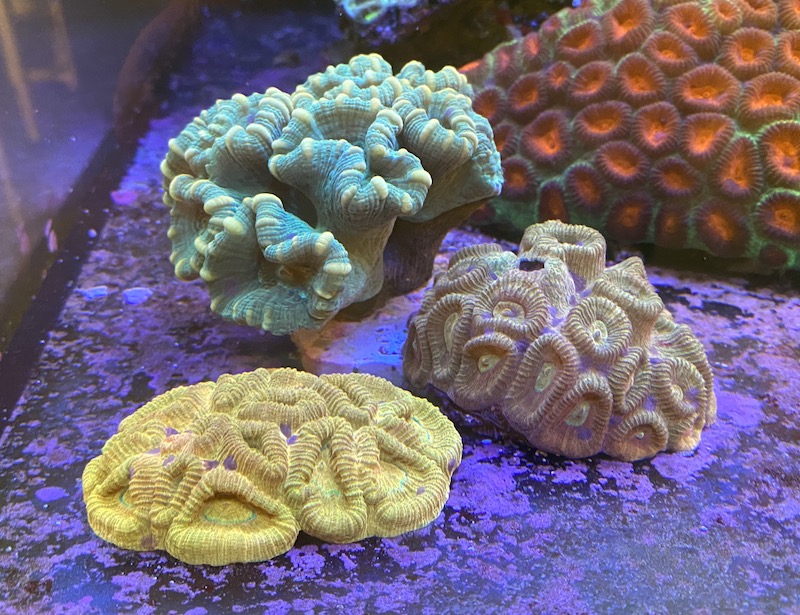 The previous light on this tank has been a Kessil A360X and we have to comment on how impressive it was to see what this light does with only 90 watts and all its LED colors baked into a single multichip. Of course the much more numerous and discrete LEDs of the Spectra SP200 give much more coverage and intensity with PAR values easily climbing to 1000umols just 12 inches underwater, enough to burn all but the most light loving stony corals.
We love the unique approach of the EcoLamps Spectra SP200 but two things about this light have some room for improvement. First of all, and really the only thing holding back this light from being a mass-market hit with the reefers is that Cyan spectrum. The Cyan LED is supposed to be a shade of blue with a light hint of green, but at all intensities the Cyan channel casts a pale greenish hue on all the corals. Even at the 'deepest' spectrum setting of 30 meters the light color is green overall, nothing like the sapphire blue we've personally encountered while diving deep on tropical coral reefs.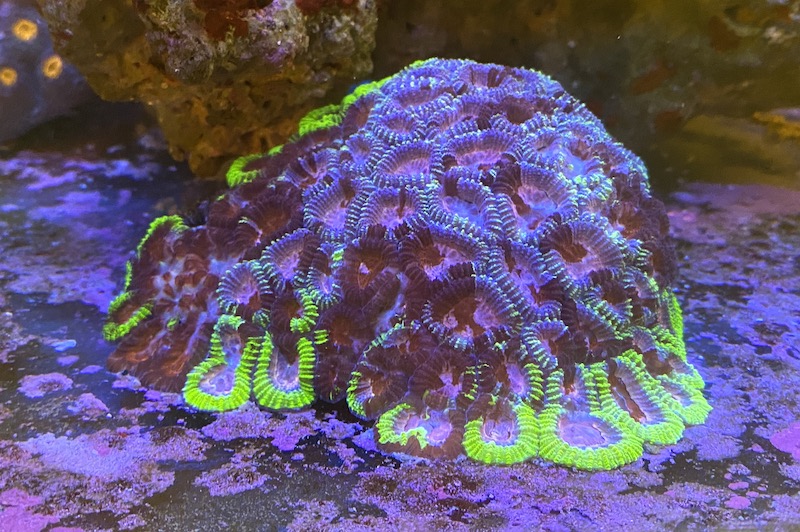 Secondly and more forgivable is the noise of the fans; to keep the fixture cool while packing up to 200 watts of heat/power in the slim fixture the Spectra uses very low profile 10mm thick fans. These anorexic air movers can only move so much air with each rotation so they need to spin so much faster to adequately cool the fixture, leading to a pronounced whine even under medium loads.
Despite these two drawbacks, the overpowering cyan spectrum and loud fan, if these are the only criticisms we can make for this light it's actually a winner. We hope that the creative control options and faithfully reproduced, depth-dependent spectrum will be of great use especially to coral researchers, as it already makes for a colorific aquarium light for coral reef hobbyists.