Having to dive deeper and deeper to try to find something more interesting, on the way down on rare occasions I have come across a coral, that I never had seen before, in the 35-45 meter (~135 feet) zone. Coscinaraea wellsi is a funky plate coral, that looks like nothing else, except for Psammocora explanulata that is very similar, except for that sweet green edge that I can't wait to see under blue light.
Description: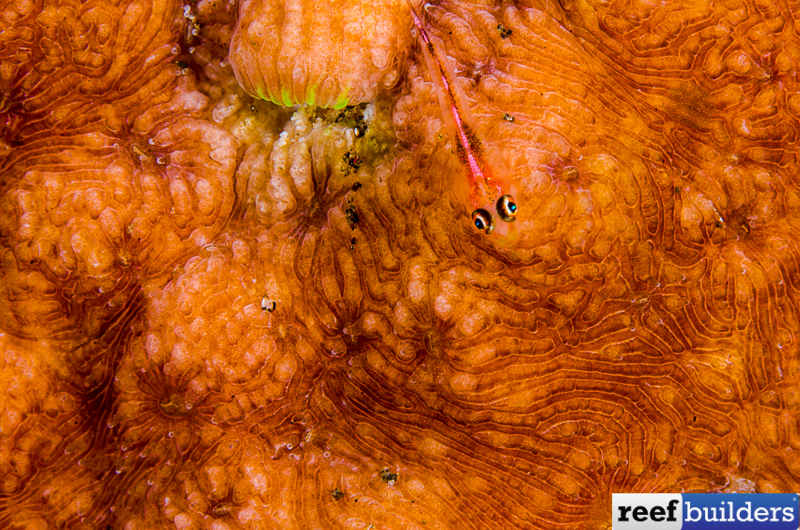 This corals was put in the Cycloseris genus by Benzoni, Arrigoni, Stefani et al. (2012) based mainly on genetic evidence. But in Veron latest Corals of World, It is retained there as a Coscinaraea because it does not match the distinctive genus-level characters of Cycloseris, which represent predominantly solitary, unattached mushroom corals. It might be moved in its own group in the future.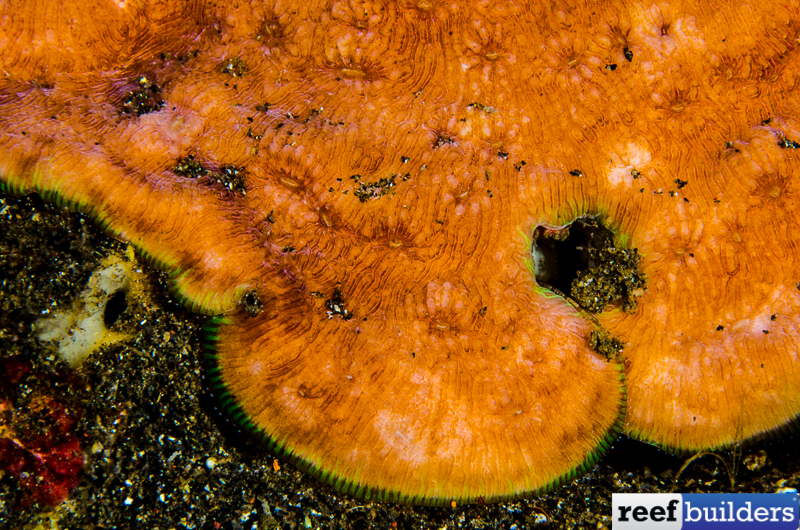 But regardless of taxonomy, labeling it as an encrusting Fungiid basically describes pretty well what it looks like – an attached multi polyps Cycloseris…with weird, chalice looking polyps.
Colonies of Coscinaraea (Cycloseris) wellsi form thin, encrusting overlapping laminar sheets with lobed margin. Corallites are irregularly distributed, with deep seated columellae and thick, obvious, granulated septo-costae thatlooks like a crown of dots around the mouths.
Habitat: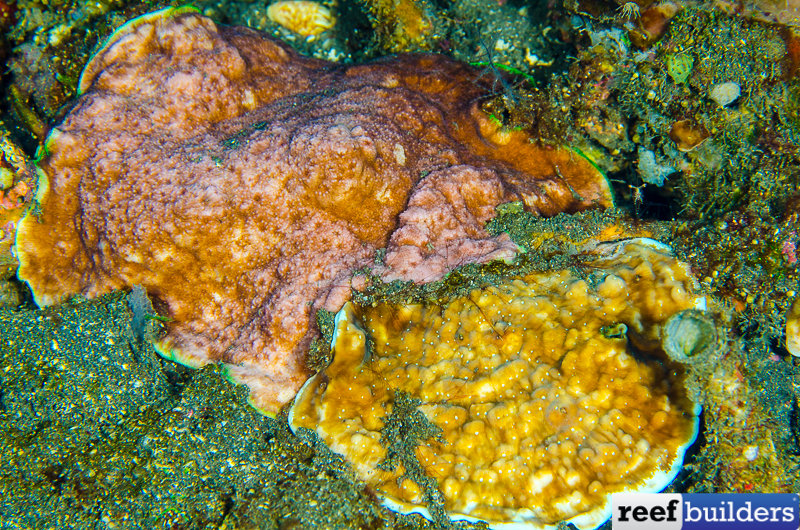 We have found C. wellsi several times in Indonesia, in deep quickly dropping reefs, at the edge of safe scuba diving limit, from 35-40 m deep (100-120 ft) on ridges, small overhangs or drop off, close to vertical. The colony were just 30 cm long (1ft) wide.
Coloration:
C. wellsi is described as green, brown or red-brown, with white perimeters, but the 2 specimen we found, one was bright pink, and the other one was orange, both with bright green margin. All these colors have a very good potential in modern reef aquarium, and they should look very attractive.
Probable maintenance:
As it's found pretty deep, and on almost vertical surfaces. I guess C. wellsi don't need much light, and food. It probably has a very slow metabolism, and grow very slowly. Thus making it a great potential, low maintenance aquarium coral that doesn't need much light, doesn't need much flow, but is still very colorful. All in all, it's a unique, colorful very appealing coral with great aquarium potential.