Using pure water with zero to minimal impurities or contaminants is the foundation for mixing clean, life-giving seawater in a reef aquarium. For most reef builders the first step to having freshwater we can trust usually begins with a reverse osmosis filter, for others it's some form of ion exchange and for us, it's a simple battery of multiple, high capacity carbon blocks.
No matter what you use to make purified water, one important detail to know about your water purification system is when it might be time to replace the filtration block, DI resin, or a new RO membrane altogether. The majority of aquarists tend to rely on TDS meter to measure total dissolved solids of the water before and after their filtration device of choice, but TDS doesn't tell you what is remaining in the water, just how much uncharacterized elements remain.
With our particular setup of using mostly high capacity activated carbon blocks to remove unwanted metals like copper and aluminum, a TDS meter wouldn't adequately inform us of when it's time to replace the media. Therefore earlier this year we started using a water flow meter to directly measure how much water has passed through our water purification, and we now consider it an important tool to ensure the quality of our starting fresh water.
The meter we are using is the Hydro Logic FlowMaster that measures between 0.1 and 1 gallon per minute, ideal for our average flow rate of 30 gallons per hour. The FlowMaster is also available in a higher capacity 0.2 to 2 gallons per minute, and a lower flow rate model of 0.01 to 0.1 gpm more suitable for typical reverse osmosis units.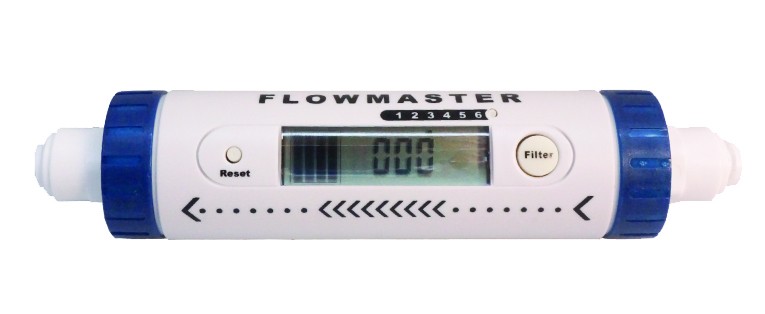 With a price range of only $40 to $45 the Hydro Logic FlowMaster is one of the least expensive accessories one can incorporate into expensive water purification devices. This is especially relevant for full blown reverse osmosis units with all the bells and whistles they can include such as booster pumps, float switches, backflush valves, pressure gauges, TDS meters etc. If you're committed to pure water and desire a more granular information about the performance of your water purification system, a dedicated flow meter is a very useful accessory to incorporate to your DI or RO system.