Damselfish get a bad wrap in saltwater and reef aquariums but for over twenty years this group of hardy colorful fish has remained one of our absolute favorites. Almost no other group is as diverse, easy to feed, and colorful as damselfish which oddly makes them too good of an aquarium fish.
What we mean by this is that since so many people cycle their tanks or kickstart their fish population with damselfish, they are almost universally perceived as fish to graduate from. But objectively speaking, if you stack up the beautiful metallic blue, black & white striped, and graceful schooling species of Pomacentrids, they are just as eye-catching as any other common saltwater fish.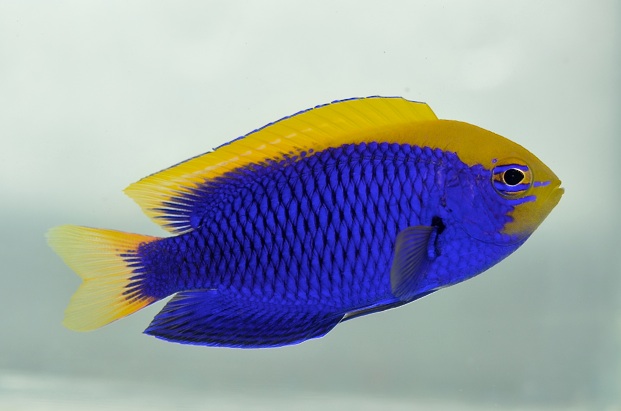 If you 'do it wrong' damselfish can be pugnacious bullies, terrorizing almost every fish you add to their tank, but therein lies the trick to mixing damselfish with other species. We love damselfish but not all species and genera are the same, and we make a point to add them to our reef tanks last, or at least before any other small species are going to be added.
Two species that we have a particular affinity for are members of the Chrysiptera genus – C. springeri and C. starcki, both of which (thankfully) go by their latin name in the hobby. The Starcki damselfish is a bold metallic blue with a brilliant yellow top while the Springeri damselfish is more black with blue markings all over, but both of these fish (can) make great aquarium residents.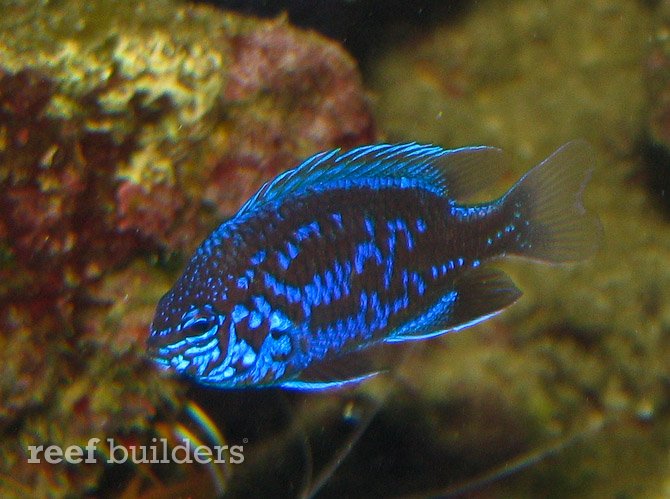 In our experience the real aggression develops from keeping only one, or just a pair of these fish in a reef tank, both scenarios tend to increase aggression towards other saltwater fish. However if you keep a small harem or 3-5 specimens, and make sure to add them towards the end of your fish stocking journey, they tend to interact with each other more than other less feisty fish. Of course the density is highly dependent on the size of your aquarium so unless you only want damsels, we would advise against keeping them in tanks less than a couple feet long.
We have undertaken deep dives on both the Springeri and Starcki damselfish in the past and interestingly, both 'species' appear to be represented by two different but still recognizable forms. After a long absence in our possession, last week we finally reunited with these two long time aquarium favorites thanks to a care package from Quality Marine.
Most exciting is that we've kept the northern Filipino version of Chrysiptera starcki before, but this is the first time we've had the pleasure of owning the brighter, southern form of the Starcki damselfish. Many years ago the brighter southern Starcki damselfish used to be regularly available from Tonga but more recently this form has only been available from Australia and New Caledonia.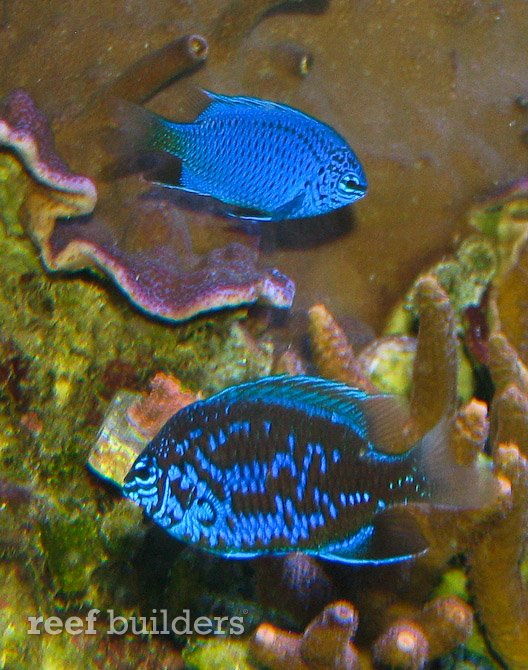 The southern Starcki damselfish is much less common than its counterpart in the Philippines so it costs a little bit more, but it should result in a hardier and more robust fish when it lands at a home aquarium. Like all 'fancy' damselfish the small immature specimens may not knock your socks off when they are barely an inch long, but once they grow to two inches or larger they will become prized specimens that you'll enjoy for many years to come.