The Reef Factory KH Keeper is a brand new automatic water testing machine for keeping a close eye on reef aquarium alkalinity levels. This swanky new reef gizmo is an attractive device with a small footprint but which is packing a high concentration of technology inside of it.
The KH Keeper from Reef Factory reminds us of the Alkatronic in many ways, using the same pH-based titration method to determine the buffering capacity of aquarium water samples using a simple pH probe. Interestingly however, Reef Factory has streamlined the KH Keeper to only be an analysis machine so it doesn't dose buffer to raise alkalinity as needed.
It's very nice to see a high tech aquarium device like the Reef Factory KH Keeper work standalone but if you want to automatically adjust alkalinity you will need to connect it to the Reef Factory dosing pumps. At just ?€595 the KH Keeper is cheaper than the Alkatronic but more expensive than the KH Director but the feature set is not exactly the same.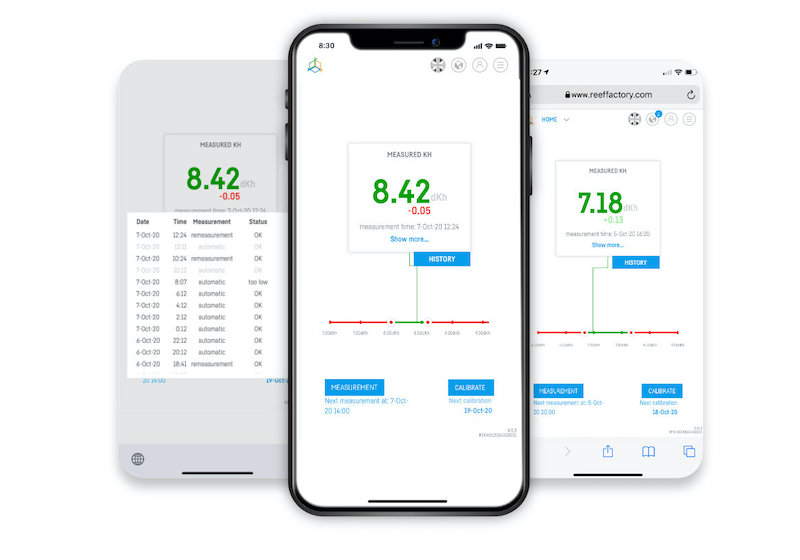 Reef Factory is quite justified in promoting the low price of each test costing around three and a half cents based on the price of a one liter reagent solution. Like all of their products the Reef Factory KH Keeper is wirelessly connected and a supporting app gives users instant visual representation of their alkalinity values to compliment the internal glowing LED colors of the unit itself.
We're still not aware of any American companies distributing the KH Keeper or other Reef Factory gear in the north American market so our European reefing family are the first to test out and enjoy this new machine. It's exciting to see more progress on the automatic alkalinity testing front and we hope this is just another step towards cheaper and more reliable alkalinity controllers for our reef tanks. [Reef Factory]