The asfur angelfish, Pomacanthus asfur, is a very recognizable species from the Red Sea and a limited range around the northwest Indian Ocean. This species has been bred in Asia for many years giving rise to a variant with a white tail and a white bar but now we have a very exciting new fish from Bali Aquarich to tell you about.
Mr. Su and his very productive ornamental saltwater fish farm are no stranger to the pages of Reef Builders for creating a wide range of hybrids including the flagfin x goldflake, emperor x annularis, lemonpeel x half black, joculator x unknown, clarion x passer, and today we have something completely new. Just shared photos of one of Mr. Su's new accidental creations is a very eye-catching specimen with a clear brush of Pomacanthus asfur in its pedigree.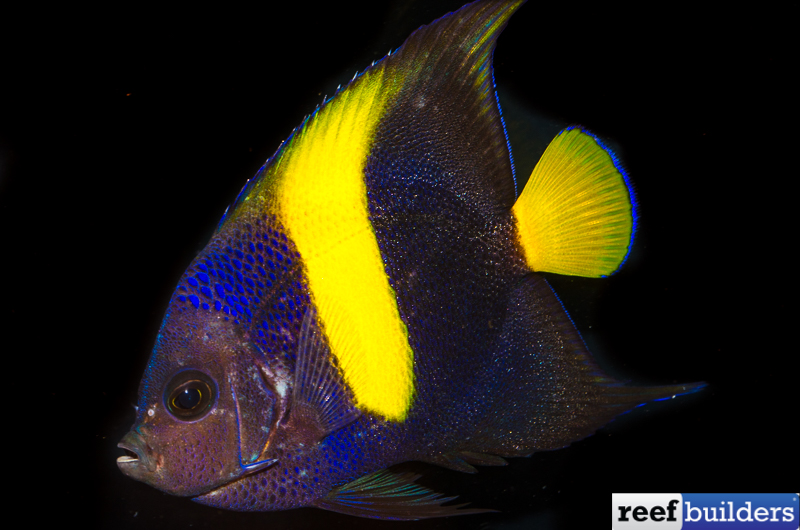 The biggest tip-off to the potential parentage of this fish is the very highly angular pointed dorsal and anal fins. The asfur angelfish has probably the most elongated and pointed fins of any Pomacanthus both as a juvenile and as an adult but the emperor angelfish has very rounded fins, the maculosus angelfish has a rounded anal fin when it is young, so we can probably exclude those two.
In our opinion the most likely candidate parent is the koran angelfish which has both pointed dorsal and anal fins which meshes well with the specimen on display. Furthermore the deep blue lines and scribbling across the body of this juvenile is along the lines of what we might imagine if an Asfur and Koran angelfish accidentally hybridized. The hybrid Asfur angelfish from Bali Aquarich is an exciting new riddle for the world of rare and exotic fish fanciers and as always, we can't wait to see how this fish will develops as it grows larger and matures.