Closed Loops are a forgotten art form of water movement in the reef aquarium space, providing incredible flow rates throughout the aquarium while removing the equipment from the primary display tank. But unlike propeller pumps which can be easily placed into most reef tanks and magnetically mounted to the aquarium glass, a closed loop is the antithesis of 'plug and play'.
It takes a lot more prior planning and preparation to use and install a closed loop in an aquarium and there's basically no way to install one after the fact. Further complicating matters is that typically you need two closed loops in order to achieve proper alternating water flow because all of our in-line water pumps are completely unidirectional.
Leave it to the hydro wizards at Panta Rhei to create a completely new type of pump that is expressly engineered for bidirectional water flow in a closed loop. This new unnamed water pump just teased by Panta Rhei can be installed directly in line of the aquarium plumbing, dramatically reshaping the possibilities of a closed loop in an aquarium.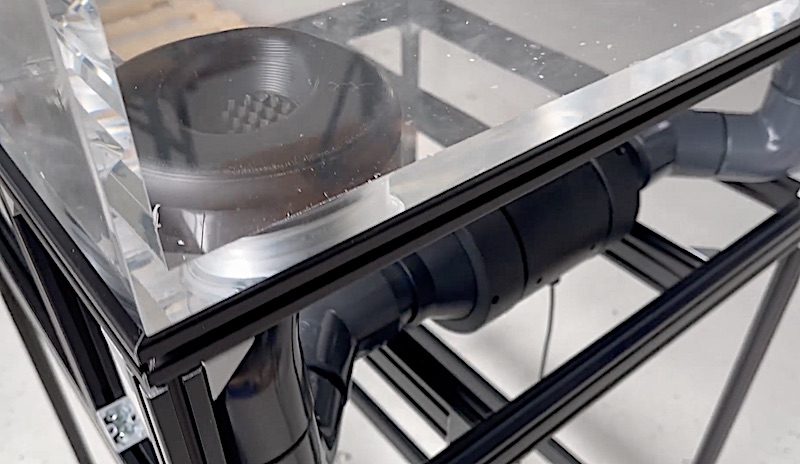 Not only does this mean that you can use less plumbing and fewer holes in the aquarium glass to achieve a bidirectional water flow, but the plumbing of the closed loop will also be similarly simplified. If this new specialty pump from Panta Rhei is responsive enough – and we have no reason to think it isn't – you might even be able to create true oscillating water flow with wave patterns coming from a small inline water pump.
A nice touch to the dual purpose closed loop is the bulkhead which also appears to be specially designed to function both as an inlet and an outlet and knowing the company's founder, we have no doubt that there's some serious engineering inside of them to straighten out the exiting water current. We've personally gone to great lengths to hide or minimize water pumps inside our aquariums while still generating suitable water movement, but this new pump style from Panta Rhei could open up the doors to even more unobtrusive water flow.
The highly engineered pumps of Panta Rhei have a track record of commanding an equivalent price tag, but if this new bidirectional water pump can obviate the need for pumps in the tank, or a second closed loop and associated equipment, then it might actually be a better investment for high end water flow, especially in the largest of reef tanks. We only have one teaser video to wet our appetite for this new bidirectional closed loop pump but we can't wait to learn more about it so we can start planning a whole new reef display using this compelling water flow concept pump.