The Platinum Blue DC Pump is one of the best new controllable centrifugal water movers to hit the aquarium hobby in a long time, and apparently many companies around the world think so too. We've been using this pump under a few different brands, in various sizes and even a needle wheel version, but no matter which box it comes in, it's become one of those products for which we have developed a lot of admiration, and very little criticism.
The last decade has seen a multitude of various aquarium brands turning to Asian OEM products that they can easily bring to market under their own label, with no R&D costs, and minimal customization. This is why we saw every company under the sun releasing nearly identical DC pumps made by Jebao, and why we still see so many identical dosing pumps going by different names depending on the country you live in.
The Platinum Blue DC Pump is the name of a brand new generation of this workhorse pump in the US which is also sold as the Dalua Great White in Australia, the TMC Reef Pump in the UK, and the Red Dragon X in Germany, with very little variation between them. Regardless of whether it's blue, white, or purple, we can say that the Platinum Blue DC pump does everything we've come to expect from a good controllable DC water pump.
The Platinum Blue DC is available in the US in six sizes ranging from 800 to 8000 gallons per hour, with the three smallest models coming in at under $200 but not skimping on specs in the slightest. The basic accessories like an intake strainer, a vibration absorbing base, and multiple quick-disconnecting barbs for the inlet and outlet makes connecting to your aquarium plumbing and servicing as easy as you could possibly want.
We've come to enjoy and expect a single 10 minute feed timer on most DC pumps but the Platinum Blue DC has three: a 10, 20, and 30 minute timer, the latter of which we find very useful when broadcast feeding our entire reef tanks. There's not just five or ten different speed settings but twenty, enabling us to very precisely dial in the desired water flow rate to our aquariums, and striking an excellent balance with the continuous siphon overflow for the most silent water drain possible.
And speaking of silent operation the Platinum Blue DC pump not only has the now-standard sine-wave power signal, but also a multipole rotor making this pump among the least audible we've ever used. The only optional feature missing is wireless connectivity and we love our controllable, programmable Vectras and Syncras as much as the next reefer, but the return pump is a device that probably benefits the least from sophisticated wireless control and programming.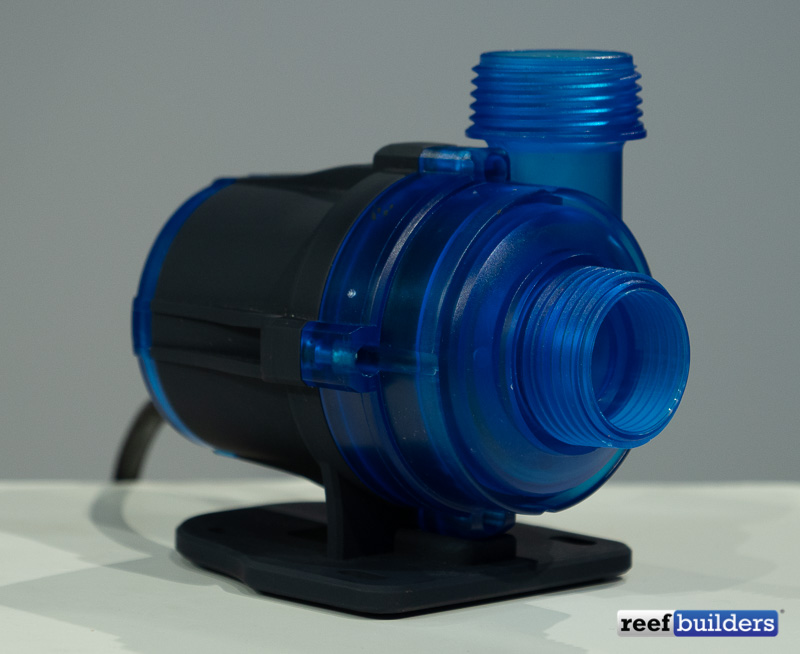 Some diehard control freaks might lament the lack of external 0-10v connectivity but other than that we have thoroughly enjoyed using four of these pumps at the Reef Builders Studio, including a needle wheel version in the Dalua Great White protein skimmer. For most of our product reviews we really like to dive into the weeds but there simply isn't as many details to dissect about a DC return pump – you know what they are, and you probably already know what you want from it.
It can be hard sometimes for exceptional products to garner any attention without some breakout new features, and this drives the annual refreshes of many consumer electronics. The cadence might not be as frequent in the electronic aquarium device market but it still holds true when it comes to less flashy reef gear, especially the return pumps tucked away in the back corner of our sumps where we seldom see them. The Platinum Blue DC Pump delivers an excellent set of features at an incredible value and we're confident these are going to be one of the most widely used controllable DC pumps for many years to come. [Seven Ports]