The Little Reactor is a new smaller model of one of the hobby's first and oldest media reactors from Two Little Fishies. We've always thought that reefers almost always used too much media on their reef tanks whether it's activated carbon, GFO, biopellets, or any number of compounds and they were usually (mis)guided by the size of currently available media reactors.
Believe it or not, Julian Sprung's Phosban was one of the first granular ferric oxide (GFO) products available to reef aquarists for use as a phosphate absorbing media and the original Phosban reactor has been around nearly as long. The proportions of the Phosban Reactor are nearly perfect, and its affordable price makes it easy to invest in more than one for using more than one type of chemical media and Two Little Fishies is doubling down (err halving down?) on a pint size version called the Little Reactor.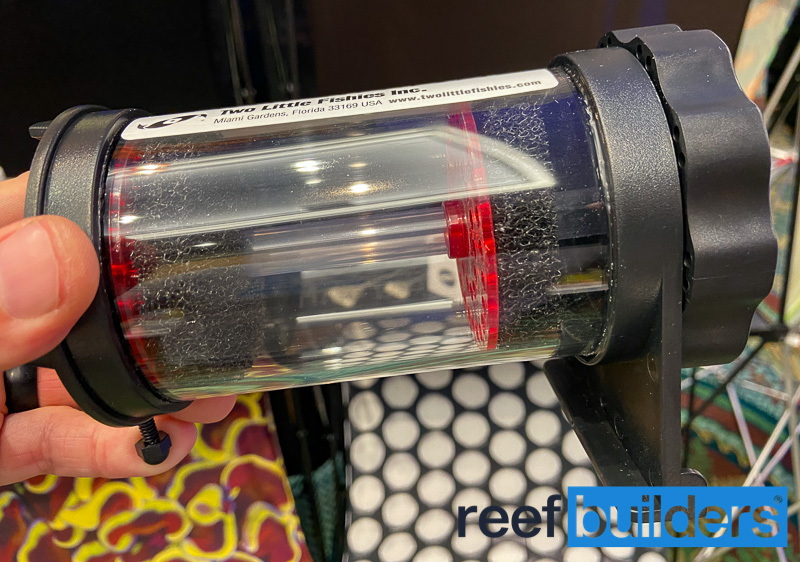 The new TLF Little Reactor has all the same parts and fittings, tubing and sponges as its Phosban 150 & 550 predecessors save for a shorter reaction chamber and it can still be used standing up or hanging off the wall or an edge of your tank or sump. The new Little Reactor will have many advantages with its smaller size – it'll make it much easier to fit into smaller sumps and filtration chambers of all in one aquariums, but it should also help reefers use a more reasonable amount of their preferred chemically reactive medias.
Furthermore, a lot more reef builders are paying attention to their pH and using CO2 absorbing media such as CDX to reduce the carbon dioxide going into their tanks, helping to keep elevated pH of the aquarium water. For our part though we think the Little Reactor should make a great anti-resonating sound chamber also known as an air silencer with some slight modifications and some trial and error of materials used inside of it.
Two Little Fishies has already started shipping the Little Reactor and since it uses mostly the same parts as the Phosban 150 which retails for around $55 to $60, perhaps we can expect a retail price to be just a little less. A TON of media reactors have been marketed to the aquarium hobby since the Phosban reactor was first introduced, but the 150 and larger 550 model have remained some of the best value you can buy in this product space and with the introduction of the new Little Reactor, Two Little Fishies now has a media reactor for every size of hobbyist aquariums.