The Pulzar G3 is the newest version of Giesemann Aquaristic's LED striplight which will be available in both a freshwater 'Tropic' and a saltwater 'Marin' color spectrum. First introduced in 2014 the Giesemann Pulzar was the company's first foray into LED striplighting followed by the higher output Pulzar HO, the Pulzar G3 certainly brings with it a set of features that are firmly modern and contemporary.
From what we can tell from Giesemann's German webpage for the Pulzar G3 the striplight will be available in at least eight sizes ranging from a tiny 15.5 cm light bar to a whopping 149 cm (58 inch) light pole with a whopping 14,600 lumens produced by the largest, 110 watt model. As we've come to expect from LED aquarium striplights, the all aluminum enclosure provides more than enough of a heatsink for a totally passively cooled aquarium light which produces zero noise and as an added bonus it is also rated against waterproofing up to IP68.
One of the newest features of the Giesemann Pulzar G3 is that it increases its lighting output by using lower power but more efficient mid power LEDs which generates about 30% more light than their previous models but it also helps into the more diffused lighting output that is becoming more popular among LED lighting reefers. The smooth even lighting distribution is further aided by the use of a frosted style diffuser lens although we do wish there was the option of using a clear lens for more depth penetration.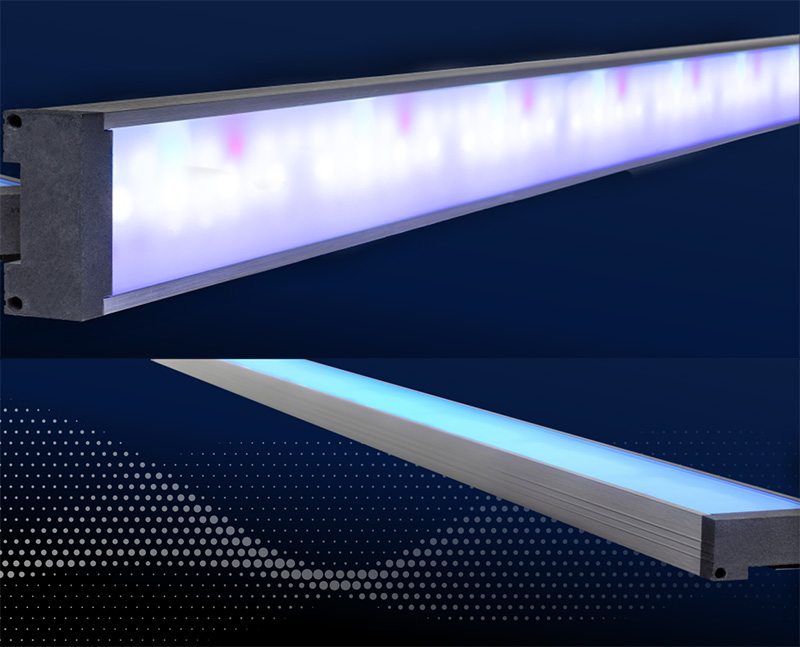 Giesemann's Pulzar G3 LED striplights are not natively controllable but there is the possibility of connecting up to four Pulzar G3s into Giesmann's hub controller called the Bluetooth Interface for an additional 200 Euros. Curiously while there is the option to connect and control the Pulzar G3 with an Android app, a Windows PC, or a Mac computer, there isn't yet an app for iOS for iPhone users to tap into the Bluetooth Interface module.
While you will certainly be able to control the intensity of the Pulzar G3 it's not explicitly stated whether separate control channels for the white, blue, red, green, and royal blue LEDs is available, but since it was included with the Pulzar HO we presume Giesemann's Pulzar G3 will follow suit. The webpage for the Pulzar G3 lists the five colors mentioned above but the video clearly states that the Pulzar G3 Marin also includes UV and Violet spectrum but the freshwater Pulzar G3 Tropic has a flat 6,700 Kelvin color spectrum which, if installed on the bluetooth interface, could make for a nice complement to the blue-heavy spectrum of the Pulzar G3 Marin even on a saltwater or reef aquarium.
Giesemann expects to start shipping the Pulzar G3 in all sizes and colors beginning in July of this year with a starting price of 79 Euro for the diminutive 15.5 cm, 6 inch size and up from there although it could be a long while before Giesemann's newest striplight makes it across the pond to the U.S. and Canada. The LED striplight form factor has become one of the fastest growing segments of the LED aquarium lighting market with many new players entering the space so Giesemann is just in time with their new Pulzar G3 and we can't wait t see and try it for ourselves. [Giesemann]