The Red Sea ReefDose 2 and ReefDose 4 are the long awaited fluid dosing systems from the aquarium hobby's leading producer of premium glass aquarium setups. In addition to their tanks and additives Red Sea has been diligently filling out their catalog of reef aquarium gear to create a nearly complete ecosystem of aquarium devices which already include the Reefer Skimmer, ReefWave Water Pump, ReefLED multichip aquarium light, and is now practically complete with the release of the ReefDose 2 & 4 dosing pump system.
It's been over three years since the ReefDose was first revealed at InterZoo 2018 and while it's taken Red Sea a really long time to bring this dosing pump system to market, it seems that Red Sea has completely nailed a peristaltic dosing pump specifically geared for precise and accurate dosing of chemical aquarium additives. It might come as a surprise to some reefers that the ReefDose is not designed for automatic water changes, it can't perform auto top off of evaporated water, or anything other than managing reef aquarium chemistry.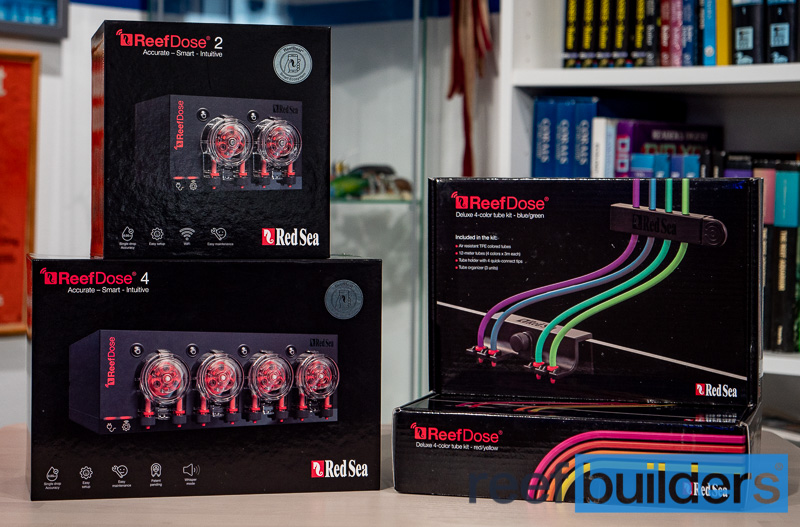 While many other dosing pumps have aimed to be the ultimate utility pump to perform a wide range of functions, it's actually quite refreshing that with the ReefDose Red Sea kept their focus on a building a peristaltic dosing pump fine tuned for metering minute amounts of fluids. This hyper focused approach to additive dosing is apparent not only in the features and functions of the ReefDose but it is also reflected in the accompanying accessories of colored tubing, tubing organizers and line holders that help to streamline the experience of using the Red Sea dosing pump.
Before we installed and programmed the ReefDose 4 on one of our test tanks, we took a long deep look to examine the construction of the Red Sea ReefDose finding most of its components to be put together in an above average but otherwise prosaic assembly. The inclusion of physical priming buttons for startup is a welcome touch, built-in indicator LEDs are useful for determining the status of the pump such as power and wireless connectivity, an o-ring deeply embedded into the backplate should prevent any ingress of water, and rubber seats for the motors help to reduce noise and vibration.
In a landscape where many dosing pumps are built with cookie-cutter off-the-shelf components it's refreshing to see that Red Sea has created dosing pump heads of their own with special emphasis on accessibility and servicing of the rollers and the tubing by end users. We later learned that the ReefDose may not use costly and hyper precise stepper motors to turn the dosing pump heads, but Red Sea actually recreated their function by designing a new component they call 'Step-Controlled Heads' even while using regular DC brushed motors.
While we don't fully understand how the Step Controlled Heads of the ReefDose actually work, it was explained to us like this: "Once a head is calibrated the firmware records the volume per step for the specific supplement and thereafter achieves the desired dose volume by controlling the head rotation for the corresponding number of steps. When a daily dose is divided into multiple doses the controller keeps track of the actual volume given in each dose and compensates on-the-fly to keep the accumulative volume to within the 0.05ml accuracy."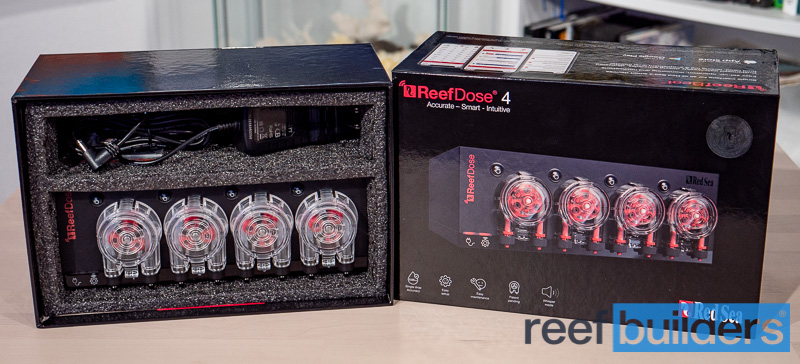 You don't have to completely wrap your head around how the ReefDose accomplishes this feat but from our testing with a digital scale it's quite clear that the step control heads of the ReefDose 2 and ReefDose 4 are very accurate at dosing a fluid volume above 0.2 milliliters as we witnessed when dosing 0.2, 0.3 and 0.5 ml of freshwater with pinpoint accuracy. We've always calibrated all of our dosing pumps with pure freshwater but it had never occurred to us that if you want the most accurate dosing possible, you'll want to calibrate with the specific additive you intend to use on that channel.
Calibrating with freshwater is probably more than adequate for most reefers but the additives of different manufacturers or your own DIY solutions made from dry chemical powders will vary in concentration leading to a range of densities and viscosities. If most dosing pump systems are made from hardware that are mostly on par with each other, the real differentiating feature remaining to enhance the user's experience of operating the dosing pump is the software which is one area where the Red Sea ReefDose truly shines.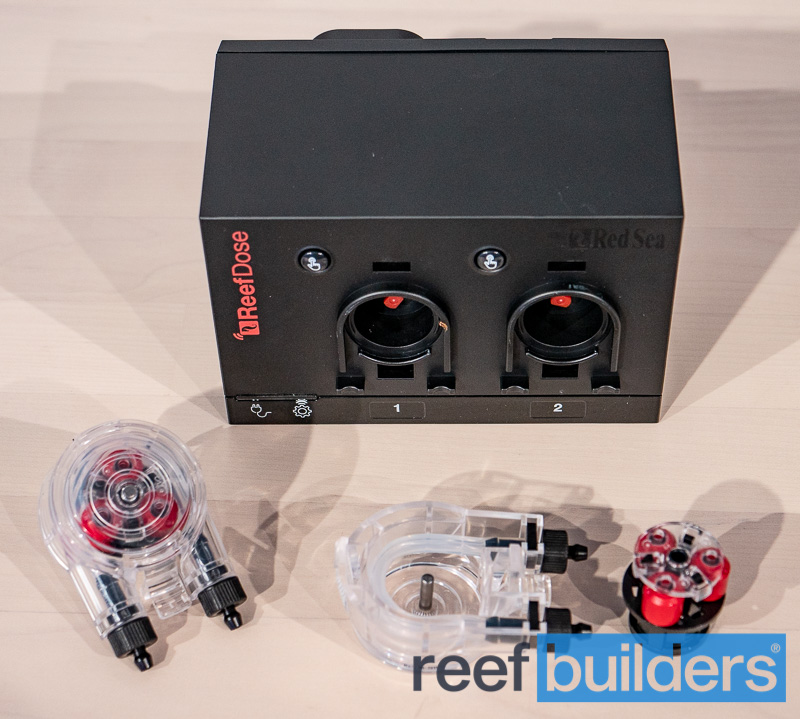 We often measure the software strengths of a smartphone controlling application by how intuitive it is as well as the number of steps it takes to get to the pertinent part of the user interface. The ReefBeat app has come a long way since it was first released for the ReefWave pumps and it has become much faster to connect, snappier to navigate, and we're in love with how much information is provided about the dosing schedule even on the landing page.
A lot of dosing pump control apps provide some kind of dosing feedback and logging but we find the ReefBeat's implementation for the operation of the ReefDose to be one of the most refined with both a graphical representation of daily dosing volumes as well as a log of the weekly dosing regimen. We may have not appreciated when the ReefBeat app sent us a phone notification when the ReefWave or ReefLED lost connectivity but we will surely love it when it reminds us that the dosing container is getting low with a notification right on our phone's lock screen!
Since we only have one 4-channel ReefDose 4 we haven't yet tested how the ReefBeat app manages the automatic adjustments of the Red Sea Reef Care Program which bases the additions of their four-part trace elements on how much calcium is added, or how it navigates calcium inputs from other sources such as kalkwasser and calcium reactors. However when we get our hands on a second unit we will be very interested in discovering the synergy between the Red Sea ReefDose and their own line of additives and trace element supplements.
For a company with one of the largest user bases of additives it would be easy to criticize Red Sea for being a relatively late entry to the dosing pump market now that the hobby has its choice of dozens of options from many different manufacturers. But if you're going to be a newcomer to a mature product category you better make sure you have some strong selling points such as accuracy, ease of use, novel software features, and especially a competitive price. By all these accounts Red Sea's $229 ReefDose 2 and $349 ReefDose 4 make for a very compelling dosing system which is specifically designed for dosing additives in a reef aquarium setup and should enjoy some added benefits when used with Red Sea's own line of additives.