The xanthic aberration of some pygmy angelfish is a mystery that has puzzled exotic saltwater aquarists for years and the rabbit hole is about to get a whole lot deeper. Recently a number of very interesting Centropyge eibli were collected from the south coast of Java, Indonesia which display a wide range of xanthic coloration.
We first saw some of these fish popping up on Asian social media with Suprem5 Corals being first to show off a short clip of a sensational fully xanthic Eibl's angelfish with a solid yellow base and bright orange red stripes and markings. Thankfully for us a selection of these unusual coral reef fish made their way to Reef Pro in Southern Florida who were kind enough to share a few specimens for careful inspection and observation at the Reef Builders Studio.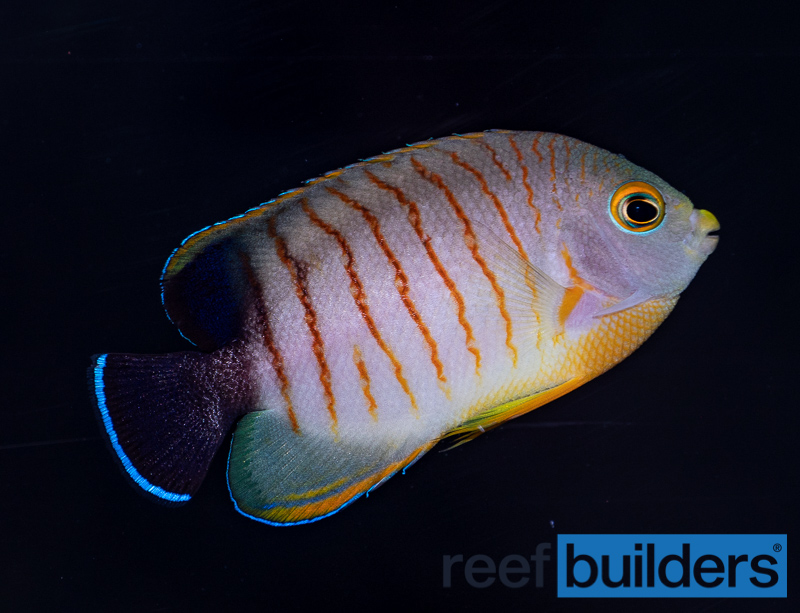 This shipment from reef Pro was a total surprise – we knew a box would be coming – but we really didn't have any indication of what was inside other than some fun and exciting fish so our surprise on video is completely authentic. Ever since we first fell in love with angelfish the 'candy stripe' pygmy angel, C. eibli has been an affordable stand-in for the peppermint angelfish and while they don't compare, the Eibl's angelfish has a lot going for it.
As juveniles the Eibl's angelfish may look like a small balck tailed minnow but as they grow larger their delicate orange stripes, orange eye and blue iris really start to stand out. With increasing maturity the blue edge of the black tail becomes more pronounced, as does the bright orange breast and yellow pelvic fins adorned with an eye catching orange outline.
Their appearance can also differ quite a bit ranging from very sparse to very dense striping and we've seen some unusual xanthic specimens of C. eibli before but the new crop of xanthic shows a whole spectrum of unusually colored 'candy stripe' angelfish. We already had a normal C. eibli angelfish in our fish holding tank which we were able to compare to all three varieties of these high yellow variants of Eibl's angelfish.
On the more normal end the Eibl's angelfish is only very slightly yellow but the thin orange stripes are much more pronounced and vivid but you wouldn't really notice the difference without without a normal example to compare it to. Halfway through the spectrum we find some specimens of Eibl's angelfish with both a high degree of yellow and a high degree of black over much of the body with some of the colors being amplified with yellow, and others being muted by a higher concentration of black pigment.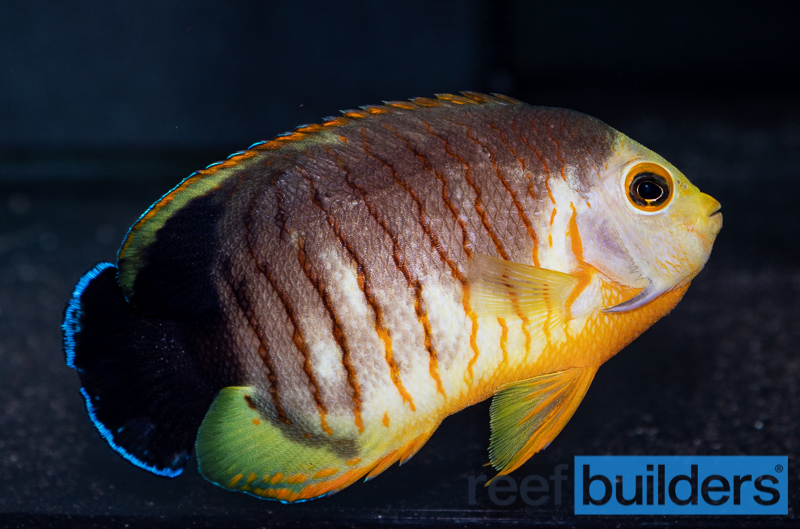 The distribution of pigment of this intermediate xanthic angelfish appears mostly random and with its bright patches of yellow across the face it really reminds of of some aberrant coral beauty angelfish we've written about in the past. We still don't understand the full nature of these patchy xanthic pygmy angelfish morphs, what stimulates their coloration and changes over time but they are certainly a very curious oddity that we look forward to documenting for ourselves.
On the deep end of the abberation spectrum we also received a nearly solid golden specimen of xanthic Eibl's angelfish sporting a beautiful sunflower yellow body with an extra bump in the saturation of all the orange patterning. The eye, stripes, stomach, pelvic, dorsal and anal fins are all a glowing orange and a very dramatic departure from the appearance of a 'standard issue' Centropyge eibli.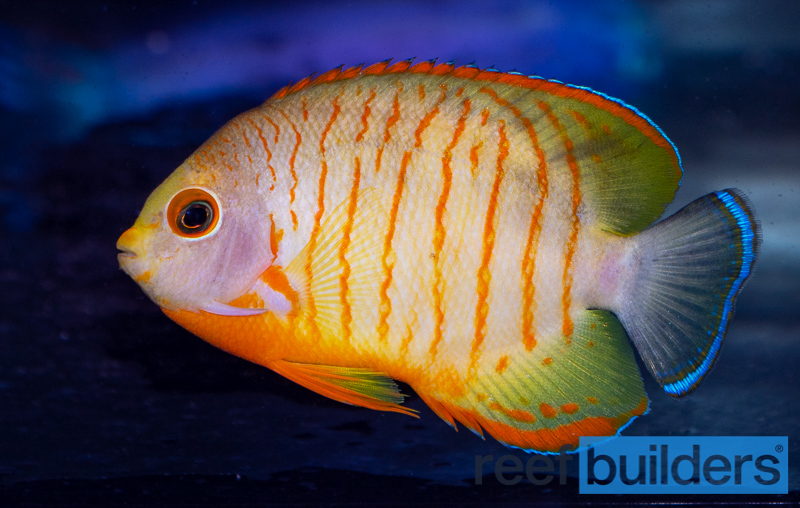 It's one thing to see pictures of some of these very interesting on a computer screen, but it's another thing altogether to be able to analyze and document these mysterious fish in person. Big thanks to Reef Pro for sharing a portion of their collection with us for closer examination where we can study and observe the spectrum of xanthic Centropyge eibli under the controlled conditions we can provide at the Reef Builders Studio. If you're interested in obtaining one of these specimens for yourself, they just went up for sale on the ReefProStore website where you can see more of the range and variability of the xanthic Eibl's angelfish and if you want more, check out our full unboxing video below.