Nano-Tech Anaerobic Blocks are the newest addition to Maxspect's rapidly growing catalogue of medias for treatment of aquarium water. For thirty years we've seen a wide range of products come to market promising to offer anaerobic denitrification by simply creating a media with high surface area and a low degree of oxygenation but Maxspect's Nano-Tech Anaerobic Blocks have a creative trick up their sleeve.
The Maxspect denitrification kit consists of pairs of large blocks approximately four inches square and one inch thick, greatly resembling the Nano Tech Bio Blocks for aerobic nitrification but they are black due to a special coating which further encourages anaerobic conditions. Each pair of blocks is surrounded by a kind of rubber bumper to reduce water flowing through the blocks but the more creative feature which is sandwiched between these pairs of blocks.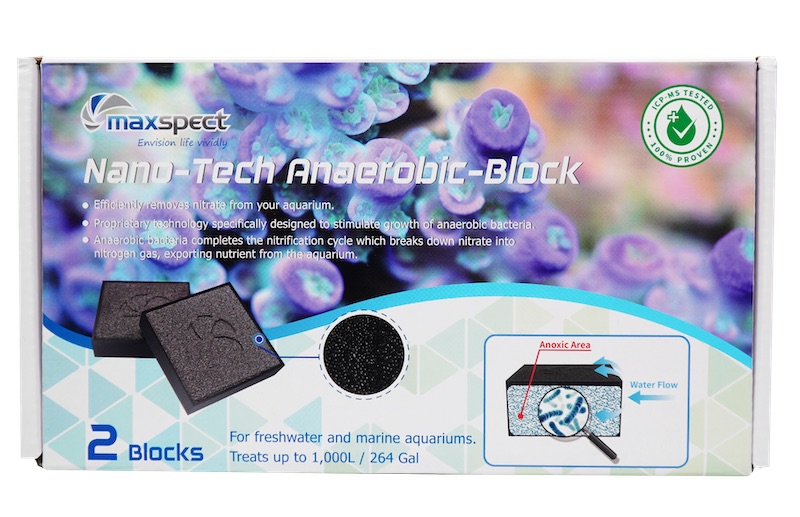 The off-white colored catalyst greatly resembles the appearance and feel of the biopolymer used in bio-pellets and depending on your tank's bioload, volume, and nitrate concentration it is meant to be replaced every two months or so. Unlike the biopolymer used in biopellets which are used in a special reactor to grow colonies of bacteria which slough off and are exported by protein skimmers, the Maxspect Nano-Tech Anaerobic Blocks create true denitrification resulting in free nitrogen gas which simply bubbles out of the tank.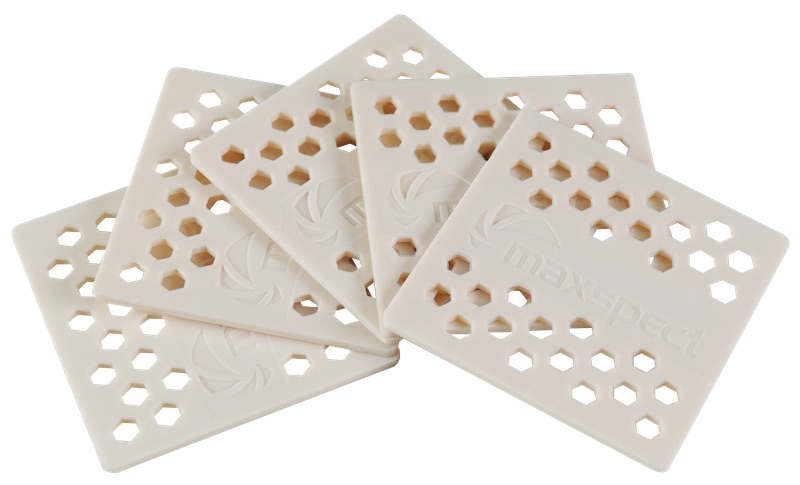 Maxspect and their partners are still testing out the efficacy and potency of the Nano-Tech Anaerobic Blocks which are expected to cost around the same as their Bio-Blocks so probably in the range of $35 to $40 for a starter set including the biopolymer catalyst, with each pair being suitable for up to 1000l of tank water, or about 264 gallons. Price hasn't yet been disclosed for the replacement catalyst but it could be as little as ten bucks for a set of five 'grids' but if this stuff really works like it should, we don't think anyone would mind paying fifteen or twenty dollars for nearly a year's supply of the secret sauce. It'll probably be another couple of months until Maxspect launches their Nano-Tech Anaerobic Blocks but we'll be testing it out for ourselves on a well stocked fish display tank and will be sure to report back with a thorough review once the nitrates start dropping.