We would say that Pseudanthias heemstrai is better known as the Orangehead Anthias but truth be told, this fish is so rarely seen let alone photographed that very few divers, naturalists or aquarists have ever even heard of this glorious fish species. Although the orangehead anthias lives in the very well travelled and documented reef waters of the Red Sea, it lives just a little beyond the depths of typical recreational diving and is therefore very rarely encountered.
Thankfully there are some intrepid underwater photographers like Andrey Ryanskyi who not only know to lookout for species like Pseudanthias heemstrai, but also have the setup necessary to document their encounters with flawless precision. If his name sounds familiar it's because Mr. Ryanskyi is the same photo ace who snapped the delicately gorgeous Red Sea Lubbock's dottyback in exquisite detail just a little over a month ago.
There are a decent number of pictures of Pseudanthias heemstrai to be found online but none of them capture the nuance and color pattern of the orangehead anthias quite like these perfect profile portraits of both the male and female orangehead anthias. The lady orangehead is unremarkable as far as anthias go with a typical pink body coloration that fades into a yellow orange top extending from the snout to the solid orange tail.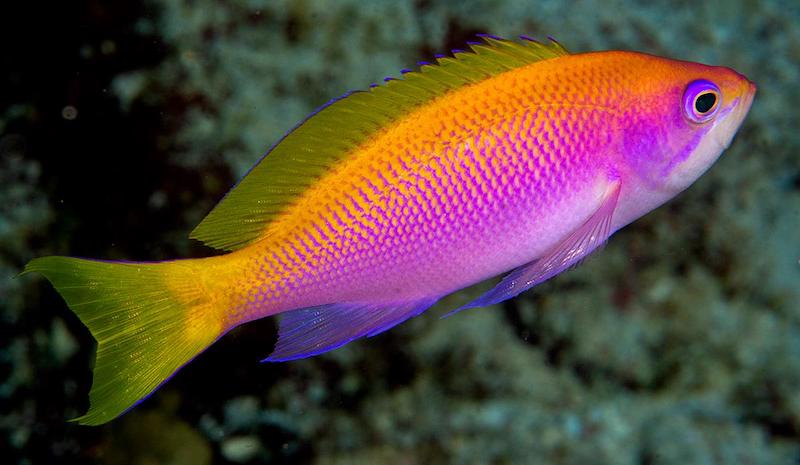 We've seen photos of male P. heemstrai in fish identification guides before but this fresh photo really illustrates every aspect of the male orangehead anthias like we've never seen before. Other images do show the orange head, red tail, and elegantly elongated light blue pelvic and anal fins but this new photo is the first which really divulges the more subtle pink and orange checkered body, the red dorsal stripe across the head and the delicate yellow spotting in the dorsal and anal fins.
Interestingly the mature males have yellow eyes compared to females' pink eyes making it very easy to discern between the two sexes when they are larger adult specimens. The orangehead anthias is most often sighted right around 30 meters or 100 feet so it's not like they are totally out of reach of recreational diving limits but nevertheless these are the most detailed, close up photographs of Pseudanthias heemstrai we've ever seen.
There are around 170 species of anthias with the Pseudanthias genus accounting for about one third of the species known so far but among those, P. heemstrai is one one the most attractive and uniquely colored species, especially in the males. If you want to peruse some other lesser known exotic Pseudanthias species that are seldom seen, at least within the aquarium world definitely have a look at our previous features on the Harlequin Goldie, P. connelli from South Africa or the Aurora anthias, P. calloura from the northwestern Pacific Ocean.