Crocea clams are one of the smallest species of Tridacna, much prized in home reef aquaria since they exhibit a range of colors and patterns which can very greatly in their patterning. At their most basic the boring Tridacna crocea clams can be mostly blue, mostly gold, but the most attractive and desirable specimens can develop a striking appearance of spots, stripes, and many other eye catching elements.
For decades breeders of giant clam have not well understood how different colors and patterns could be reliably reproduced through crossing different parent clams but new research has shed some light on the challenge. Last year we discovered how there are two different types of Blue Squamosa clams with radically different colors and patterns, each of which are the result of hybridization between Tridacna crocea and T. squamosa but the reciprocal hybrids result in two very different offspring.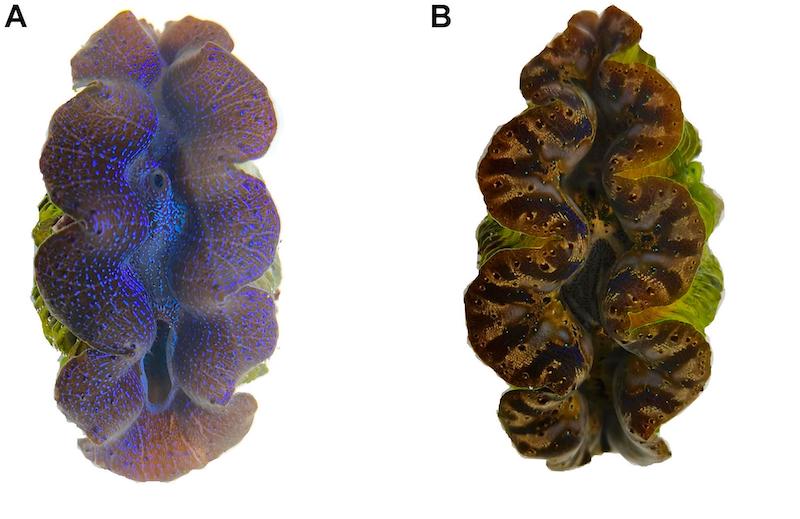 A similar kind of reciprocal breeding effort is at the core of the new paper researching the captive breeding of the smaller Tridacna crocea clam species. Unlike the colors of many other animals, the colors of giant clams is due to light sensitive cells called iridocytes, of which solid blue strains have only one type, while the yellow-green strains have two types of iridocytes.
As you would expect when blue clams are bred with blue clams and gold clams are bred with each other, the resulting offspring are a perfect match of their parents. However when blue crocea clams are bred with gold crocea clams their offspring are much more colorful exhibiting the three distinct types of iridocytes of their different parents.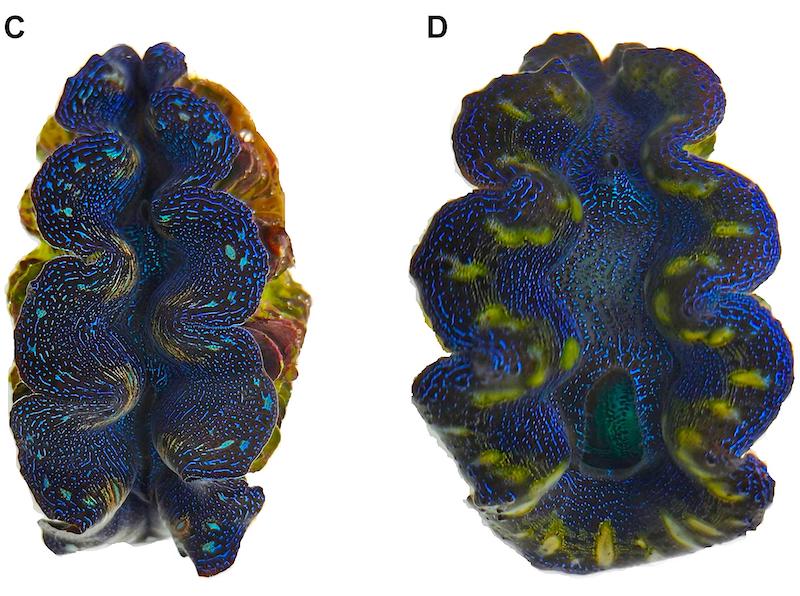 The crossbred Crocea clams not only displayed the blue, yellow and green iridocytes of both types of solid colored T. crocea clams but they also exhibited hybrid vigor with greater survival and faster growth rates at one year of age than their purebred half-siblings. Of additional interest in this paper by more than a dozen Chinese researchers was the elucidation of the specific wavelength excitation peaks of the different light reactive iridocyte cells.
The blue iridocytes have a peak absorption of light at wavelengths at 475nm, and the yellow-green iridocytes have a peak absorption at 550 to 650 nanometers, giving us the knowledge we need to best display these magnificent creatures in our home aquariums. With three types of iridocytes the cross bred crocea clams are much more colorful than their blue or yellow-green colored parents and with an LED light fixture emitting light in the proper wavelengths we can now efficiently excite them to maximum effect.