Pavona maldivensis is one of the most distinctive stony corals in the world with a gnarly growth form and mound shaped corallites that reefers once believed to be a bizarre species of Cyphastrea. Unlike other more encrusting and ruffled species of Pavona, P. maldivensis develops stout branches with bulbous shaped ends resulting in a colony of closely spaced clubby branches that is unlike any other coral in the world, or in the aquarium hobby.
In nature the clubby Pavona is usually found in habitats with strong wave action often growing just below the light hungry Acropora and Porites corals. While P. maldivensis is easy to keep in an aquarium it tends to be a very slow grower and it mostly encrusts and develops thin plates with just a hint of the the clubby branches developing as small mounds. This lack of 'maturity' in reef tanks is probably because these corals are treated like other Pavonas with low light and gentle flow, but in order to develop to their fullest they need to be given very strong flow and a lot more light like an SPS coral.
Unlike so many other corals in the reef aquarium world the most common color of P. maldivensis is orange with the green color morph being much more rare but also much less frequently collected because aquarists will generally choose orange colonies over green ones. There are pictures of a variant from the South Pacific which is greenish with orange colored mouths but besides the regular orange and green, the only other variant that we know of in the hobby is the Worldwide Corals Golden Pavona which is a distinctively brighter shade of orange which absolutely glows under aquarium lighting.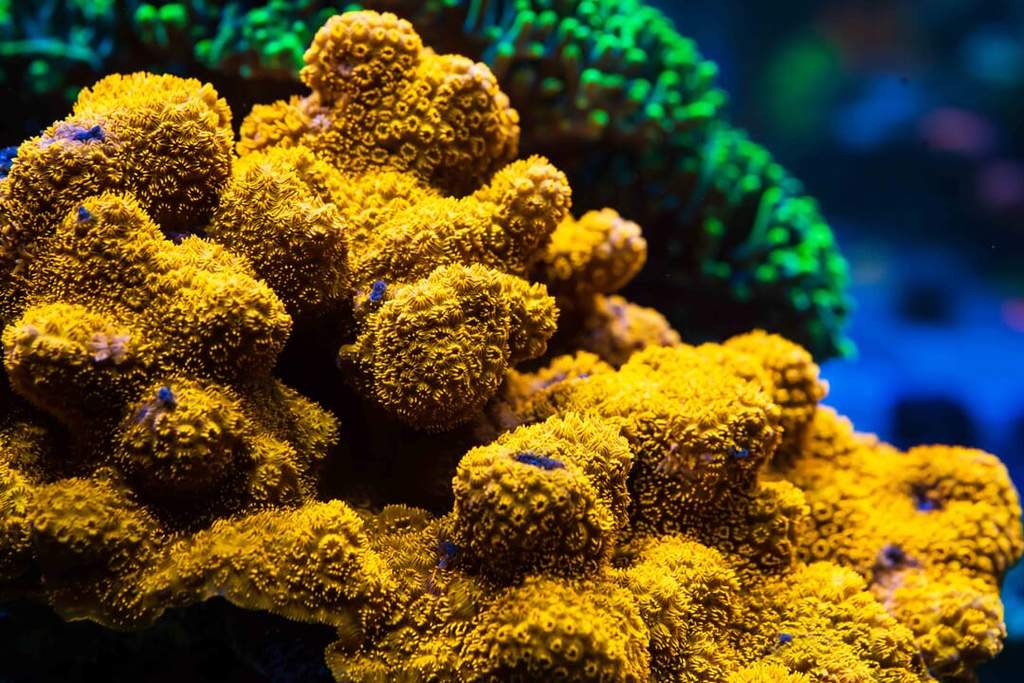 Since Pavona maldivensis has very conservative color pattern in the colonies we see collected we were practically shell shocked to come across some images from Australian reef builders which clearly showed a color morph we had never seen before. This P. maldivensis strain documented by Reefurbished and Gallery Aquatica is an astounding orange with green mouths just like the beloved and iconic 'Jack O Lantern' Leptoseris which seems to support the very close taxonomy between Pavona and Leptoseris.
REEFurbished acquired their initial pieces from the tank breakdown of Elliot White who worked at Pet City which acquired most of their corals from Cairns Marine. Meanwhile Gallery Aquatica recalls a handful of frags of the orange and green P. maldivensis being sold by Australian coral collector Salty Pets a couple years back.
Therefore it's not clear whether these different companies got their frags from the same original colony, or if these were separate collections. But one thing is for certain – if the color morph exists, surely there's more than one colony of the orange and green Pavona maldivensis in the wild.
At present there are only a handful of frags between Gallery Aquatica and REEFurbished but now that the uniqueness of the Irish themed Pavona madlivensis has come to light, hopefully Australian reefers will celebrate this very special color strain and share it throughout their aquarium community. Regardless of color, Pavona maldivensis is a very distinctive coral which is hardy, very tolerant of a wide range of conditions and it adds a a flair of shape and texture to any reef aquarium like few other corals can.