The PSK 1200 SDC is one of the biggest new releases we've seen from Sicce in years and while you may not know it yet, it is bound to be a highly consequential product in the marine aquarium market. This controllable DC pump is the long awaited successor to one of the most popular needle wheel pumps of all time with Sicce's PSK series being widely used across the world in probably hundreds of different protein skimmer models and designs.
We got our first taste of what Sicce could do with a controllable needle wheel version of their PSK pumps way back in 2016 when they unveiled the PSK 2600 and PSK 4000 in controllable SDC versions. If you're not familiar with those model numbers for Sicce needle wheel pump it's because they were brand new sizes which are so large that only a very limited number of protein skimmers are large enough to accomodate them, and even fewer tanks that need that kind of protein skimming intensity.
Thankfully after five long years of waiting the Sicce PSK 1200 SDC is finally available not just for new protein skimmer models, but also for existing protein skimmers currently using a PSK 1200. While we would have loved to see the new volute clamping mechanism in the new pump, since the PSK 1200 SDC is the same physical size as the AC version it will make for one of the easiest drop in upgrades of a protein skimmer we've ever seen.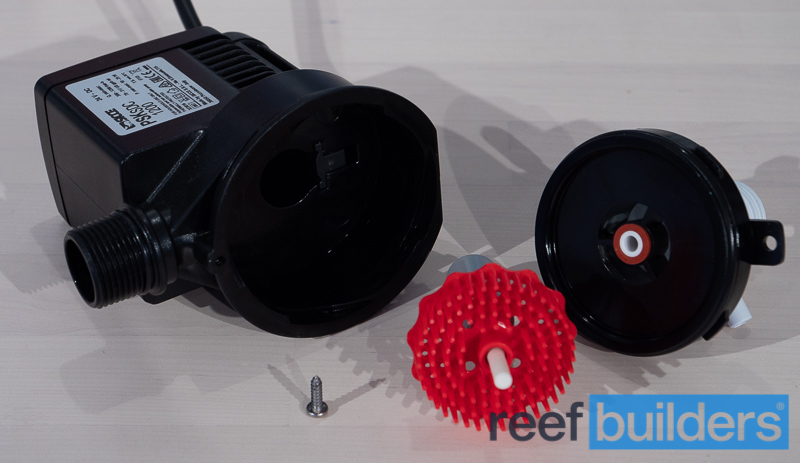 If you have a reef tank running a protein skimmer there's a good chance it's already using a Sicce PSK needle wheel pump and since it's probably running very well, you may be wondering what are the benefits of using a controllable pump instead. The truth is for most reefers a well maintained protein skimmer pump with a clean venturi is going to work plenty well but if you want to squeeze some extra performance or some particular features, the controllable and programmable PSK 1200 SDC is going to make your skimmer a smart protein skimmer.
Some of the benefits of DC needle wheel pump will be the same as a regular controllable pump including fine tuned control of the output and a more quiet operation. It might be obvious why you'd want to tune a return or flow pump for a more precise desired flow rate but the benefit is even more immediate with the fine tuning of a protein skimmer to achieve a balance of skimmate quantity and concentration.
Another popular benefit of controllable DC pumps is that most of them use a 'sine wave signal' which is a more gentle and continuous way to turn the impeller. You don't need to understand exactly how this kind of motor technology works to appreciate just how much it results in a dramatic reduction of operating noise and in the case of the PSK 1200 SDC, it makes a quiet pump virtually silent.
The controllable nature of most DC pumps is one of the biggest advantages of using them in an aquarium application but it's easy to overlook that Sicce's line of SDC pumps are all wirelessly connected with a controllers that include many different programmable options. For most reefers having access to a simple feeding mode which can be activated manually or pre programmed for certain times will be of great help.
For those of us battling low nutrients but not brave enough to forego a skimmer altogether, being able to program a PSK 1200 SDC powered protein skimmer to run at lower power for some time of each day, or for some days of the week, will certainly help us walk the fine line of keeping some nutrients in reef aquarium displays densely packed with corals. At $229.99 the SDC version of the PSK 1200 commands a $100 premium over its standard counterpart even though it generates the same 1,200 liter per hour air draw and similar power consumption.
If you're comfortable with your protein skimmer running full blast and you don't tinker with adjustments too much or at all, the iconic PSK 1200 is probably good enough for most users. But if you like to have a little more flexibility and want some useful features like wireless control or feeding modes, the PSK 1200 SDC is one of the best options for bringing many protein skimmers up to fully modern specifications.