Anthias are a diverse group of quintessential pink and yellow marine fish which occur from the tropical shallows to the cold water depths of our seas. Many species of anthias are quite common and cheap, making great and hardy aquarium fish, while others such as this Odontanthias katayamai are on the other end of the spectrum being rare, large & showy, and absolute collector's items.
Odontanthias katayamai belong to a group of deep bodied, large anthias which are best known in the saltwater aquarium hobby through the most commonly available species, the Borbonius anthias, O. borbonius, but there's a whole family of species in this group with unique features, colors, and patterns that are very rarely seen alive. There is a case to be made that all of the described species of Odontanthias are beautiful in their own right, but the Katayama anthias is arguably the most flamboyant in the genus.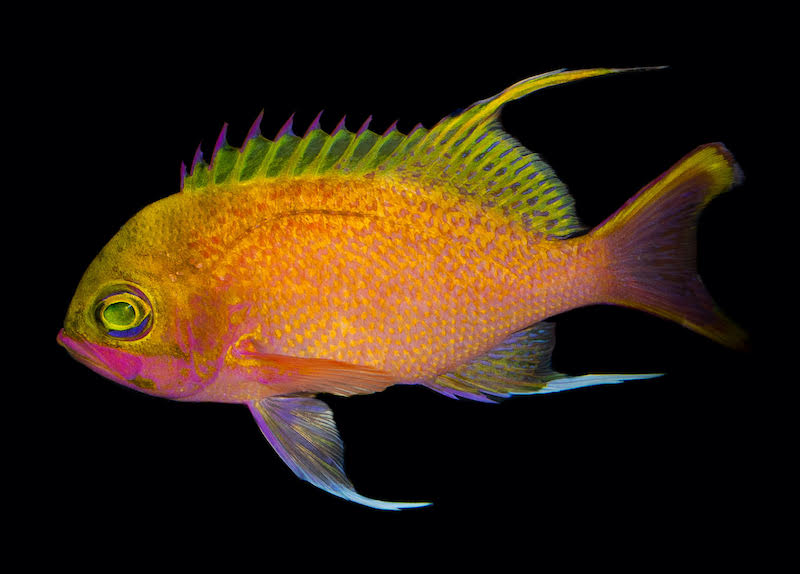 This large and showy species from the Pacific Northwest is most commonly available to Japanese fish collectors but for the first time that we can recall a specimen of Odontanthias katayamai is now available for sale in the U.S. from Marine Collectors. The scant few specimens are usually freshly collected and quickly sold along to the next dealer like hot potatoes but this specimen of Katayama anthias is anything but 'fast fish', having been collected way back in December of 2020.
This individual was conditioned in its native Japan for four months before arriving at Marine Collectors in April of this year during which time it's been tamed and 'tank hardened' to life in an aquarium for ten months across both sides of the Pacific Ocean. To be honest there's not too many fish that command that attention to captive husbandry but being priced almost as much as a peppermint angelfish, the Katayama anthias is certainly one of those.
With a mostly yellow coloration overall, the pink of the face and leading dorsal edge are just a hint of what this fish will become as it grows out of this adolescent phase and into full adulthood. When you're considering spending about the price of a medium sized used car on a fancy fish, you want to know that it'll have many years of enjoyment and thankfully since this fish isn't yet adult, and has been kept at cooler water temperatures of around 70F, it should have a lot of tread left on the tires if you know what we mean.
This attention to husbandry detail is no doubt part of the reason this fish has been conditioning for nearly a year before being offered for sale, and it follows a similar narrative to how Marine Collectors maintained their illustrious Yellow lined Anthias. We really appreciate the short write ups that are published alongside the photos of the fish so you can truly appreciate the recent history of the this first Odontanthias katayamai for sale in the U.S., and make an informed decision about whether this level of fish keeping is right for you. [Marine Collectors]