The Reef Factory pH Meter is one of the newest and modest modern pH monitoring solutions to arrive in the aquarium hobby in a very long time. As important as pH is in all types of aquariums, it's quite surprising that there have been very few options for truly smart pH monitoring features, short of investing in a fully fledged pH controller that can cost as much as a complete (small) reef aquarium setup.
Far too many companies throw around the 'smart' adjective as a marketing term to promote products that fall well short of what modern consumers have come to expect from their smartphones and other connected devices. But Reef Factory's entire catalog of aquarium products fully adopt what it means to have a device with smart features and we recently got our hands on their simply-named pH Meter which we've been putting through its paces for a couple weeks now.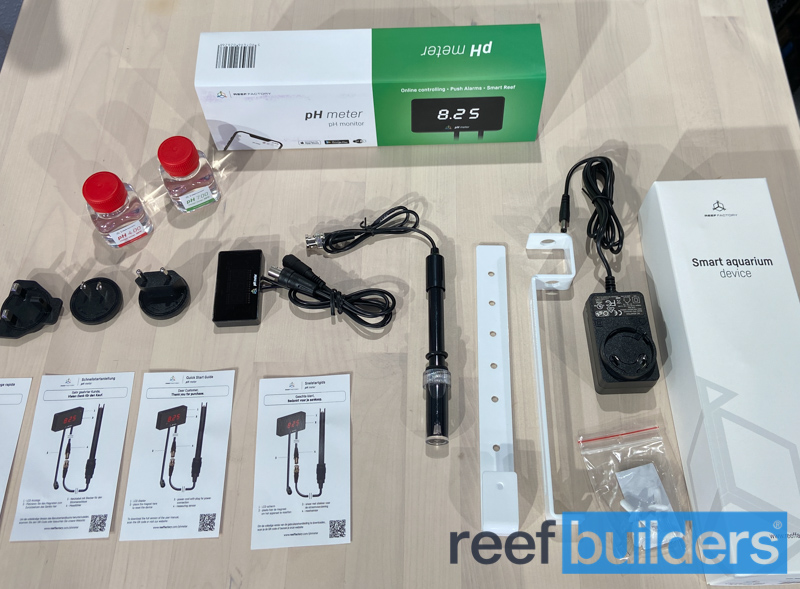 Right out of the box it's clear that the Reef Factory pH Meter is not the same clunky old digital monitoring device that we've been plagued by for decades, as the entire unit consists of little more than a small LCD display with one wire for power, and another wire for connecting to the included pH probe, it couldn't be more streamlined than that. Also included in the box is a basic white probe holder which is long enough to accomodate high sump walls, matching velcro strips for mounting the main LCD and hub, and pH 4.0 and pH 7.0 calibration solutions.
There is no manual in the box but quick start paper cards in a variety of languages steer users to a QR code to download the app required to program, calibrate and interface with the Reef Factory pH Meter. There are no physical buttons on the LCD-hub and the only direct interaction with the pH meter is through the use of a small magnet to reset the monitor in the event that users should require it.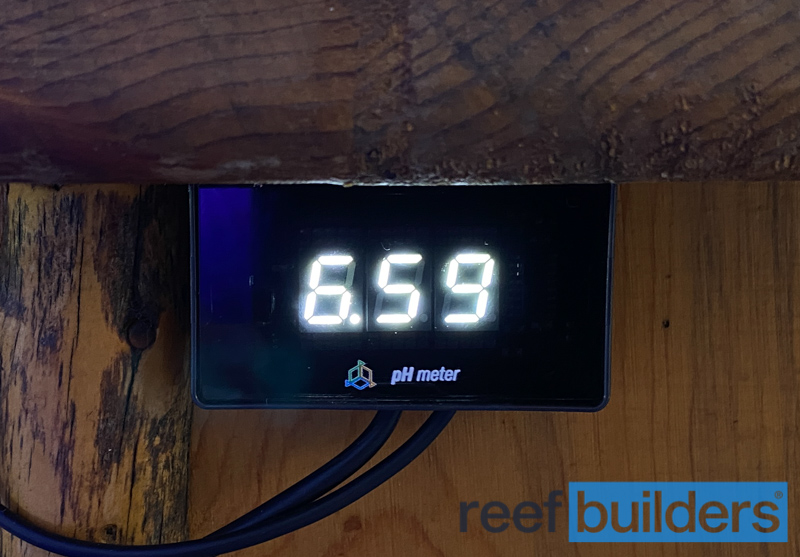 Setting up the Reef Factory for remote monitoring is not the most streamlined we've ever seen, it takes a little bit of a roundabout approach by directly connecting to the meter's own wifi network, navigating to a special website, then after logging in and a few clicks the pH Meter is ready to be used and calibrated. Despite the few extra steps it takes to get the Reef Factory pH meter up and running we will say that it worked the first time for three separate meters and they all were clearly usable in the Smart Reef hub of the Reef Factory website.
When it came to the calibration, it was nice to see included calibration solutions however we were disappointed to see that there are only two calibration points, for pH 4 & 7, with no option for either 3-point calibration of even simple 2-point calibration at pH 10. The lack of a pH 10 calibration seems like somewhat of an oversight from a company called REEF Factory wherein reef aquarium pH should pretty much always be above 8.0, so the calibration point at pH 4 is not helping with the accuracy of using this pH meter in alkaline seawater reef aquariums.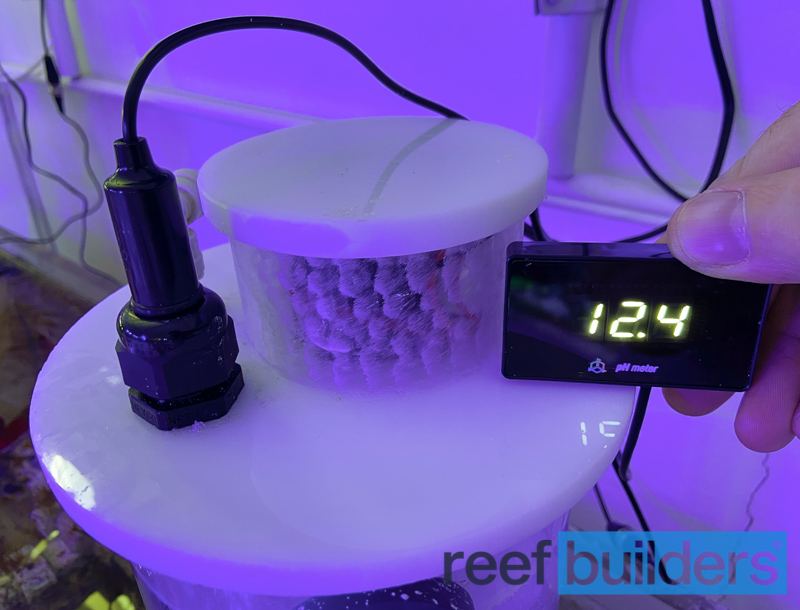 Furthermore, after initial setup we struggled to get the pH Meter to match our 'reference' Hanna Halo bluetooth pH probe using the included calibration solutions and it wasn't until we recalibrated the probes with Hanna solutions that the pH readings became much closer to what we expect in our reef aquariums, cross referenced with several pH measuring devices. One small but important detail that is missing from Reef Factory's pH meter is the lack of temperature measurement for automatic temperature compensation, perhaps not affecting pH measurements too much under a narrow range of temperatures close to the 25?C/77?F calibration point, but the accuracy of pH measurement will certainly suffer if used in tanks that are colder or warmer without automatic temperature compensation.
We recognize that longer cables can negatively impact the accuracy of pH readings but the 34″ overall length of the BNC dongle and the pH probe included with Reef Factory's pH meter severely limits where you can install the pH meter itself, as it will require being mounted close to the point of measurement be it the sump or the aquarium itself. We really strive to mount all of our aquarium electronics as far away from the water and moisture buildup as possible but the short cable precludes this kind of precautionary installation.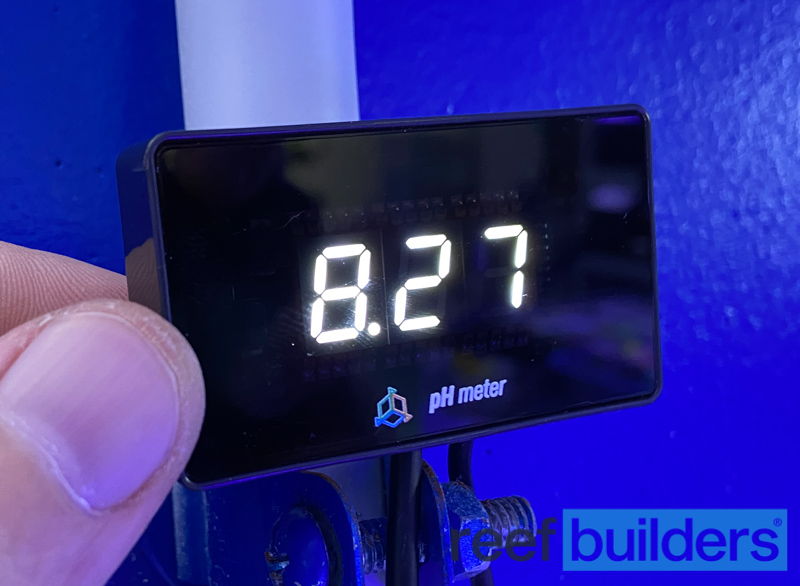 Despite these minor criticisms, we've been very pleased that the pH Meter succeeds in performing its primary purpose of measuring pH and logging these values within the Smart Reef hub. We've been using one unit to monitor the pattern of acidic pH drops in our CO2 injected planted freshwater aquarium, another one in our main reef system which fluctuates from pH 8.1 to 8.3, and another unit in our kalk reactor to monitor its effectiveness over time as it starts at pH 12.4 and slowly decreases over time.
These three different installations represent the widest range of pH levels we experience in all kinds of aquariums and it is incredibly refreshing to finally have a good reading from our phone or any web browser while logged into the Smart Reef app. Costing around €245 or about $285USD, the Reef Factory pH meter is priced at a significant portion of what a fully fledged aquarium controller currently costs, and all the additional features it would come with, making it hard to bolster the value proposition of a standalone, smart pH monitor.
Reef Factory could make the case that their smart pH Meter is incredibly reliable, super accurate and logs values for a year or more with the smart reef service at no additional cost. However we would love to see a future update that enables three point calibration or even a two-point calibration using pH 10.0 so we can have more confidence in the accuracy of measurements taken in alkaline seawater.