The Floating Rock Kit from Blue Marine is a fast pass to mostly skipping the aquascaping process, and getting right to the coral placing and arrangement. Coming in two distinct styles the Blue Marine Floating Rock Kit uses a robust hanging bracket to support a ceramic rock shape that predominantly faces either to the left, or to the right.
The ceramic shape of the branching, finger shaped rock has a natural appearance with lots of nooks and crannies for placing corals and it mounts to a large plastic bracket that is height adjustable to suit your preference or application. The medium sized ceramic rock measures approximately 8 by 16 inches in footprint and would be suitable for as the primary aquascape centerpiece for a tank of about 20 inches cubed, or larger depending on the corals you use.
Floating rock aquascapes are an interesting and creative way to introduce a lot of coral placements into a small tank without having to use very much rock or really aquascape any rocks at all. Although the aesthetics of floating rocks has a certain fad aspect to it, there are some real benefits to lifting the aquascape off the bottom of the tank, not the least of which is preserving water flow and reducing waste buildup on the tank bottom.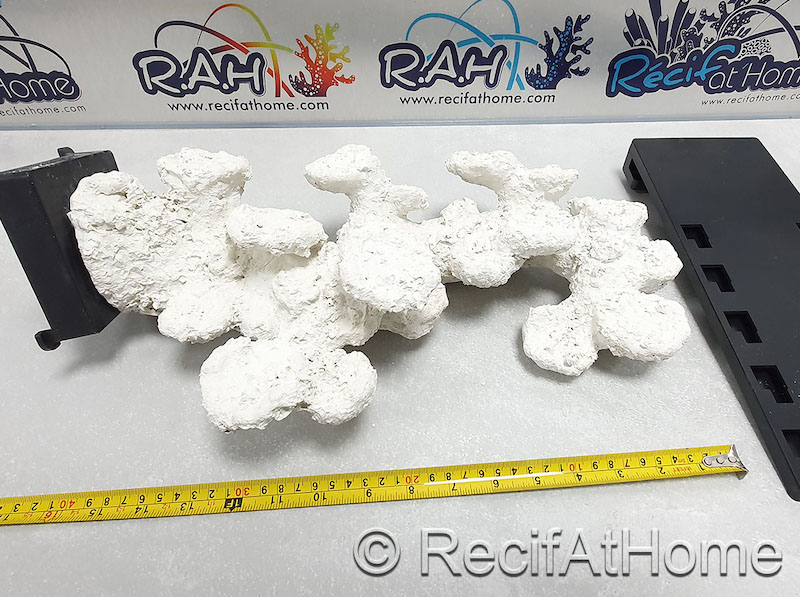 Costing 109 € or around $126 the Blue Marine Floating Rock Kit may be pricey for a single rock but since there's no base or supporting rock required, if you use the floating rock as your entire aquascape it's actually a fairly reasonable investment since you won't need any other rock. We knew it was only a matter of time until a manufacturer provided a complete product for creating a floating rock style aquascape and while Blue Marine's kit may not be the first, and currently only available in Europe, it certainly is one of the most polished we've yet seen in the aquarium hobby.