The UK's biggest aquatic-only trade show went ahead last week, despite some major marine players being conspicuously absent. Previous exhibitors including Tunze, Red Sea, Tropical Marine Centre and the EcoTech and Triton distributors were all missing this year, resulting in some marine-only retailers not even bothering to visit what is also Europe's largest aquatic-only trade show. 
Shows take lots of forward planning and the ever-present threat of Covid meant that while some companies gambled on exhibiting, others calculated that the risk of the show cancelling, a potential lack of visitors or the threat of all their staff contracting the disease and bringing business to a halt as just too great.
This is disappointing, as great shows involve being able to visit hundreds of businesses in one place, all competing to have the best stand, the best, wet displays and the most stand out products.
This was the first Aqua show where we saw not one single wet reef display. When it's those that are often some of the most stand-out memories that we take back from other trade shows like Interzoo in Germany. Inspirational reef displays that make us want to buy into that dream and replicate them in our own stores or living rooms.
But despite that many marine companies and products were on offer with a nice mix of large established companies like D-D The Aquarium Solution exhibiting alongside many small, startup companies like Reef Zlements with a nice mix of new and innovative products. Here's a rundown of some of the highlights: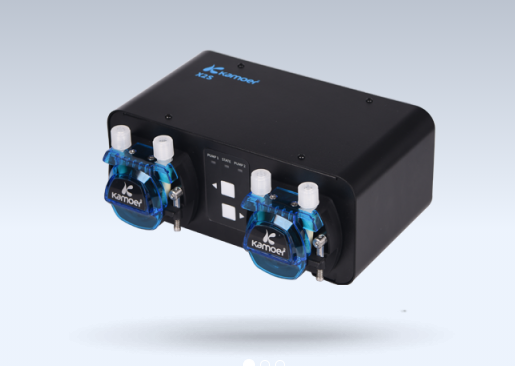 D-D The Aquarium Solution
D-D made a big splash last year when they acquired the ReefPro, Aquascaper and eaFreshwater aquarium ranges from Evolution Aqua. Now rebranded to Aqua-Pro, EA's ReefPro range of reef-ready tank, sump and cabinet combinations join D-D's existing Reef-Pro tanks to offer a much wider choice of tanks from two to six feet in length, the larger models of which also come with an aluminium frame.  
New too were three new pumps from Kamoer – one to run devices like Calcium Reactors, one water change pump taking water both in and out of aquariums, and a pro version which can change up to 600 litres per hour as well as top up evaporation. A new Kamoer ATO was displayed which has an extra failsafe sensor versus their own D-D branded model, with just one sensor.
Reef Zlements
Pronounced "zelements," the Z Complete range of products comprises a 2 part dosing solution, amino acids, a carbon source to lower nitrate and phosphate as well as Phos Plus and Nitro Plus for those who want to increase their NO3 and PO4 levels. Reef Zlements also produce trace and macro elements to compliment their very own ICP testing as well as carbon and DI resin.
2 part dosing has been rare in the UK until now, with most reefers dosing three parts as part of the Balling Method. And despite a very saturated supplement market Reef Zlements are receiving praise amongst the Uk reefing community firstly for the value of the product line, selling for half the price of many others, as well as their fast, friendly and very useful after-sales surface.
The husband and wife chemists told Reefbuilders they are already developing a salt, and are looking for distributors in the US. So watch this space.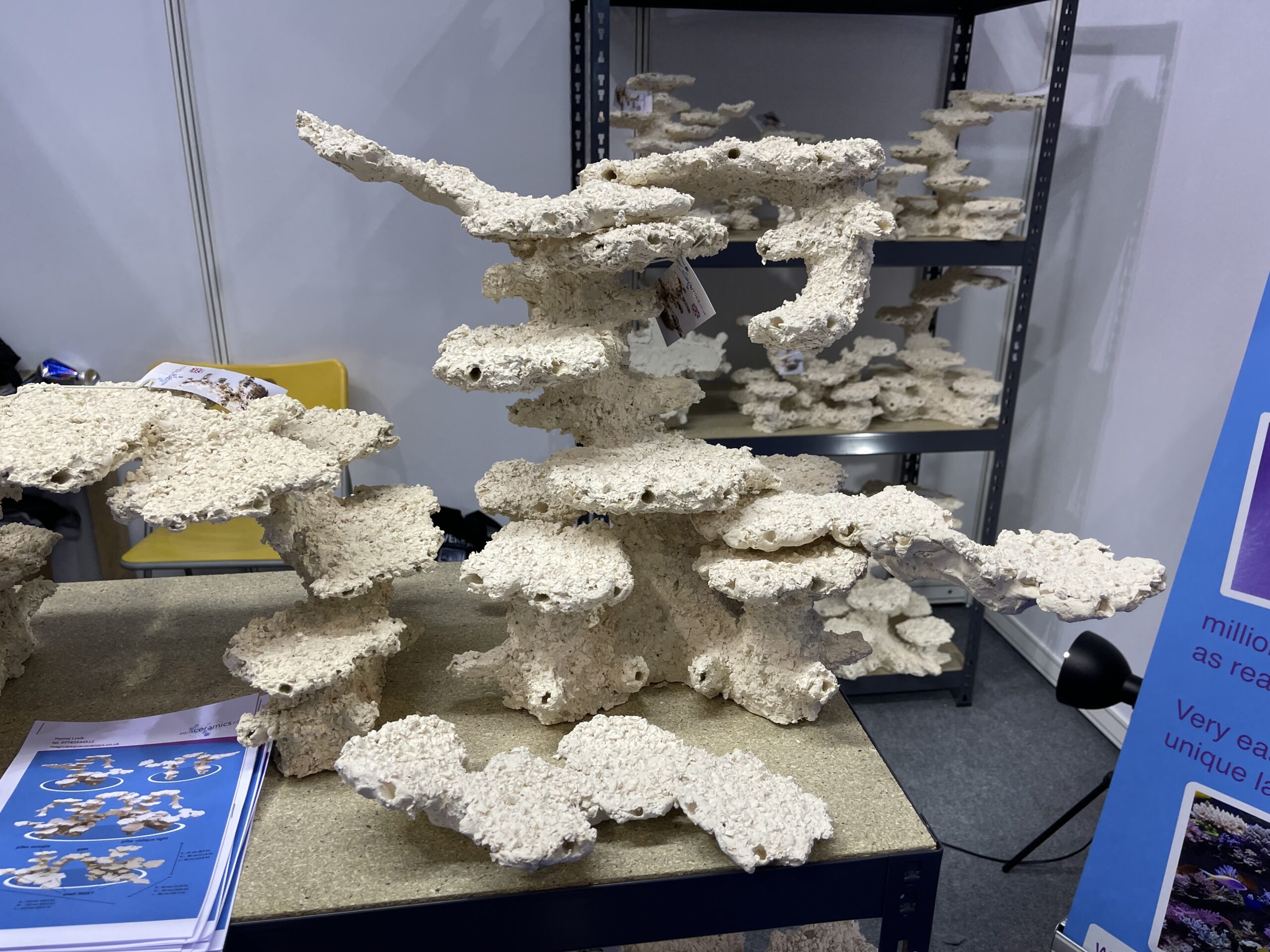 Aquaceramics
A good rockscape always brings us over, and at this show that stand-out dry aquascape was provided by Polish company aquaceramics. These rockscapes are hand made from clay in Poland, baked and then ICP tested for leaching. They comprise individual pillars, shelves and archways which can then be used in combination to create elaborate, gravity-defying areas for users to place corals. Plates are then top dressed with ground up clay chips to provide extra irregularity to the surface, with a few holes here and there for frag plugs too.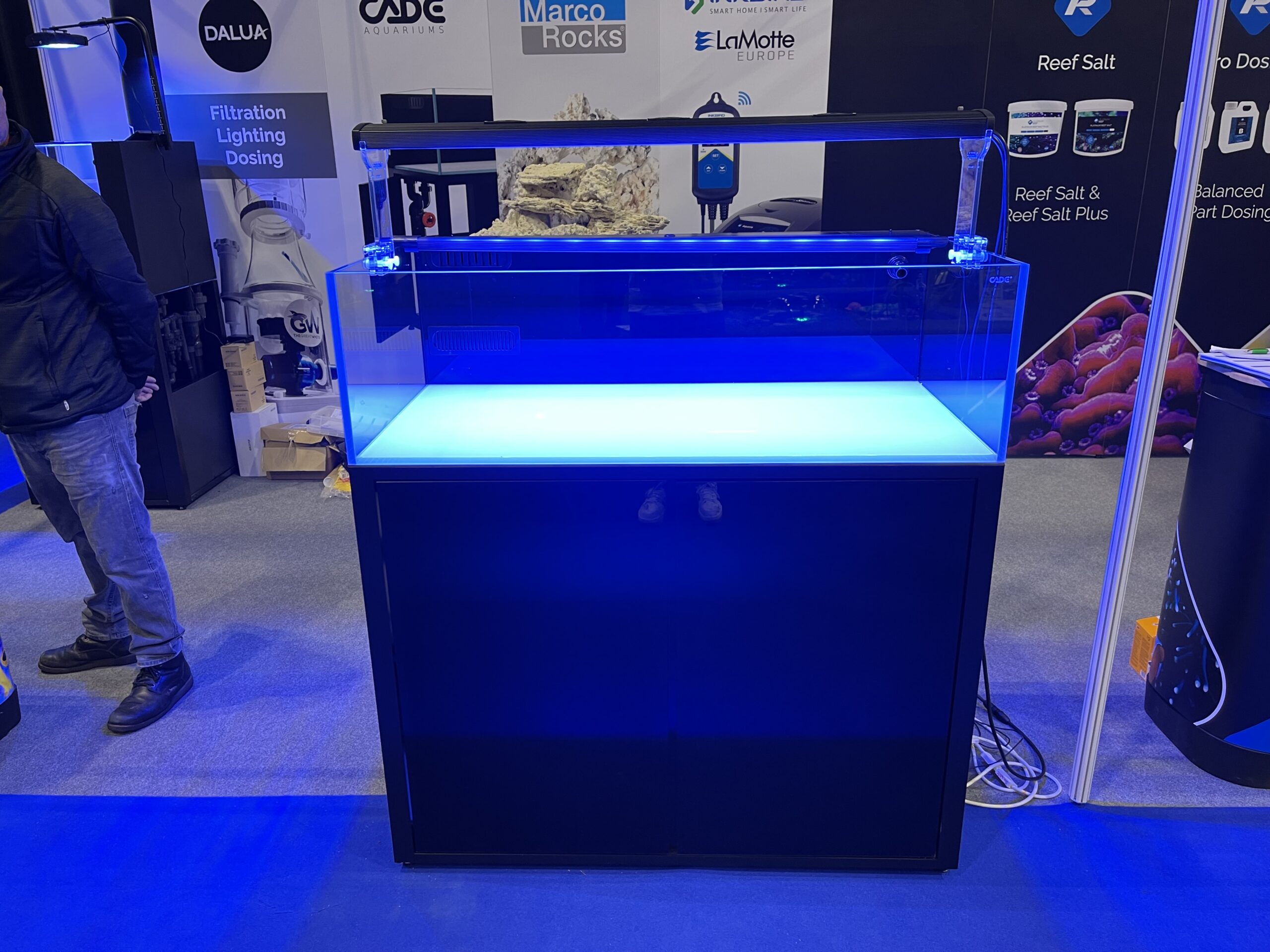 Cade
Cade made its UK debut with the S2 aquarium range, accompanied by Dalua skimmers and Illumagic LED lighting. We're big fans of the aquarium line, which includes many extra steps versus standard reef-ready tanks and they had many a trade-onlooker drooling at what they could do with one. No pricing was in place yet though, which, with these Chinese-made, australian-designed tanks will be the deciding factor on just how many make their way into UK reefer's homes. 
Aquaforest
Another aquarium made its UK debut too, this time the AF OceanGuard from Aquaforest. Its replaceable dors and panels, marine ply cabinet construction and fetching pvc sump help to set it apart from others in the market and this one was dressed with the latest version of AF Rock and AF Bio Sand – live sand but done very differently.  
Reef Delete
But the stand-out marine product was definitely Reef Delete by ITC Reefculture. This hand-held UVC coral pest zapper is innovative and one of those products that you never knew you needed until its invention. Then it had us all thinking about nuisances we could point it at in our tanks from Aiptasia to cyanobacteria and more. Of course, we need to test it for ourselves, it's Gen 1, and at £299 ($399,) it won't be finding its way into the hands of every reefer unless loaned out by stores. 
But it definitely got our attention at the show and even if more marine companies had rocked up to show off their wares, we're pretty certain that Reef Delete would still have us declaring it the best marine product launch at the Aqua trade show.