Aquaforest is joining the glass aquarium market with a new range of reef-ready aquariums. The AF OceanGuard range comprises aquarium, sump, pre-assembled cabinet, and pipework, and will be available in five sizes from two to six feet in length, and 275-980 liters (72-258 gallons) total volume.
All sets include OptiWhite low-iron glass, black central weir with lid and removable comb, precision gate valve, non-return valve, and the new AF PVC sump range. Foam cushioning mats are provided for both tank and sump, and all models are finished in black silicone, with a black glass background. 
Dimensions
AF275 is the smallest model in the range at 60x55x55cm (24x22x22″). Its made from 10mm (0.4″) glass all round and comes with a 50×41.5x45cm (20x16x18″) sump. It holds 275 litres (72 gallons,) total volume. AF435 is 90x60x57.5cm (36x24x23″) in 12mm (1/2″) glass with a 60×46.5x45cm (24x19x18″) sump. It holds 435 litres or 115 gallons total volume.
AF605 is 120×62.5×57.5cm (48x25x23″) in 12mm (1/2″) glass with an 80×48.5x45cm sump, and holds 605 litres or 160 gallons of water. AF790 is 150x65x60cm (60x26x24″) in 15mm (0.6″) glass with a 90×50.5×45 (36x20x18″) sump, and holds 790 litres total volume or 209 gallons, and the largest model, the AF980 is 180×67.5x60cm (72x27x24″) in 19mm (3/4″) glass, with a 110×51.5x45cm (43x20x18″) sump and holds 980 liters or 259 gallons total volume. All come with twin, side-facing returns except for the 275 model, with a single front-facing return. 
Cabinets
The cabinets utilize marine yacht technology (according to the manufacturer,) and are made from waterproof plywood, stainless steel screws, and come with Japanese rust-proof hinges. They come in six cabinet colors – carbon, cloudy caramel, warm sand, rhino, crushed ice, and ultra white, but the side panels and doors can be removed from the load-bearing carcass and swapped out for other colors if required in the future. The larger cabinet models include a shelf and room for a chiller, electricals, or other equipment.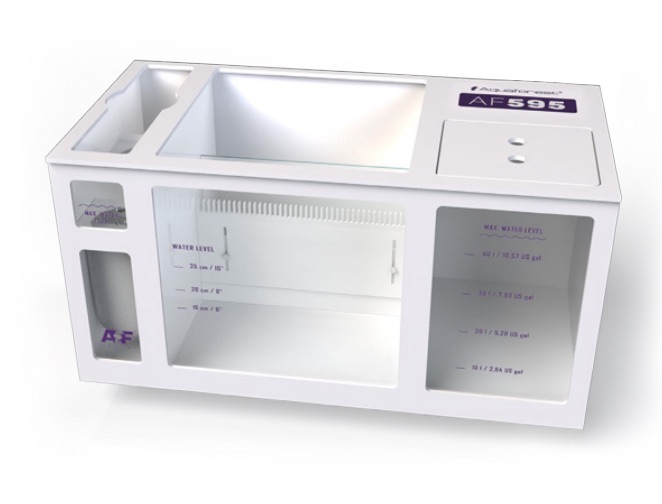 Sumps
The PVC sumps are also new and can be purchased as stand-alone sumps for those who want to retrofit them to existing tanks. They comprise a sock chamber with a silencer, an adjustable height skimmer chamber, a pump chamber, and a generous, graduated ATO reservoir, with reactors fitting either into the skimmer chamber or in place of one of the filter socks.
The sump's heavy PVC build-material will help to set this range apart from other manufacturer's offerings in the sector who opt for glass. The white and purple livery will also appeal to the purple Aquaforest army who will be keen to complete the look with a matching Aquaforest tank, sump, skimmer, and reactor. If your sock cleaning days are over, however, we would love to see Aquaforest consider a roller filter option in the future.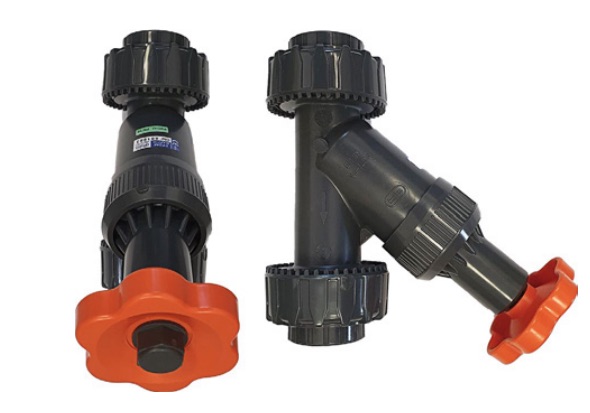 Made in Europe
AF OceanGuard will face stiff competition from an already crowded rimless, reef-ready global tank market including Red Sea, Waterbox, Innovative Marine, Nyos, Evolution Aqua, TMC, D-D, Octo, Cade, Aquarium Systems, Clear Seal, and Elos, to name just twelve, with dozens more available separately as OEM for rebranding from China.
OceanGuard is made entirely in Poland however, (apart from the hinges,) and the premium combination of precision gate valve, non-return valve, PVC sump, AND interchangeable cabinet panels may help to filter potential buyer decision-making processes when selecting a bare-bones reef system from the existing pack. 
Pricing and global release dates are to be confirmed. And yes, Reef Builders can exclusively reveal that they are working on an LED light too…