The FragEL is a unique new LED lighting fixture with a distinctive appearance quite unlike anything we've seen in the aquarium world before. The unusually long 36″ FragEL inherits somewhat of a 'wide striplight' form factor but its fan-less construction and trapezoidal cross section belies some of the features that make it specially designed for commercial applications.
To get some of the fun stuff literally out of the way, the FragEL is in no way trying to compete with consumer grade aquarium lights so you'll find no wireless control, no wired control, in fact there's no control of any kind as the FragEL is simply an on-off kind of light, but you'll even have to bring your own power switch. The lighting engine of the FragEL consists of 99 LEDs which are individually lensed to drive as much light downwards towards the corals as possible, and while sipping only 1.5 watts each they are running in the sweet spot of LED efficiency.
The unusual shape of the FragEL enables a solid state passively cooled operation which is both silent and also reduces the potential points of failure from any moving parts. The external, top-mounted Meanwell driver is rated at IP65 making the whole fixture fairly resistant to intrusions of both dust and water and while we're not sure if it can be hosed down, it surely can take some generous amount of splashing from spazzing clams or fish.
The FragEL is being made in two different fixed-spectrum models, the ZM5 with a blue heavy spectrum that is well balanced with white LEDs for high light loving corals like moon corals, SPS and Acros, and the U2 with a mostly blue spectrum that is peppered with just a few white LEDs to bring out a little more colors. We don't have specific ratios of the blue diodes but this part of the spectrum is powered by both blue, royal blue and a touch of near ultraviolet diodes but no complimentary red or green to boost accessory pigments of corals.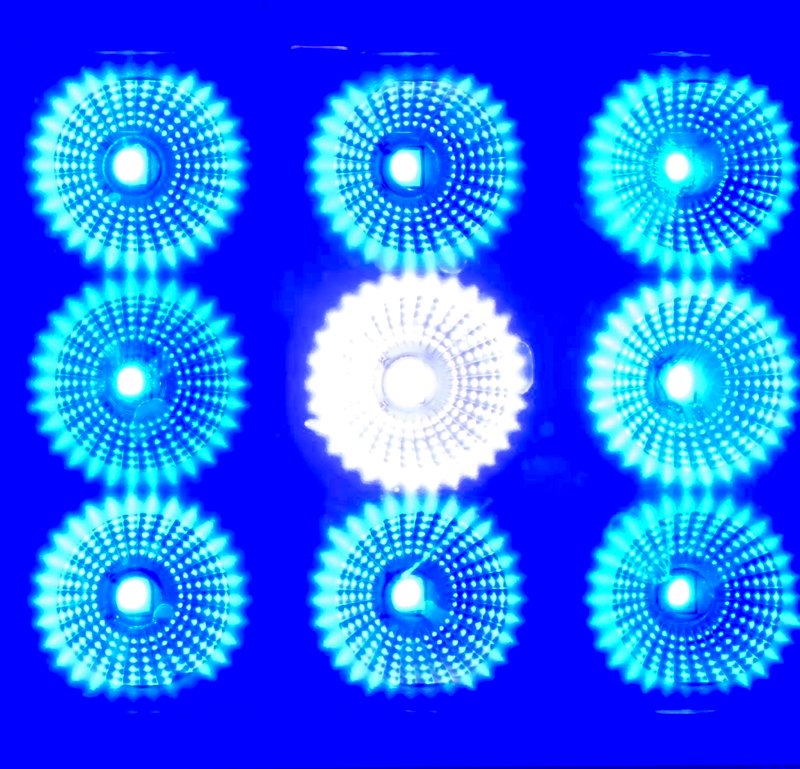 The 150 watt FragEL is available in both the US and Australia for around AU$900 or US$650 which is backed up by a two year warranty and suitable for lighting up a 3 by 4 foot area or around 90cm by 120cm of tank space. The FragEL was developed and has been tested by Australian coral collectors and exporters where the fixture was exposed to very harsh conditions and while the bulky size of the FragEL may not qualify for any beauty contests, it does appear to be a sensible choice for stores, wholesalers and coral farmers who are on the lookout for a reef aquarium light that won't be any trouble in the very hot and humid environments of our reef tanks.