Auto doser kings Kamoer have launched a heavy-duty water-changing device named the X2SR. Two large stepper motors enable programmable water changes by way of Wi-fi control on a mobile app, and they're capable of exchanging up to 54 liters (14 gallons,) an hour. Just like a smart doser, The X2SR's app enables scheduling of multiple water changes throughout the day or week, can be volume adjusted and it'll even tell you how much water is left in the reservoirs you're pumping into and out of. 
The super-accurate steppers enable identical volumes of water to be pulled in and pulled out of a reef system either at the same time in synchronized mode or you can remove the water first, then replenish with new water afterward for a true water change, in In and Out mode. The heads can be calibrated too for enduring accuracy throughout the life of the unit.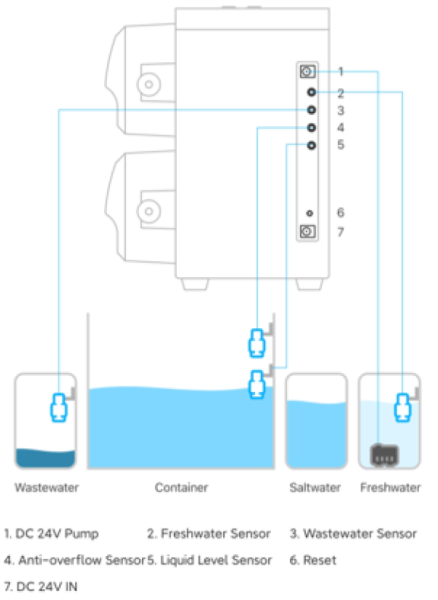 In-built flood prevention
But reefers know two potential problems could occur with doing saltwater water changes when you're not there. The first one is evaporation – that age-old reefkeeping conundrum whereby simply replacing old seawater with new doesn't account for the loss of freshwater via evaporation. If it tops up evaporation with saltwater salinity rises. If a separate ATO isn't turned off during "out" mode it will kick in and start to top up with extra fresh, taking salinity down.
And secondly, what happens if something goes wrong? We all know the potential hazards with open-topped sumps and reservoirs if one dumb device pumps too much into the other and doesn't stop. One runs dry and one floods.
But the X2SR addresses all these issues by way of its own, included, ATO with a separate pump, and not one but four separate level sensors. One sensor is placed in the pump chamber of the sump like you would do with a normal ATO sensor. One is then placed in the ATO reservoir to alert and prevent that from running dry. A third sensor is then placed in the sump to alert if the sump running level rises above normal, and a fourth sensor is placed in the wastewater reservoir to alert that the level in there is too high. Run a disaster scenario and the four sensors should stop that from happening completely.
We are aware that this can also be achieved with some already available monitoring and control systems, and that they could even switch complete pumps off by way of controllable plug bars. But with the X2SR Pro, you don't have to buy into an extra, separate control system, and everything you need comes in one, neat, autonomous package. There are inbuilt buttons for a swift manual water change if desired too.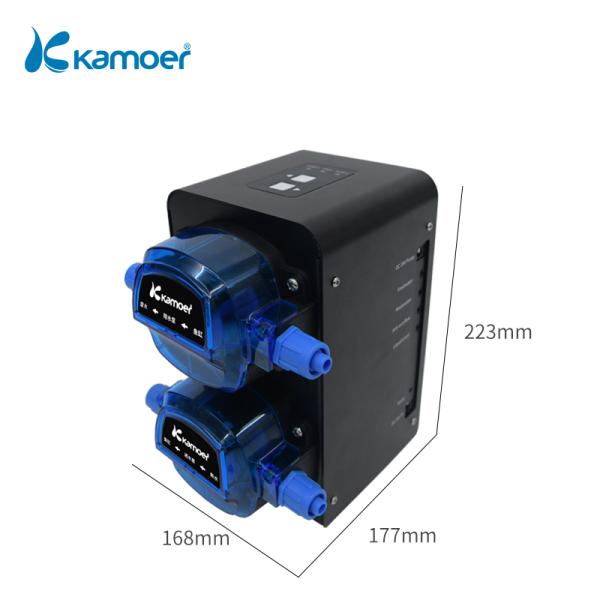 Size is everything
The first time you lay eyes on an X2SR in the flesh you'll notice it's a much physically larger and beefier unit than any standard auto doser. The heads need to be bigger to enable larger volumes of water to be exchanged, especially on large reef systems, and continuous operation could even allow for over 1200 liters (317 gallons,) of water to be exchanged on a daily basis. This gives the PRO commercial application too, making it suitable for being put to work on store coral trays or even wholesale fish systems. Extra noise does come with extra size, however, so although you probably wouldn't want it operating right next to you while you're watching tv, it could be placed a considerable distance away in your garage, (its powerful enough,) or you could program the unit to do the water changing while you're out of the house. 
The dream of being able to change water automatically while not affecting salinity is as old as the hobby itself, and the Kamoer X2SR delivers that. Change enough water and you'll keep nitrate low, replenish all those trace elements and maybe not even need supplemental dosing at all. Dilution can be a solution to pollution and with this device, you don't even need to get your hands wet. We fully expect that most reefers will run it on Synchronized mode with the ATO employed, and will place a full drum of new water on one side of the cabinet and an empty drum for wastewater on the other. And if it's too heavy-duty and a touch too premium-priced at £479.99/$643.91 there's a smaller, albeit slightly less capable baby brother, called the Kamoer X2S.