A sump is the life support system of a healthy saltwater aquarium. Some hobbyists may start off with a canister filter and hang on the back equipment, but modern saltwater aquarists choose to use a sump for many beneficial reasons.
Saltwater aquarium sumps are built of durable acrylic and contain all the necessary space to house mechanical, chemical, and biological filtration equipment. Most manufacturers offer a range of products suitable for beginner to advanced hobbyists, offering the opportunity for all aquarists to install a sump.
Sumps fit under the main display so all your equipment and cords, including heaters, can be hidden resulting in a cleaner neater aquarium display. One of the benefits of using a sump is that it increases water volume which helps to increase gas exchange and oxygenate your water.
While it's entirely possible to run a tank with hang on the back equipment, and a canister filter, this method requires a rigorous weekly maintenance schedule for nutrient export. With extra surface area for mechanical filtration, and the ability to add new filtration equipment, aquariums that use a sump require less frequent water changes.
All sumps start off as a simple box with a filter sock, and quickly progress into full-on reef tank centerpieces complete with frag tanks, reservoirs, and room for all your fancy gear. Here are some of our favorite sumps designed for saltwater aquariums.
Pro Clear Aquatics Red Flex 4 in 1
The Red Flex 4 in 1 is a unique sump with innovative features. We first spotted the Pro-Clear Aquatics freedom design a few years back, and the new Red Flex model builds upon this design, adding even more unique proprietary features.
All four sizes of the Red Flex sump comes with their new proprietary bubble diffuser. This feature is designed to receive water from the main display into the sump while reducing noise, and microbubbles from entering into the sump.
The Red Flex is equipped with a unique channeling system which gives users the flexibility to direct water flow through a refugium and built-in media reactor chambers. And clever cable and probe holder around the rim give this unit a sleek high end finish.
Available in four sizes | 100 gals | 200 gals | 300 gals | 400 gals |
The German designed Deltec sump comes after many year of experience to provide a high quality uniquely designed products. Deltec sump uses a combination white acrylic and clear acrylic panels to create the attractive Marine BoX sump.
The BoX offers space for skimmers, paper filters or filter bags, return pump and various reactors and filters. In addition, the BoX can be equipped with two 10 watts UV rods, a heating rod, a top up system and four probe holder. A reservoir with a top up system is also available, and makes the Marine BoX to a perfect filter sump that enables a healthy, beautiful and silent aquarium.
Available in three sizes |(S) 55 Liter return volume | (M) 70L | (L) 94L |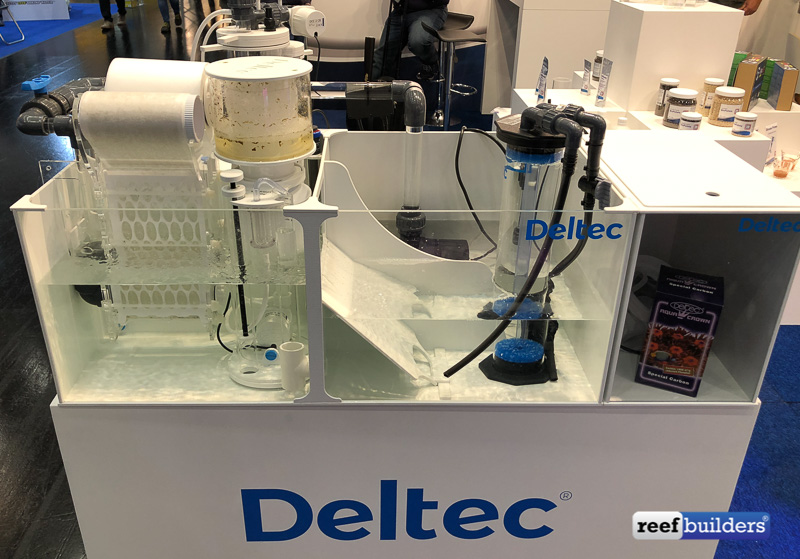 Reef Octopus OCTO Reef Sumps
OCTO reef sump is an attractive sump that concentrates a lot of important functions into a smaller dimension. The sump has a solid acrylic build fused together by hand into compartments for optimal form and functions.
The OCTO reef sump comes with a build in filter sock holder or you have the option of running a fleece roller filter. The skimmer and/or reactor chamber comes with water level adjustment, and the sump features a built in ATO freshwater fresh water reservoir of up to 25 litres.
Available in four sizes |15 inch | 24 inch | 30 inch | 36 inch |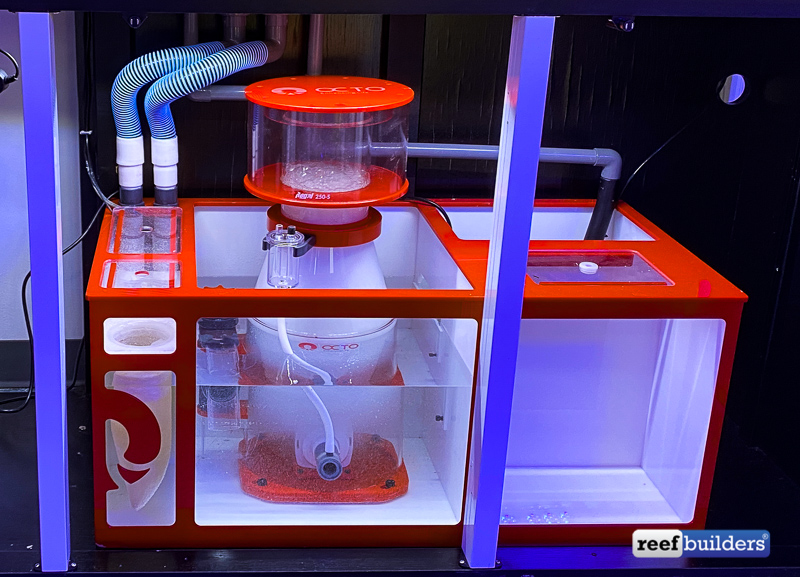 The pinnacle of reef keeping sumps has to be the Royal Exclusiv Dreambox 2.0. We've written extensively about these drool-worthy sumps, including their latest innovation, the stand-alone Fleece Filter Dreambox.
The Dreambox sump is customizable and can be outfitted with all of the German-made Royal Exclusive products, pumps, skimmers, and fleece filter roller.
Custom Sizing from 75L to 350L+
Hmahli Australia Custom Sumps
Hmahli is a boutique Australia brand we first case across at ReefStock Australia. The custom sumps are made by a reef hobbyists turned manufacturer to build some of the industry's best life support systems.

While still a relatively new brand in the North American market these high quality sumps deserve a spot on our gear list. Hmahli sumps are highly customizable to suit your reefing style, and the attractive sleek design will become a glowing centerpiece under your tank.
One of the specialities of this sump is the color changing LED, so you have adapt the color to whatever suits your needs.
Custom Sizing
Eshopps Color Series Sump
The Eshopps color series is a line of sumps made for every level of aquarist from the introductory hobbyists too advanced and professional. The line starts with the yellow Oceana class and offers a large open are for a protein skimmer and return pump.
The line works up to the professional series Titan purple sump with all the bells and whistles. The titan class comes with adjustable water height, and customizable chamber that can be used as am ATO auto-top off or frag tank chamber with float valve.
Available in four sizes | 1-60 gals | 61-90 gals | 91-150 gals | 150+ gals |