The Aqueon 60 gallon breeder is an exciting surprise of an aquarium from a company that hasn't really changed up their standard tank sizes since they purchased the old venerable All-Glass Aquarium brand. The 48L x 18W X 16H inch 60 gallon aquarium has the same footprint as a standard 75 gallon tank but with simply a reduced height which makes these shallow aquariums very useful for a wide range of applications.
In the annals of aquarium history the 36 x 18″ 40 gallon breeder has been one of the workhorses of fish breeders and reefers alike since it provides a wide footprint and a reasonable water volume to work with, and they are especially popular stacked on cheap metal racking systems. There are other aquariums that qualify as 'breeder' tanks in the aquarium world – 20 longs are one type, 15 breeders are rare but they are out there, and it's been a long time since we've seen one but the 50 gallon breeder used to be an uncommon slightly taller version of the fawty.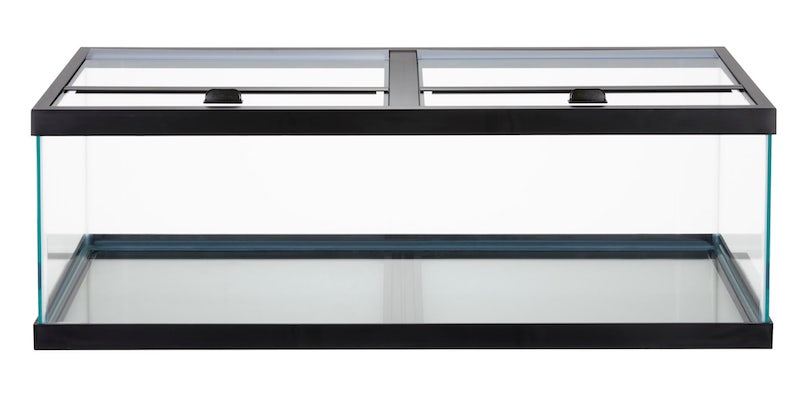 We're especially interested in the capacious footprint of the Aqueon 60 Breeder for use as a nice large sump for bigger tanks and systems as there's a lot of room for building it out in our preferred style. While some folks put more attention to all the bells and whistles of the sump underneath the tank, we relish having wide open sumps with just a kalk reactor, skimmer, return pump and plenty of space in between everything.
The Aquaeon 60 gallon breeder aquarium is not yet listed on their own website but we do see that PetCo has the tank priced at $189. We would be astonished if this particular aquarium falls under the $1 per gallon sale that they frequently have which usually applies to tanks up to 55 gallons and the 40 Breeder but not 75 gallon and larger aquariums. We currently have a need for some new large wide glass tanks like this at the studio so we'll try to get our hands on some and report back on how they work both as sumps and as frag tanks.