The ASF Proten LED Striplights are a new offering from a very old company which has experienced a number of name changes over the decades. There's been a rapid influx of new LED striplights in the reef aquarium market but the Proten LED has some compelling features that should help it stand out in what is becoming a very crowded field.
These medium output strip lights come in three color options including a Freshwater, Marine, and Reef Blue flavors that are each available in six sizes ranging from 10 to 60 inches long, with extendable legs for spanning a wide range of tanks. The five shortest strip lights include two channels of on/off control with a third channel available to the largest 60″ size option.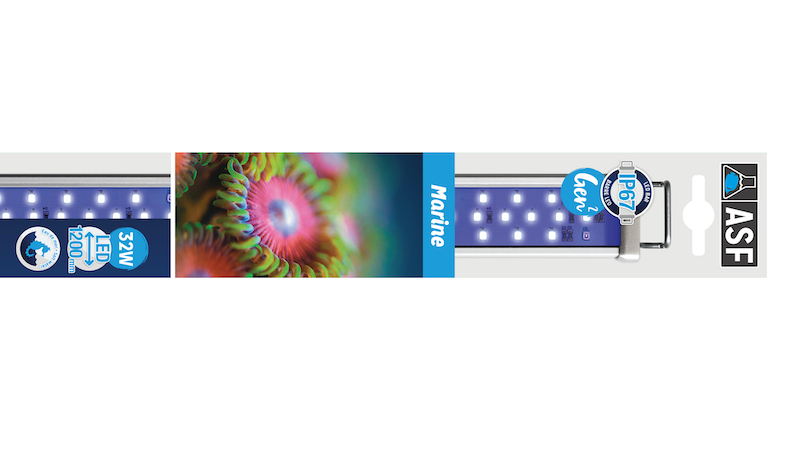 You may not be lighting up the deepest tanks or most light hungry corals but what the Proten LED lacks in sheer power it makes up in using numerous diodes running an average of 0.2 watts each for top level efficiency. The Freshwater Proten uses mostly white LED backed up with red/pink and green LEDs for colorful foliage and fish colors, the Marine Proten uses plentiful bluish white 12,000K LEDs paired with about half as many RBG chips and discrete 462nm blue diodes.
By far the most attractive strip light from ASF is going to be the Reef Blue version which is almost all blue with most of the light emitting diodes in the 420, 400 and 460nm spectrum and it is supported by just a dash of 680 and 700nm deep red LEDs. The 36 and 48 inch Proten strips come in at a little less than 10 watts per foot with 27 and 36 watts respectively but this is precisely what makes them great supplemental lighting sources to compliment your primary fixture or for use over medium to low light coral species such as shrooms and chalice corals.
A couple advantages of the ASF Proten LED strips is that they are very thin and quite narrow, passively cooled and splash proof which is useful since you'll want to position these strip lights very close to the water surface. The Proten strips are compatible with a separate bluetooth controller have been available in Europe for some time and we're looking forward to testing these out a little more when they become more available from ASF in North America. [Aquarium-Systems]