The Chicago Sunburst anemone is the most recognizable strain of bubble tip Entacmea quadricolor after the Colorado Sunburst which kicked off the RBTA craze. Compared to the intense mostly orange Colorado version the Chicago Sunburst is more of a golden yellow to very light orange.
But anyone who's kept bubble tip anemone strains will know that there's a lot of variability in their coloration and appearance, and these nems can actually change quite a lot depending on the size of the anemone and especially the lighting under which they are kept. In the early days of cultivating the Colorado Sunburst anemone, before the spread of LED lighting, it was believed that there were different 'phases' of coloration including a mostly red phase, or a mostly orange phase.
We now understand that there is no such thing as a biological phase of anemones and that the variability in coloration was mostly a function of the lighting. In our modern era of reefing with LED lighting this is a foregone conclusion but there's still some examples of extreme variability especially in the Chicago variant of the sunburst anemone.
For example we now know that the size of the bubble tip anemone can greatly affect its appearance and it is widely believed that the Lemon Drop anemone is just the appearance of Chicago sunbursts when they are very small. But there's still some wild disparity in the appearance of Chicago Sunburst anemones due to the lighting under which they are grown as we got to see for ourselves last week at ReefStock Denver.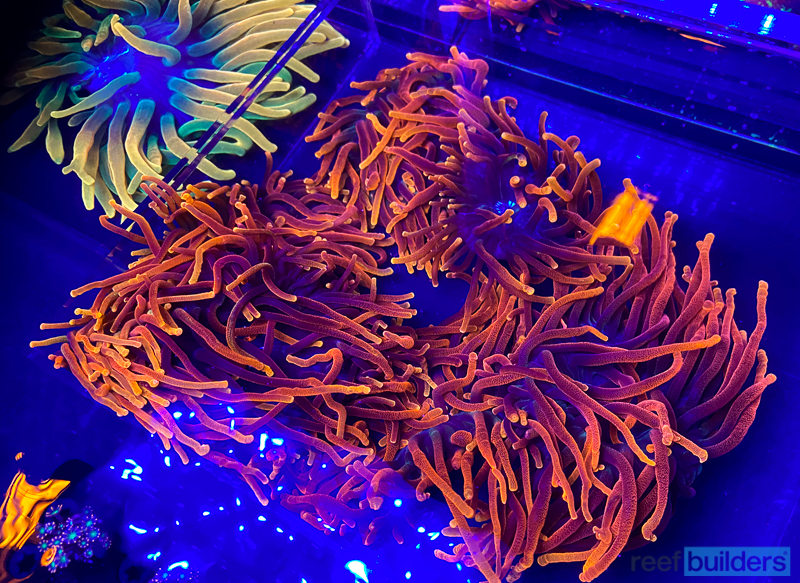 Frost Corals is a staple of many reef aquarium events and last weekend they showed off two different crops of Chicago Sunburst anemones, one of which was the classic bright yellow-orange we've come to know, and the others were nearly all red with just a hint of fluorescent orange. It was awesome to discover that the 'classic' appearance of the Chi-Burst was developed under LED lighting but the mostly red specimens were harvested from a tank lit with metal halide lighting!
The reef aquarium hobby has collectively learned how much the appearance of corals can change under diverse lighting regimes but bubble tip anemones can be even more variable. This just goes to show that it is a fool's errand to chase after new and fancy strains of bubble tip anemones because unless it's been around and 'field tested' and cultured in a wide range of reef tanks, it could simply be a known variety that has been dramatically altered by extremes of lighting intensity or spectrum.