The aquascaping community has always had the luxury of beautifully designed lighting fixtures and we couldn't help but notice this one, the SkyLight Hyperspot, as it graces more and more aquascapes on Instagram.
The combination of that slimline, passively cooled tablet design, matt black on the back, mirror finish underneath, and those spaced-out reflectors give this fixture a very distinctive look. And we like it.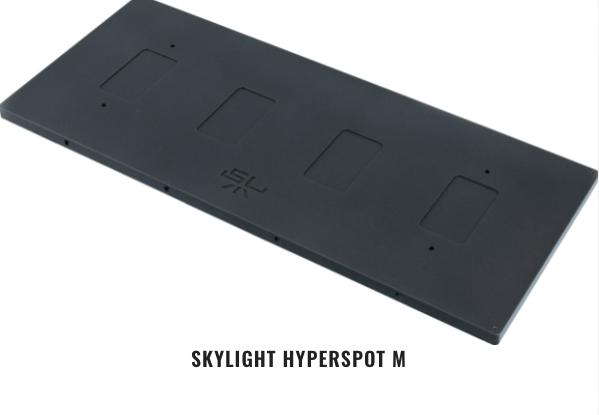 The Hyperspot comes in three lengths – 14", 24.6", and 35.5" to fit the most popular sizes of 'scaping tank, and is populated with either 4x, 6x, or 8x 12-watt RGB diode clusters respectively. The widely spaced but tightly focused reflectors give depth penetration and shimmer, with the Red/Green/Blue, 6000-9000K color temperature being the go-to spectrum for scapers seeking plant growth and rich color enhancement of red plants and fish at the same time.
It offers see-through acrylic tank mounting legs or suspension wires and offers limited control by way of two-way channel dimming control to skew the color temperature lower or higher as desired. It's designed to be able to illuminate deeper scapes while that mirror reflects the underwater garden flourishing below.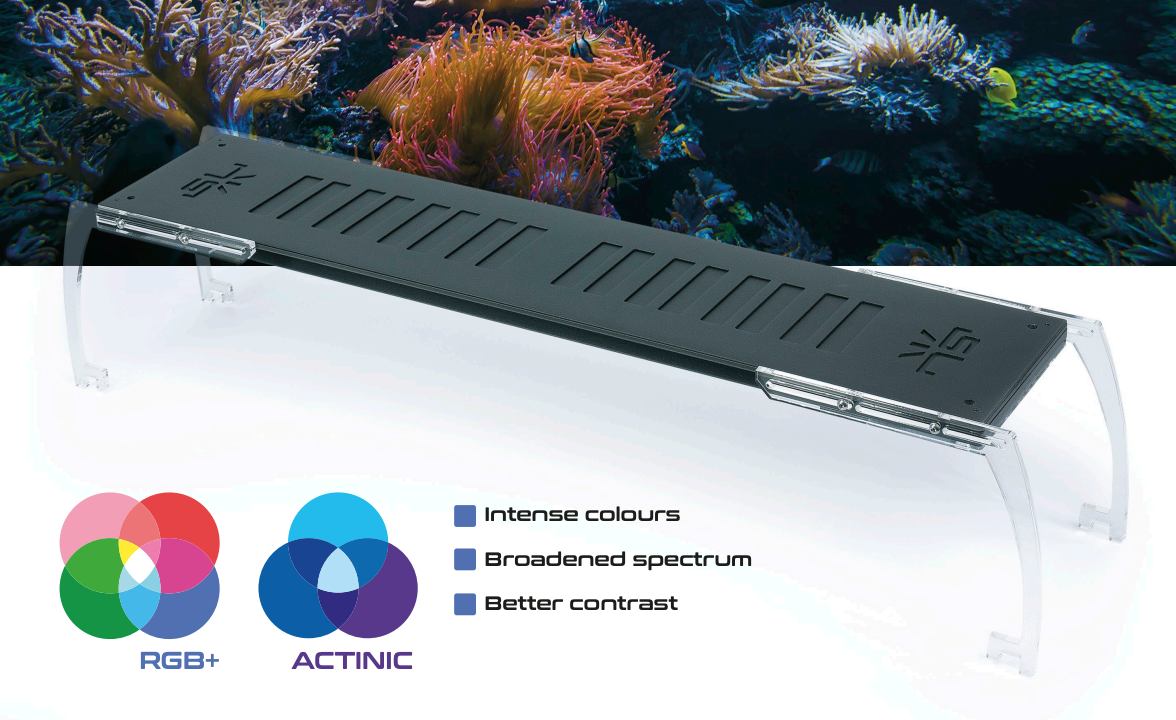 Skylight AQIR Fluo
Also teased on Skylight's website is a reef-spec LED fixture called the AQIR Fluo. Same matt black top and mirrored underside but this time populated with one channel of RGB diodes and one actinic channel peaking at 450nm to provide fluorescent coral pop. It comes in three sizes – 14", 22.5" and 30.7" and consumes a maximum of 30,60, and 90 watts respectively.
With the product featured on the website, control comes in the form of Sunrise, Sunset, Day and Night or separate actinic channel control via a controller. But unlike the 9.5" wide Hyperspot, the AQIR Fluo is a much narrower fixture at 4-6" depending on the model, and those designer-looking reflectors are replaced with much more standard-looking PCBs. With no reflectors and pretty modest output, we're guessing PAR numbers at depth will be modest too. Color temperature is adjustable from 12000-25000K.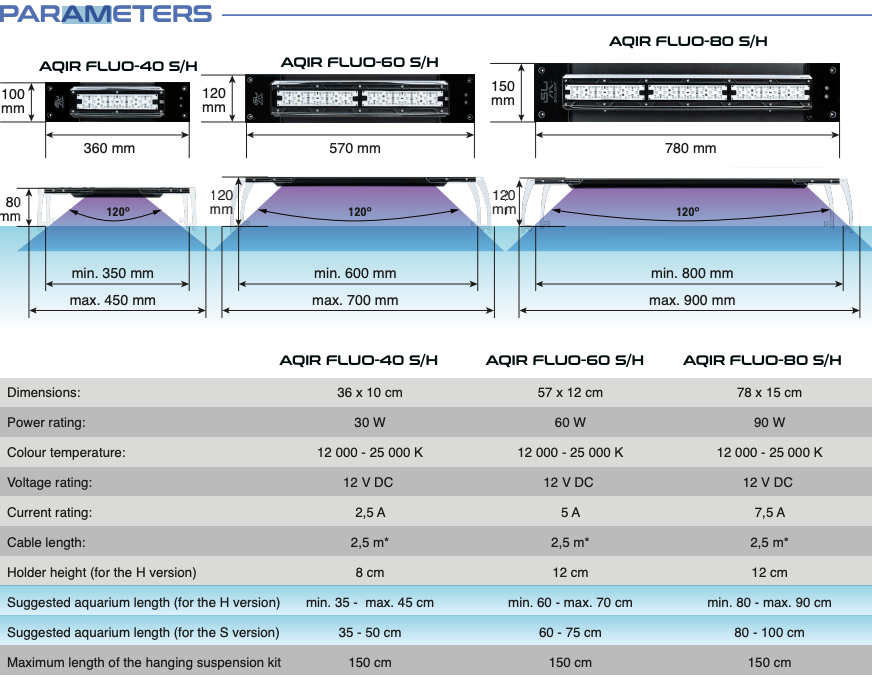 We reached out to Polish company Skylight Aquarium seeking more info on both fixtures, but they said the AQIR Fluo is not a product they are pushing until it gets a new controller. But that may be as soon as a few weeks.
If AQIR is still very much at the prototype stage then please, please, please fit some actinic diodes to the much better looking, deeper penetrating Hyperspot and let us reefers play with that one too! It may not be feature-rich but it looks way too cool to deny us those Instagram reef tank photo opportunities.