The Dobie Pad is one of the greatest 'hacks' of aquarium maintenance and cleaning, being a readily available at grocery and convenience stores throughout North America. What makes this unique cleaning accessory so useful is that it has a rough scrubbing surface which is great at cleaning algae and other growths from the aquarium glass and it won't scratch acrylic.
In addition to being safe for use with acrylic tanks the small tooth-like ridges are excellent at removing algae even deep within the scratches of acrylic or glass tank walls and it's been a mainstay of our aquarium cleaning toolbox for over a decade. Having used the famous Dobie Pad for so long we have felt a twinge of guilt when disposing of these non-biodegradable plastic consumables but now we have at least one reason to feel a little bit better using them.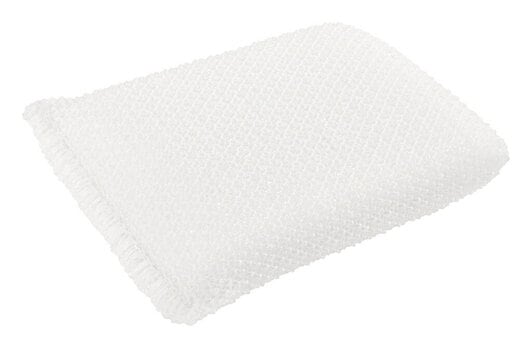 Manufacturer of the Dobie Pad Scotch-Brite has released a version called Greener Clean which is made with 75% post-consumer recycled plastic but you don't something for nothing. The lightened guilt of using a more eco-friendly version of the Dobie Pad will cost you around 10% more than the regular version and it's only available in white color so you won't be keeping track of multiple Dobie Pads based on coloration.
Recycled or not, if you're using anything but a Dobie Pad to wipe down your glass you're working much harder than you should and probably not getting the algae out of the corners and scratches, there's a reason you sometimes see these wonder wipers for sale in more savvy aquarium stores.