Cynarina lacrymalis is one of the most unique of all large polyp stony corals with characteristic large vesicles which can appear translucent and exhibit a wide range of desirable colors. Some typical colors of Cynarina lacrymalis include light brown, green, a range of red to pink, occasionally with colored oral discs and more rarely with a bicolored appearance such as the Life Saver from 2016.
A couple years ago we had enjoyed sharing some great images of a wildly colorful rainbow Cynarina lacrymalis and it appears that another example has rose to the surface to knock our socks off once again. This striking LPS coral from Blue Seas Aquarium exhibits spectacular coloration which ranges from orange to pink with unmistakable streaks of green pigment and even a few hints of golden yellow color between the vesicles around the mouth.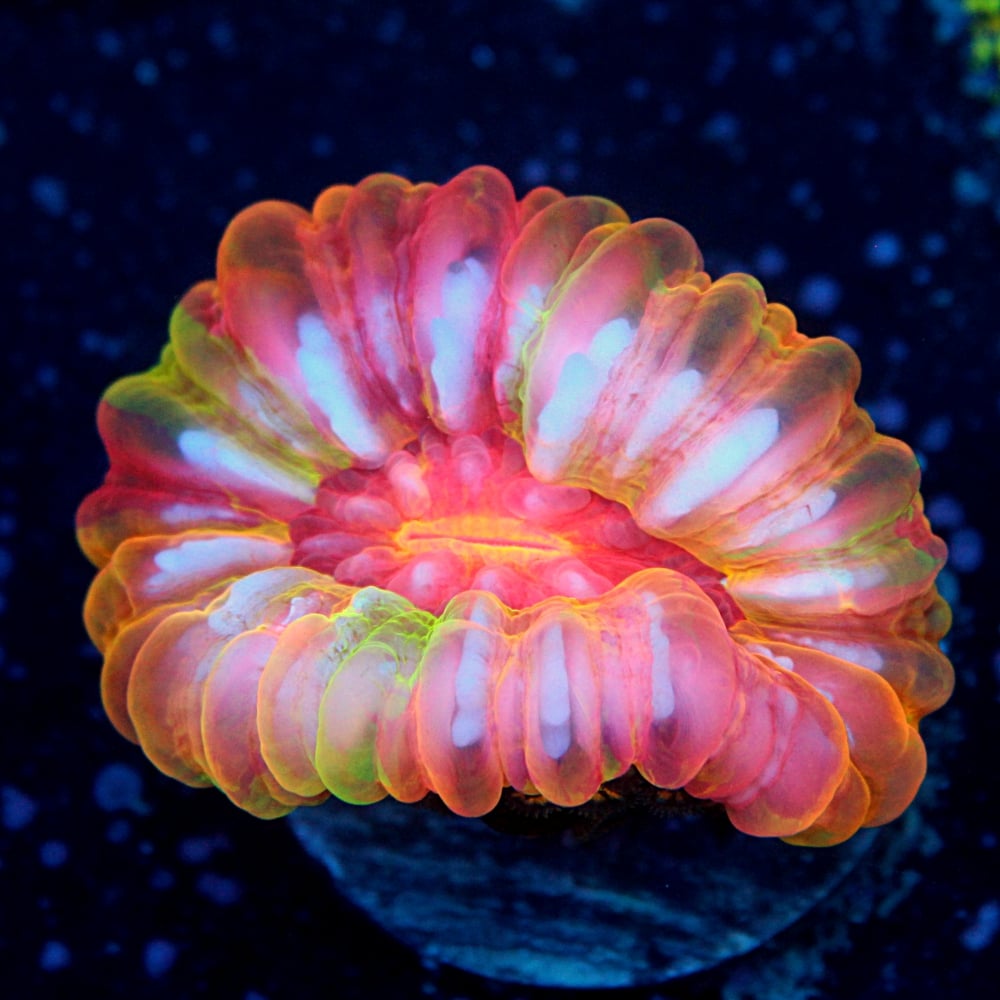 The 'Seventh Wonder' Cynarina was acquired by Blue Seas Aquarium over eight months ago at which time it was very small, pale, and a little more translucent than we'd like to see in a robust healthy polyp. It wasn't bleached per se but over more than half a year the tissue regained substantial color and deepened in coloration as it became reinfected with additional zooxanthellae that Blue Seas Aquarium documented in the photo below of a brown spotted polyp.
At first glance the brown spots in the vesicles of the Seventh Wonder Cynarina looked some kind of parasitic infection or the presence of flatworms but closer inspection revealed that this was just a stepping stone to the coral regaining a more suitable population of symbiotic algae in its tissues. To their credit not only did Blue Seas Aquarium hold on to this coral while it became a more vigorous coral but they are illustrating the Cynarina with very conservative daylight images which leaves a lot of room to imagine what this coral looks like under more flattering blue-heavy light spectrum.
Eight months under their care and the multicolor Cynarina has become a sensational showpiece individual for the species and nearly unmatched in its unusual combination of colors and worthy of being a true collector's coral. The $6,000 price tag seems rather reasonable compared to some other stratospherically priced corals with a lot less going for them and we only wish we could see this unforgettable LPS coral for ourselves.