The Nyos Opus G2 440 is a new size of the German company's uniquely engineered all-in-one aquarium which turns heads wherever it goes. One of the reasons that the Nyos Opus aquariums attract so much attention is the very modern design with high clarity glass held together with flawless seams but it's all about that stocky stand with the thick 'shoulder' surrounding the base which is akin to a pedestal for the tank.
Although the original Nyos Opus is something of a novelty outside specialist reef aquarium suppliers the Opus G2 440 adds an extra foot to the original Nyos Opus G2 300 and comes with all the new age features reefers come to expect from a tank of this caliber. The first distinguishing element of the Nyos G2 is the slim external overflow box which preserves the internal dimensions from being adulterated by any obstructions inside.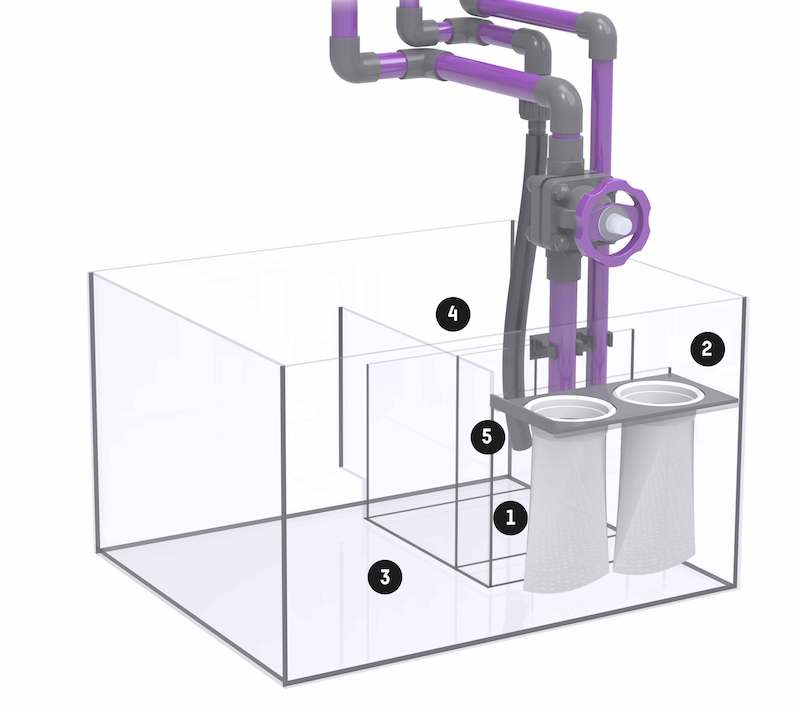 The purple tubes are an interesting on-brand flourish for Nyos but more importantly is that it's all precut to size so all users need to do is to install the pipes with very easy union valves and clips which require virtually no tools or glueing. As you've seen in several of our most recent videos we're a big fan of wide open sumps and the included glass sump of the Nyos G2 only includes a minimum of chambers for baffling the incoming water and some primary mechanical filtration in the form of two four inch filter socks.
The stand for the Nyos Opus G2 440 adds one extra door to accomodate the increased length of the tank and its available in both white and dark grey, in the signature stocky Pro-line or a more contemporary Slim-Line without the surround border. Interestingly the Nyos G2 300 with a Pro-Line stand costs €300 more than the Slim-Line so that will be an upgrade to consider when the pricing of the Opus G2 440 gets announced. [Nyos]