Cade showed off a new desktop mini reef system at Reefstock Australia 2022. Called the Reef S2/M it's the smallest in the S2 range at 45x45x40cm tall, only it has one big, novel feature hidden away under that base plinth – a huge, 45x45cm auto top-off reservoir.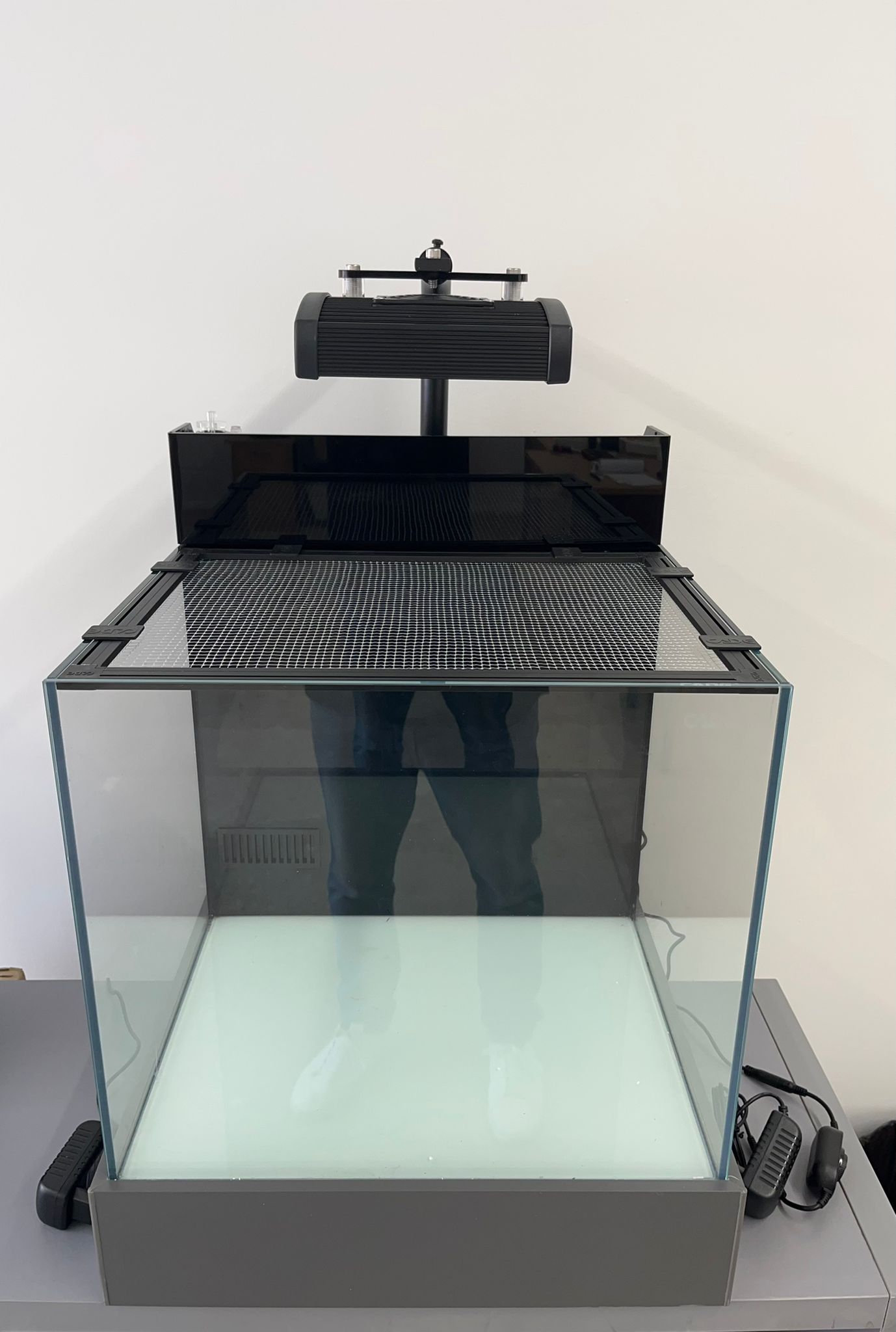 Starting with the tank itself the S2/M features the ultra-clear glass and clear silicone of others in the range, along with that top and bottom scavenging built-in weir, laser etched logo, and integral net cover. In the back section is a nifty-looking Cade branded DC pipeless protein skimmer, followed by those opaque media baskets that are popular in the larger Cade sumps. A tiny but powerful 1000lph DC return pump provides the flow while the last section in the filter plunges down to the relatively massive hidden ATO reservoir below. No Light, heater, ATO pump, or sensor is provided, as far as we know, at this stage.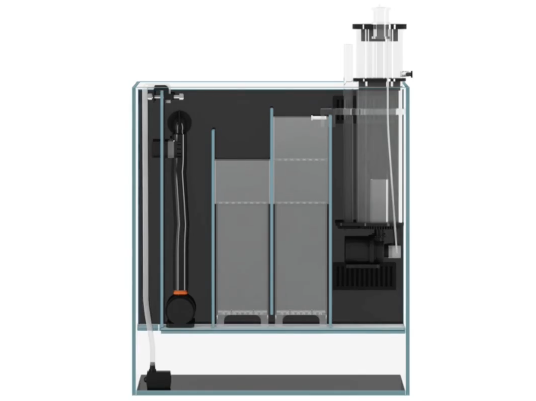 What we love about this tank is that it's been designed literally from the bottom up, specifically as a mini reef tank to live up to the Cade brand name and reputation, but also employs fresh thinking on the age-old problem of evaporation and tiny or absent ATO chambers. Instead of a sock or sponge, the water is first mechanically filtered by the skimmer, before being forced through those versatile media baskets which we can see being loaded up with everything from bags of carbon and phosphate remover to ceramic media, filter floss, or maybe even macroalgae. We like that the media has been left out and that it hasn't been packed with obligatory chinese ceramic "noodles" or a sponge. Sponge has no place in a reef tank.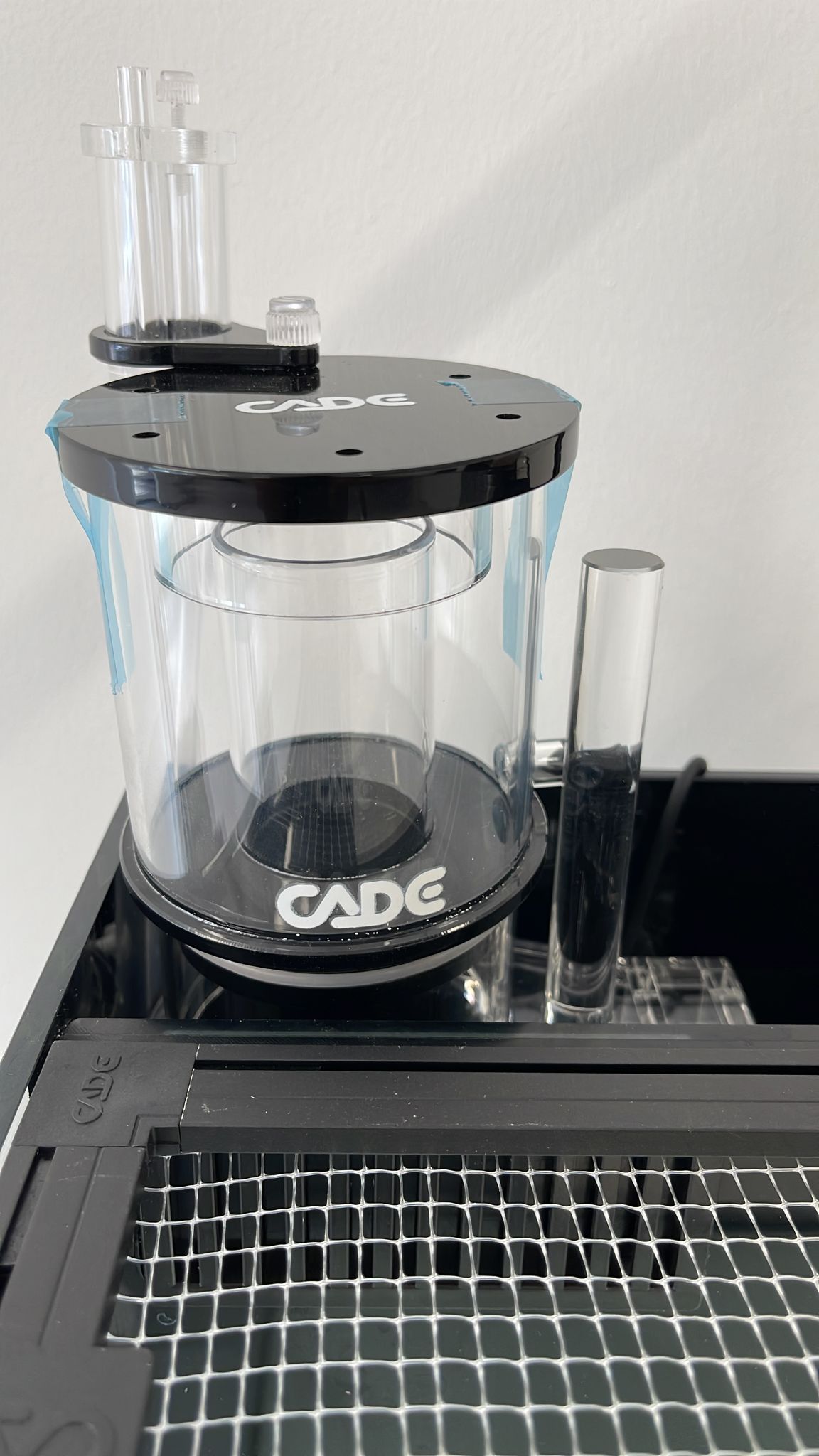 We like the look of the skimmer too and by leaving the light out of the package it frees up the owner to fit his or her favorite make of nano light. In the video we saw the S2/M at the show sporting the new Illumagic Pixel LED and other shots with a Blaze X Mini, but we just know these tanks are going to get pimped to take any one of half a dozen makes of popular LED lights, and with a pre-cut, pre-fitted net cover you won't have to buy one which is way oversized and cut it down to fit. A cover is included for those who don't want the view spoiled by that skimmer cup. With global energy prices only going one way we predict a spike in nano reefs but also that they will be anything but dumbed down and this stylish, grown-up nano tank reflects that. It won't arrive in the marketplace until November, but the Cade S2/M Desktop Mini is destined to be a hit and brings the Cade design and engineering down to a size that everyone can hopefully invest in. Prices have not yet been released.