Scientists at the Florida Aquarium have for the first time, successfully captive-bred The Elkhorn Coral, Acropora palmata. Elkhorn is an endangered species that was once found all over the shallow waters of the Caribbean but now there are thought to be fewer than 300 remaining in the Florida Reef Tract. A. palmata is the 14th species to be captive-bred by the Tampa Aquarium's spawning lab, but its also been hailed as the most significant.
"When it finally happened, the first sense is just sheer relief." Senior scientist Keri O'Neil told CNN. "This is a critical step to preventing Elkhorn coral from going extinct in the state of Florida." The spawning produced thousands of fertile eggs but the team expect 100 of them to survive to adulthood. They spawn just once a year in the wild and did again this time, only the colonies are so few and far between that successful fertilization is becoming harder. Contrastingly, controlled captive spawnings could be used to produce progeny which is more resistant to rising sea temperatures, or storms. Elkhorn corals are thought to be important in the fight against storm surges and large waves in hurricane season.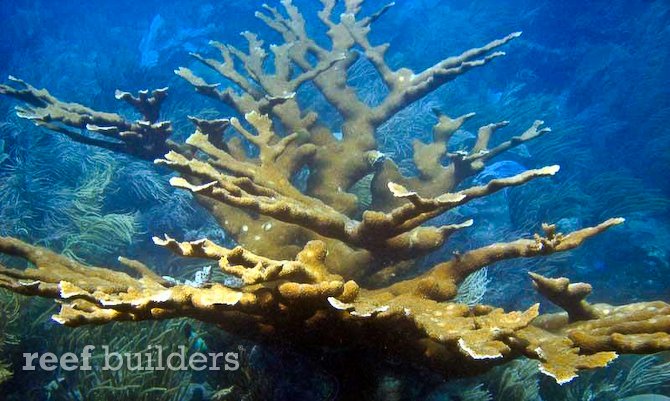 "As these reefs die, they begin to erode away and we lose that coastal protection as well as all of the habitat that these reefs provide for fish and other species," O'Neil went on to tell the Cable News Network. "Now there are so few left, there's just a few scattered colonies. But we're really focusing on restoring the elkhorn coral population for coastal protection."
Elkhorn coral was listed under the US Endangered Species Act in 2006 after scientists found that disease had cut the population by 97% since the 1980s. Now global warming is its biggest threat. A study in 2020 found the Elkhorn rate of reproduction in the Upper Florida Keys was so low, that it would indicate the species was already "functionally extinct" and could be wiped out in six to 12 years. There is still huge amounts of work to be done to restore wild populations of Acropora palmata to anything like they used to be, and to remove them from the endangered list. The Florida Aquarium's work using black-out systems, solar and lunar cycles to trigger coral spawning harks back once again to the pioneering work of Dr. Jamie Craggs and the Coral Spawning Lab.