It's been a while since we started getting creative with aquarium ornaments and corals, but nothing makes you look twice more than an ornament with a tight skin of encrusting Cyphastrea. For a long time, ceramic skulls were the ornament of choice but now our coral encrusting escapades have stretched to Easter Island statues, female figurines, and Groot.
Ornaments can be adorned with virtually any coral from rapid spreading Pulsing Xenia and Green Star Polyps to Torch polyps and Acropora, but its the bright contrast and large, bright polyps of Jingle Bells, Meteor Shower, and Bizarro that really stand out for all the right reasons.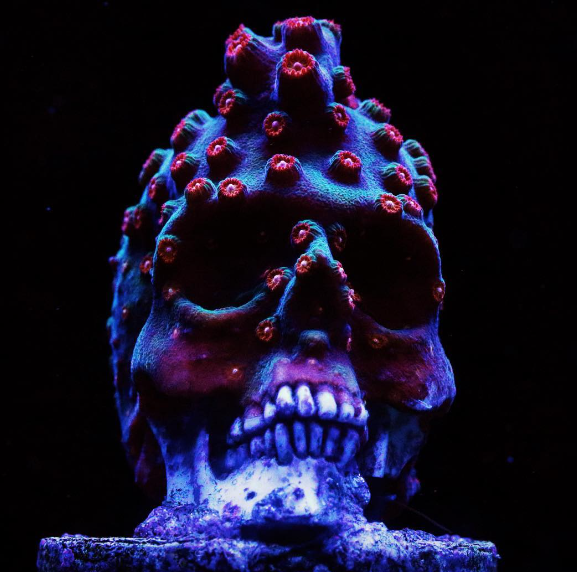 Getting started
Not any ornament will do, so speak to a potter who knows and understands frag plugs and get them to make your ornament from the same material as the plugs, and bake it at a high temperature. Soak it in RO water, ICP test it to make sure it's clean and doesn't leech any nasty elements, get some reef glue, and a Cyphastrea frag, and you're ready to go.
Coverage can be sped up by fragging a colony and spreading the bits over the ornament, but apart from that standard reef aquarium LPS coral care guidelines apply. If it's a Mohawk hairstyle you want for your skull, try the branching Cyphastrea decadia and trim accordingly.
Tag us with #reefbuilders on Instagram to show us your creations.