Every day we scroll through some of the 300,000 reef-related posts and videos carrying our hashtag on Instagram, but this Japanese aquarium by @ancoliecoral caught our attention for all the right reasons. At 160x160x70cm/63"x63"x28" and holding 1792 liters/473 gallons this square tank is an impressive size, with 25 square feet of real estate in which to aquascape. But it's the combination of how it's been aquascaped, the Acropora species growing within, and the insane list of fish species that we can't take our eyes off, and we've been revisiting it, and drooling over it for days now.
The aquascape
Viewable from four sides the tank is aquascaped with tree-like bommies and thick bases lifting rock branches up off the bottom to take the best advantage of light and flow. Covered in tabling acropora a reef canopy is created with the corals basking in the top half of the tank but also a contrasting shaded area below. Despite very strong flow and realistic waves at the surface, a light scattering of coral sand reflects the light and makes the Green chromis glow.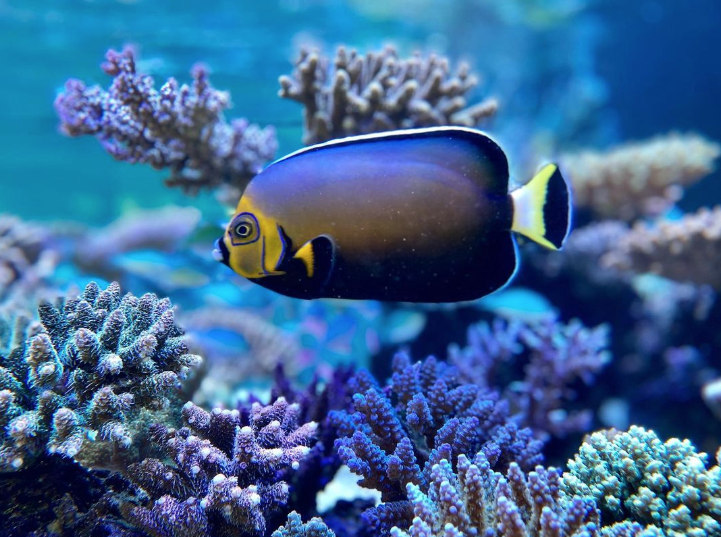 The fish
You can't miss the fish, with no fewer than 100 Green chromis, one Tiger angel, Apolemichthys kingi, three Spectacled angels, Chaetodontoplus conspicillatus, and a pair of Wrought Iron Butterflies, Chaetodon daedalma, the last of which are endemic to Japan and can cost as much as a Spectacled angel elsewhere. Ancolicoral's videos also reveal multiple Gem Tangs, a school of Sixline wrasses on pest duties, three Multibar angelfish, an adult Queen angel, as well as a pair of Japanese Angelfish, Centropyge interrupta, shadowed by an Odontanthias unimaculatus underneath. The fish have clearly been amassed by an avid (monied,) collector, but also one who can appreciate a highly visually impactful display.
The corals
The icing on this cake is the collection of impeccable Acropora colonies spreading their Arborescent branches across the tank. A.robusta, spathulata, suharsonoi, microclados, efflorescens, formosa, muricata, and dozens of millepora and tenuis color variants which when placed as they are, and with 100 Green Chromis diving in and out of them represents a reef aquarium scene reminiscent of nature, which we would all like to achieve if we had the budget. It's a stunning tank but at less than a year old let's see if it, and its delicate, pricey inhabitants, can stand the test of time! Tag your Instagram with #reefbuilders or visit @reefbuilders to be featured.