After so many years enjoying and looking forward to the coral feature articles that Jake Adams wrote and Vincent Chalias still writes for Reef Builders, I came across a coral that inspired me to want to compose a gushing, over the top, enthusiastic coral nerd article myself.
One of the many things I will miss about Jake Adams is the enthusiasm he showed new coral discoveries in his Reef Builders columns, as well as his recognition of the endearing charms of corals that the masses might not be giving much attention to.
Not long before Jake passed away I spied a coral that I think he would have found pretty charming… sadly I didn't mention it to him, though I intended to! I never imagined we wouldn't be able to talk about it. We had a habit of inspiring each other with exciting discoveries, but I took too long preparing the article, and with his passing I didn't have the chance.
I hope to occasionally contribute an interesting feature like this one to draw attention to a new discovery. As Jake always did, I think it is important as well to refer to the related scientific literature on the subject, thus connecting aquarium enthusiasm with the latest academic information. In this way the aquarium hobby evolves and becomes better informed.
Hobbyists like Jake Adams and Joe Rowlett have done this very well for many years, and I am grateful to both of them for their work. There are many things that hobbyists have been doing to honor Jake, and support his wife Windsor, which is great because they surely deserve the outpouring of affection.
I am writing up my first "for the love of corals" column in honor of Jake's memory, hoping as well that his passion for special little corals will live on.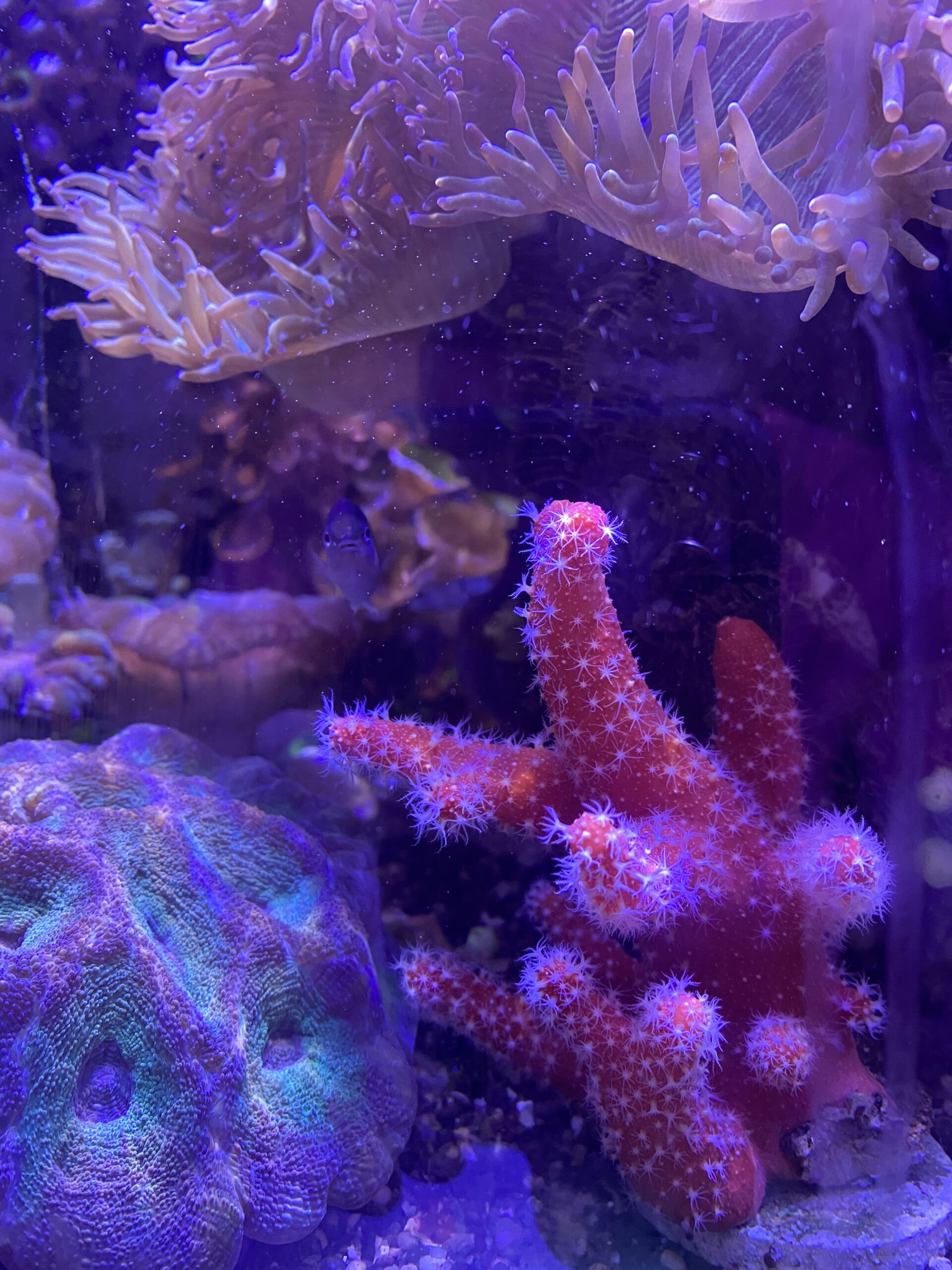 So the story begins… I found this cool coral…
On set-up day (Sept 23, 2022) at the first Skellyfest convention held in Miami, I noticed a coral I hadn't personally seen before, though the moment I saw it I also recognized that I had seen a scientific paper about it some years ago, so I was not at all confused about what it was.
Andy and Pham of Reef Aquaculture Specialist, seeing my interest, referred to it as a "Chili sponge from Asia," to which I replied simply, but hopefully not too arrogantly, "that's not a Chili sponge," as I pulled out my phone to look up the paper I knew that I had seen.
Without hesitation I asked the vendor to please bag it up for me. "Chili Sponge" is the common trade name for the soft coral Nephthyigorgia, which is not a sponge of course. It was once a common import from Indonesia, though it is seldom seen in the trade now since the majority of interest these days is in corals that have symbiotic zooxanthellae.
Nephthyigorgia is a non-photosynthetic soft coral, usually dark reddish, sometimes orange, with a few finger-like lobes or looking like a small hand, with polyps that retract into small bumps, giving the surface a rather bumpy texture, and it has large obvious spiny sclerites.
Nephthyigorgia belongs to the newly erected family Nephtyigorgiidae, which sits pretty close to Sinularia spp. that are now placed in the newly erected family Sinulariidae. Recent work on the Octocorallia tree using molecular analysis has clarified who is related to who – see McFadden, Ofwegen, and Quattrini (2022) in the references below, and no, they did not simply place every genus of soft corals into its own family.
The new Asian "Chili Sponge" in front of me was also red and hand shaped, but it was remarkably different from Nephthyigorgia in many ways. The surface was smooth, and a close look revealed it has both autozoids and siphonozoids, for example like Sarcophyton does.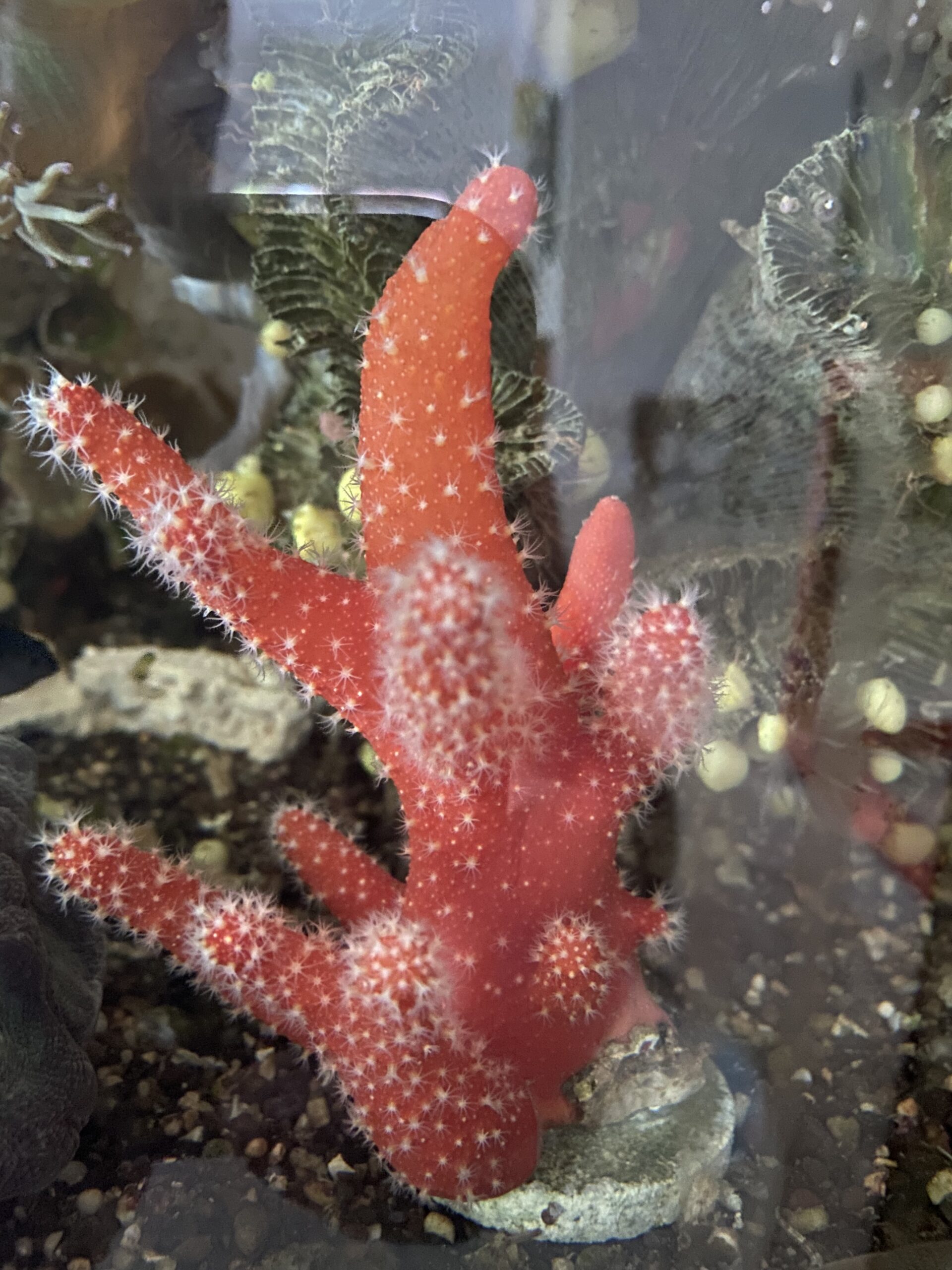 The smooth finger-like lobes look a lot like some common species of Sinularia. When the polyps extend, they are brilliant white – a great contrast against the red background. After a few minutes searching on my phone for the paper I knew I had seen I found it, so I could tell the vendor the name, Paraminabea rubeusa.
The vendor had indicated it was from someplace in Asia. I told them that based on its original description (see the reference below) the only location where it is known to occur is Hong Kong. They assured me that it had not come from there, which was interesting from a scientific point of view… if correct, that means the range of this recently described species is wider than currently recognized. It had been exported from Vietnam.
Given its abundance in the silty habitat where it has been observed in Hong Kong (see inaturalist link below) it is not hard to imagine that it also occurs along the mainland China coast, Hainan Island, and then the coast of at least northern Vietnam. It may also occur in Taiwan. Until its presence is documented at those localities this report of its presence in Vietnam is only based on the export location.
Since Paraminabea rubeusa prefers silty habitats, it could easily be overlooked in these locations as most divers and dive operators avoid the mucky zones in preference for clearer water.
I placed the Paraminabea in one of my home aquariums and within hours was treated to the breathtaking sight of it fully expanded. It nearly doubled in size when fully expanded, and the look of the white polyps against the red tissue is stunning. The next day at Skellyfest it wasn't hard to convince Colin Foord from Coral Morphologic to buy a second specimen that the vendor had. By then I was already a Paraminabea rubeusa superfan!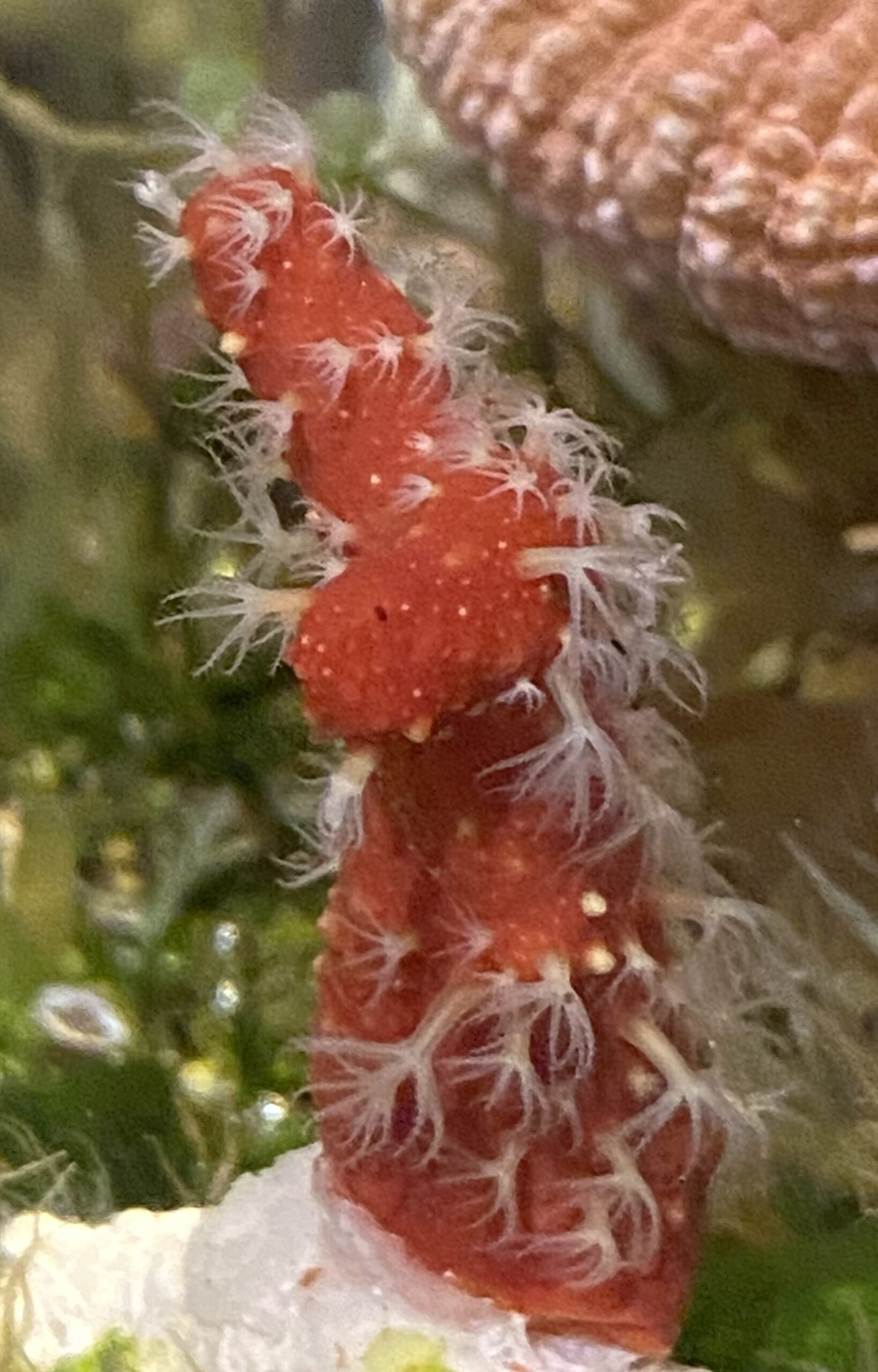 The next convert
It wasn't long after that when I got a message from Levi Peterson about the same coral, as he had the opportunity to buy one from the same vendor. Levi specializes in keeping non-photosynthetic corals, so this was something exciting for him as well. I shared with him what it was and the observations I had made so far, plus my enthusiasm about it.
Given its range, one might expect Paraminabea rubeusa to need cooler temperatures than our tropical aquariums provide, but that hasn't been my experience so far. It is very hardy and seems to thrive at 77 to 80°F in the aquarium where I'm keeping it.
I noticed that "out of the box," Paraminabea rubeusa is programmed to expand its polyps at night, likely by some internal clock mechanism as the lighting does not seem to be the only stimulus involved. It remained expanded for a few hours in the morning as well, then closed up.
I noticed that feeding it seemed to inspire it to expand for longer periods, so I believe that a display with automatic feeding during the day and night might be able to train it to remain expanded. Paraminabea rubeusa does not appear to require feeding so often… feeding just a few times per week is likely enough to keep it healthy… it seems to have a slow metabolism compared to more challenging non-photosynthetic soft corals, such as Scleronephthya.
Bottom line, this coral is both beautiful and hardy! Promoting rapid growth, to culture it for a farming business for example, would likely require more substantial daily feeding.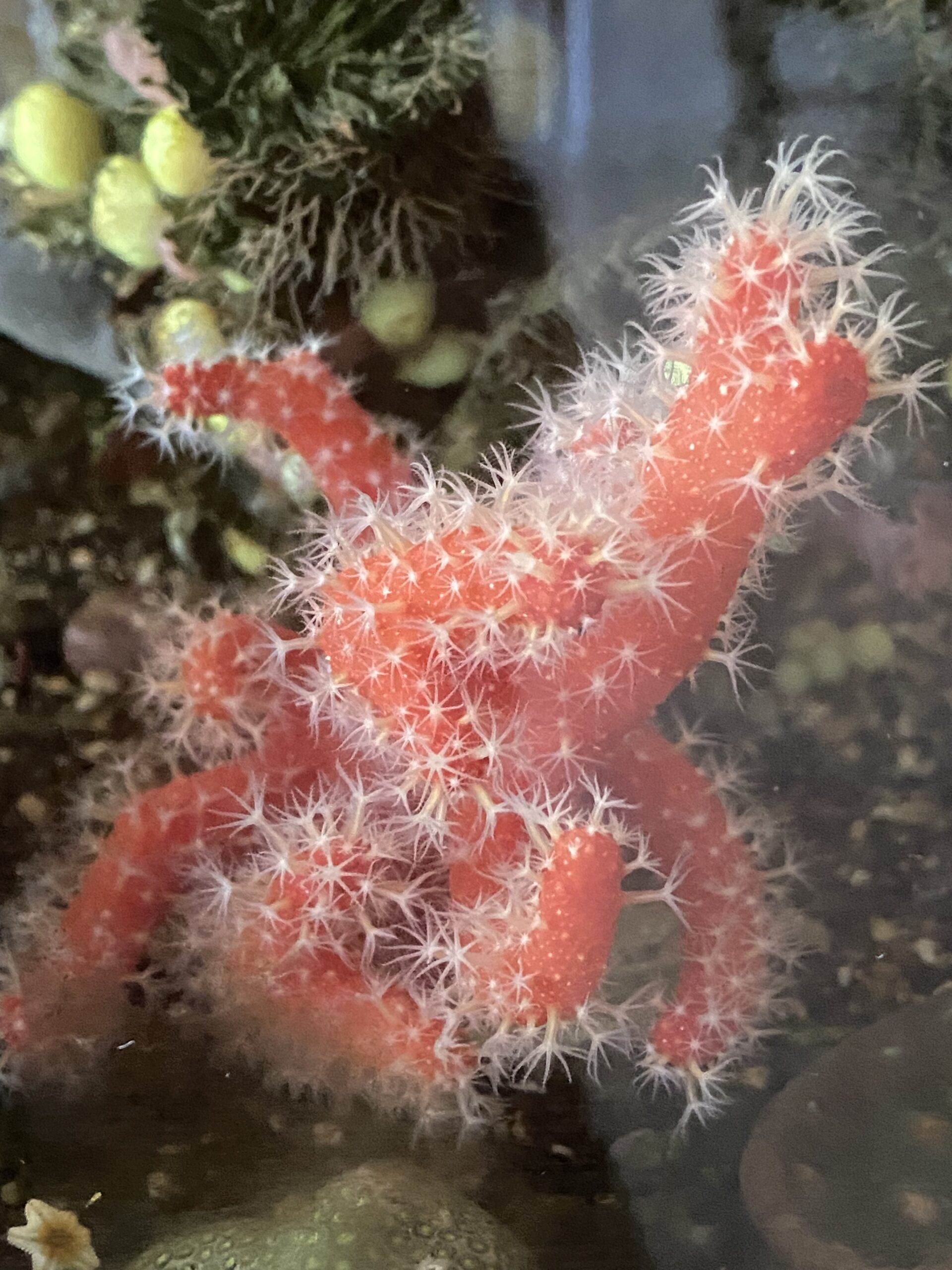 What to feed it
I have fed my Paraminabea rubeusa a number of foods, and it seems to be an omnivore. A new dry powdered planktonic food I've been developing called PolypPower is readily consumed, and after hydrating it I just broadcast-add it to the aquarium because the small particles remain suspended for a long time.
I have also fed it ZoPlan, one of the original powdered zooplankton diets that Two Little Fishies introduced into the marketplace, as well as GonioPower, which was developed by Justin Credabel Graebel. Two Little Fishies PhytoPlan is also readily consumed.
It has not been necessary to feed live feeds, but of course they would be beneficial. Live phytoplankton and rotifers would be ideal options. I have not yet tried Artemia nauplii… the polyps of Paraminabea rubeusa are just about large enough to feed on newly hatched naups, but I don't know if they can catch and hold them. Levi Peterson has been feeding the Reef Nutrition range of foods to his Paraminabea and reports that it feeds well on Rotifeast and Oysterfeast.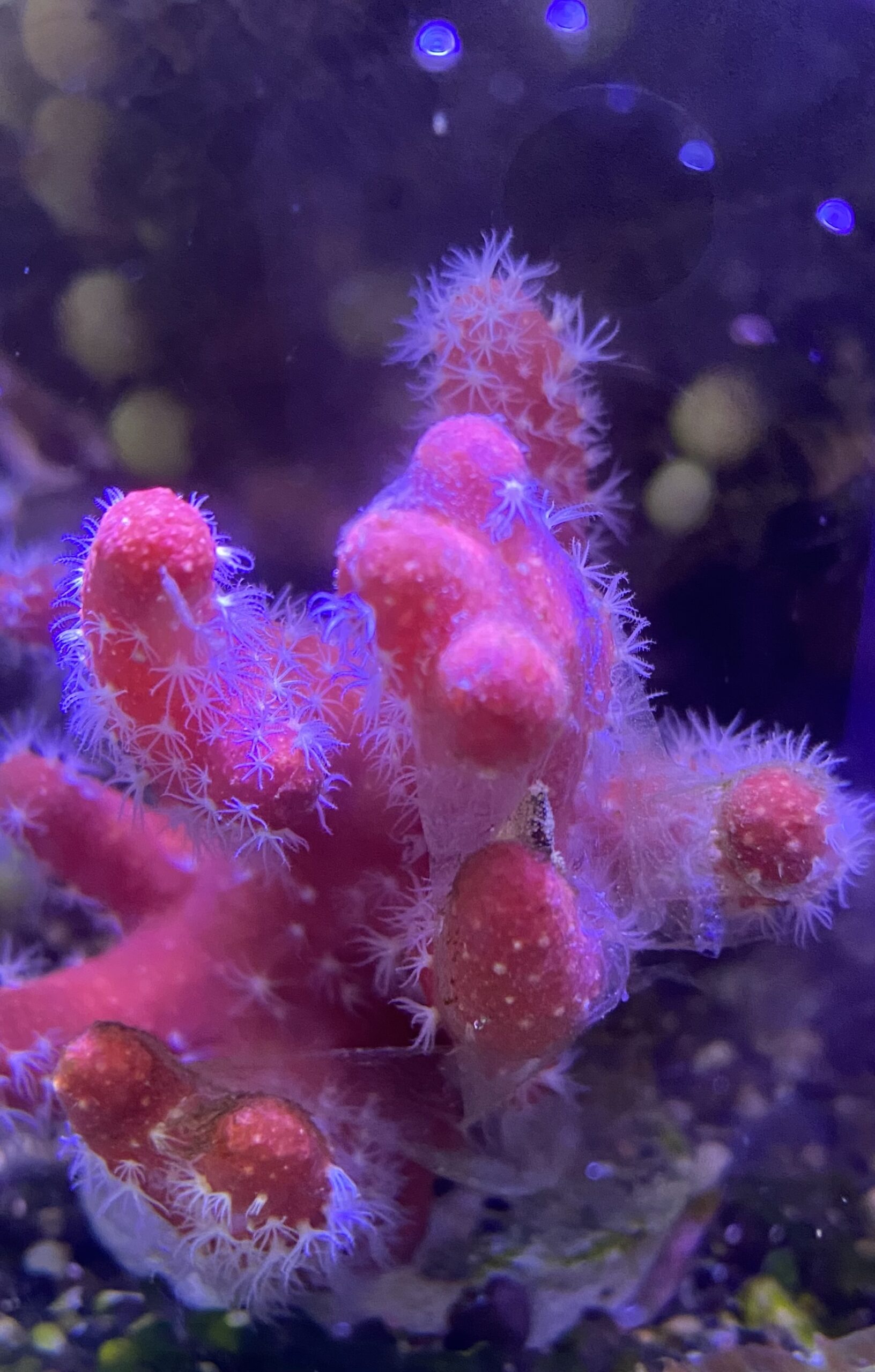 After feeding regularly for months my colony closed up for more than 1 week and then shed a waxy skin/film, much the same way that leather corals sometimes do. This process is a way to prevent microalgae from growing on its surface. The habit of shedding a waxy film is also shared by a number of other unrelated soft corals, for example Diodogorgia and Pterogorgia, and the stony coral genus Porites.
It is interesting nevertheless to speculate whether the shared traits of having autozoids and siphonozoids and shedding of waxy films indicate a close relationship to Sarcophyton and Lobophyton. The genus Paraminabea is not closely related to Sarcophyton, but one must understand the funny thing about taxonomy… the fact that this coral has been named Paraminabea rubeusa does not mean that it is certain that it belongs to the same genus as Paraminabea aldersladei, the species for which the genus was created.
The genus Paraminabea (or at least the well-known species Paraminabea aldersladei) belongs to the family Coralliidae, together with the similar-looking Sphaerasclera. If Paraminabea rubeusa actually belongs to the same genus as Paraminabea aldersaladei, then it is only very distantly related to Sarcophyton and Lobophytum. I am sending a sample to Dr. Catherine McFadden who will analyze its DNA and settle the question.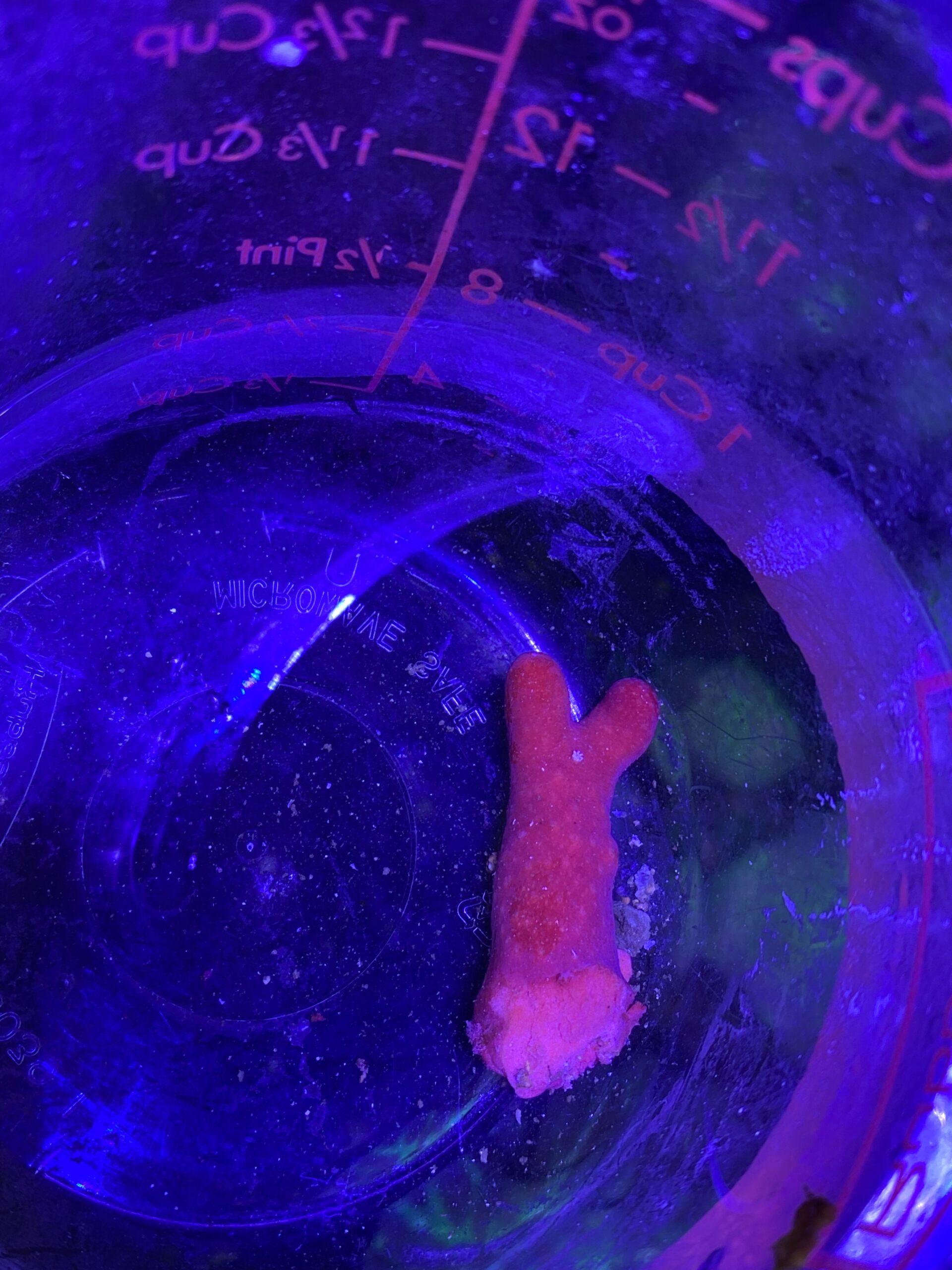 References
Benayahu, Y. and Fabricius, K., 2010. On Some Octocorallia (Alcyonacea) from Hong Kong, with Description of a New Species, Paraminabea rubeusa, Pacific Science 64(2), 285-296, (1 April 2010). https://doi.org/10.2984/64.2.285
Accessible here:
https://scholarspace.manoa.hawaii.edu/server/api/core/bitstreams/794c7079-eb76-4afe-aff6-528978f544e5/content
See also:
https://www.inaturalist.org/taxa/860890-Paraminabea-rubeusa
McFadden, C.S., van Ofwegen, L.P. and Quattrini, A.M., 2022. Revisionary systematics of Octocorallia (Cnidaria: Anthozoa) guided by phylogenomics. Bulletin of the Society of Systematic Biologists, 1(3).
Accessible here: