Hermit crabs are often the first critters we place into new tanks, but are they reef safe, what type should we add, and how many? We answer all your questions on hermit crabs for reef aquariums here.
Are hermit crabs Clean Up Crew?
Yes, the small species of hermit crabs, along with snails, some conch, some starfish, some cowries, and urchins are classed as Clean-Up-Crew, or CUC for short. They are added to reef aquariums to eat uneaten food but predominantly to graze nuisance algae.
Do hermit crabs eat algae?
Hermit crabs are omnivores that will eat anything from dead fish to algae. They are often added to newly set up reef aquariums to eat algae although they won't eat the three most troublesome "algae," diatoms, dinoflagellates, or cyanobacteria. They are good at grazing green algae however and some macroalgae and will clean up the bases of frag plugs if given access to them. If you put fish food into a tank with hermit crabs they will eat the fish food in preference, so it's always best to keep them on the hungry side if you want them to clean up your rockwork.
Will hermit crabs eat my snails?
Yes, hungry hermit crabs will eat snails for food and then use their empty shells as homes, so snails are doubly tempting. If you want to mix the two always ensure the snails are stuck fast to smooth surfaces like the aquarium glass. There they can climb up to escape the crabs and can clamp down as they do in the wild. Spiny Astrea spp. snails also have trapdoors that they can slam shut to help avoid predation. Never leave a snail on the substrate with a hermit crab – it will upturn it, eat it, and steal its shell. Hungry hermit crabs will also prey on Stomatella snails, which are otherwise super useful CUC, and free.
Are hermit crabs reef safe?
Yes, most are reef safe and won't predate shrimp, starfish, or importantly, corals. If you see one eating a fish the fish has more than likely died and the hermit has found its body and started devouring it. They have an amazing sense of smell. Hermit crabs are incredibly diverse, however, inhabiting most of the world's oceans. Avoid any species which grows to more than one-inch body size as they need feeding in their own right, may not totally be reef safe, and will knock coral frags over.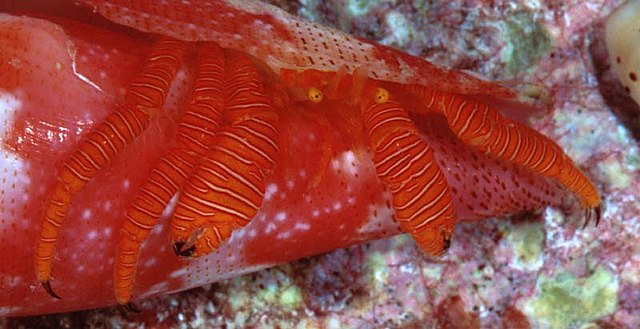 How many hermit crabs do I need?
If your rocks and sand are covered in nutritious higher algae you could literally add dozens with no problems. They tend to fight, kill each other and steal each other's shells over time so if you added six to a 10-gallon tank, twelve to a 20-gallon, and 24 to a 50-gallon tank you would probably end up with fewer in twelve months' time. Just make sure they are the reef-safe species that stay small.
Which type of Hermit crab should I buy?
Tiny Red leg, Paguristes cadenati, and Blue leg hermits, Clibanarius tricolor, come from The Caribbean, and are pretty and reef safe, though beware as many larger species have red legs and even blue legs too. Black shell hermits and White shell hermits come from the Philippines and are traded as Calcinus sp. Both are cheap, reef safe, and hard-working. There are ornamental species like Striped, or Halloween hermit crabs, Trizopagurus strigatus, although they aren't as hard-working.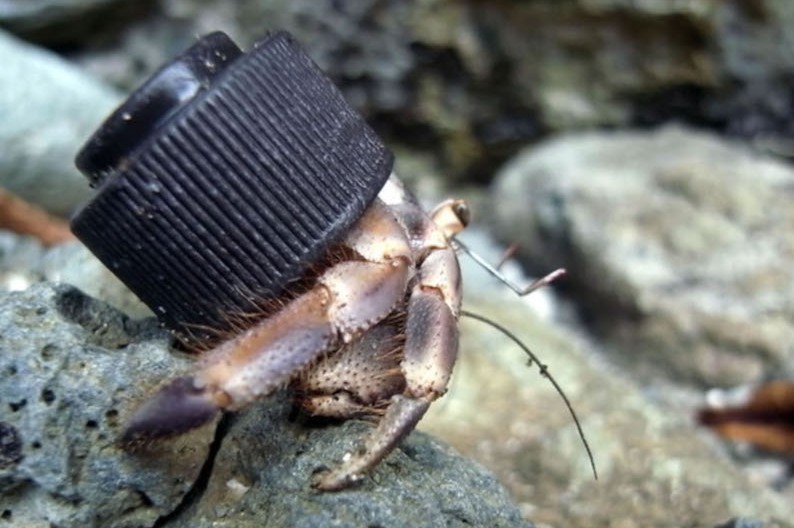 Do hermit crabs need spare shells?
Yes, hermit crabs need larger shells to move into with each molt. Always provide more shells than crabs so everyone can live in one somewhere, and they will be less likely to rip each out of them to steal them. Any shells can be used like empty snail shells or conch shells, and a selection of shapes and sizes are best. Some aquatic stores sell bags of shells or if they sell Clean Up Crew, they may have one or two spares to give you if you ask them. Some people even decorate the outside of the shells and the crabs will carry them around regardless. If you live near a beach then they can be a source of shells too.
Do hermit crabs need additional food?
If it's an established reef tank then no, but if it's a brand new tank they may need something (like sinking fish pellets,) to graze on to stop them from trying to eat each other.
Do you have to have hermit crabs in a reef tank?
No, and they feature less and less in tanks as reefers gain more experience. They are popular with newbies because they are recommended to eat algae, they are very hardy, and there is the obvious novelty of a crab that carries its house on its back. They can be fascinating close-up, and make good photographic subjects.
Will anything eat my hermit crabs?
Pufferfish, triggerfish, and large wrasses will predate small hermit crabs so they shouldn't be combined. Apart from that the biggest predation risk is from each other. Large hermit crabs can and do eat smaller ones.
Do reef hermits need an area of dry land?
No, there are many species of amphibious and fully terrestrial hermit crabs, but the ones offered in saltwater aquarium stores don't need an area of dry land. Full reef tanks are absolutely fine.