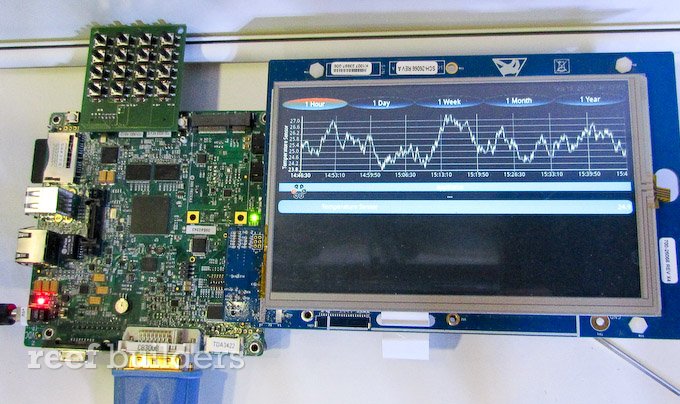 The Vertex Cerebra aquarium controller has been a long time coming but after spending a couple years in development, this next generation aqua-computer is almost ready for reefing prime time. Don't let the development board pictured above fool you, this is simply a demonstration unit meant to show off the impressive touchscreen interface, plethora of interfaces and I/O all baked into a very fancy eight-layer circuit board.
Aquarium controllers have become incrementally better over the years but the Android-powered Cerebra will be a giant leap in performance and capabilities which stem from the fact that the Cerebra is not so much an aquarium controller and more like a fully modern computer which is optimized for just about every aquarium task you can think of.
With the vertex Cerebra you will be able to do everything that an aquarium controller currently does, and then you'll be able to do crazy stuff like take regular or time lapse movies of your aquarium and have them automatically uploaded to youtube, watch them on the Cerebra's HD touchscreen or on your home TV with HDMI output. Specially designed three-in-one probes can monitor temperature and pH while also signaling to the Cerebra the condition of their operation.
Other probes will include optical sensors, lux meters and several other types of controls which can be used dynamically to create some very interesting feedback loops and find out what is really going on in your tank. Finally, the Android OS of the Cerebra means that various kinds of apps can be downloaded from the Vertex App Store. Of course this is a lot of promise from an aquarium controller which has been teased for such a long time, and time will tell whether the top-tier pricing really justifies the advanced feature sets – for some power users we think it will.
The Vertex Cerebra will actually be a fully-loaded box which is optimized for having all the cables neatly concealed and coming out neatly out the sides. If you're like us you are probably bugging out on the extreme depth of the unit but it is required to get either a really orderly flush-mounting housing or better yet, we love the idea of recessing the box into the stand or a wall so that the Cerebra is all screen and nothing else. Vertex expects the Cerebra to take its first baby steps int the wild this fall with a starting price in the neighborhood of $600 to $700 for a starter kit.