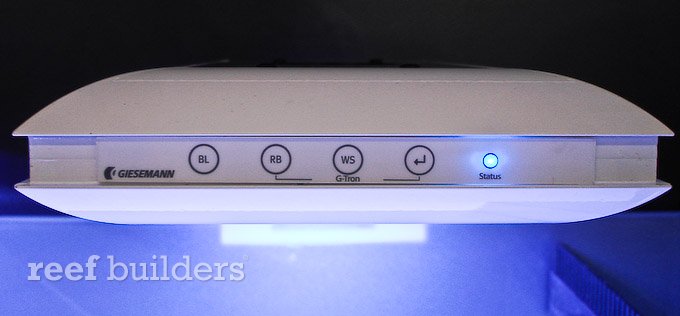 The Teszla LED from Giesemann has been a long time coming from one of Europe's swankiest aquarium light manufacturers. Giesemann's first foray into LED lighting began with a trifecta of LED + T5 fluorescent hybrids and a striplight, the MatrixPlus, the Helios and the Quazar but the Teszla is the first fully fledged LED aquarium fixture from Axel Finken & Co. It's been a longtime coming for the Giesemann Teszla LED light but if these pictures are an indication the Teszla LED was well worth the wait. 
First off, we can't tell you how drool-worthy the white trim of the Teszla makes it look – it may be thicker in the middle of the fixture but the graceful tapering edges really help to literally frame the Teszla in a unique form factor. The Giesemann Teszla has independent control of at least three channels piping 66 watts of power to 20 diodes: Cree XM-L white, Cree XP blue and royal blues and two unspecified "special" LEDs.
In Europe the Teszla LED is being introduced at a price of 399 Euro (~$520) but the actual price in North America is yet to be determined. Giesemann has a blank placeholder page for their Teszla LED light but we'll be sure to follow up with more info as we have it.