The PowerRoll FIlter E200 is an exciting new product from D-D The Aquarium Solution. At InterZoo 2010 one of the most innovative products we came across was the Evo3 Titanium by Genesis, whose booth was conveniently located adjacent to the D-D booth. Well after a couple years of work, designing and engineering, D-D has licensed the idea of the Evo3 and produced a 'knock-down' version of the automatically replenished mechanical filter, called the PowerRoll Filter E200.
The PowerRoll Filter E200 works just like the Evo3, with a roll of filter padding which is automatically spooled in and out of the stream of drain water. As the roll clogs, it overflows into a water wheel which turns the spool of used filter padding and feeding more fresh filter pad into the stream of waste water. The PowerRoll E200 ships as a flat package that is assembled by end users into the device you see pictured here, and considerably smaller than its predecessors.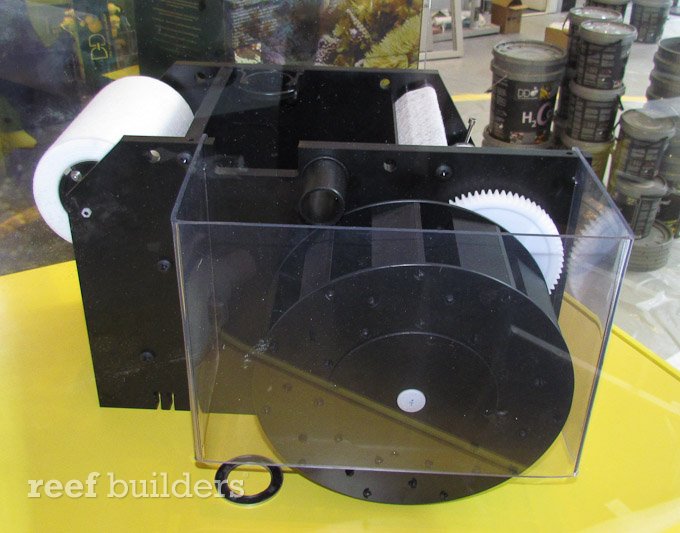 The PowerRoll Filter E200 can handle up to 10,000 liters of water per hour, plenty enough to handle some of the biggest reef aquariums and some really crowded fish display aquariums. With the PowerRoll Filter D-D invites you to "take your socks off" since with this device the removal and cleaning of filter socks is replaced with a much more convenient filter roll that should last much longer between servicing. The PowerRoll Filter requires no additional power as it is driven by the force and gravity of falling water from your existing drain lines.
D-D expect the PowerRoll Filter to sell for about 1000 Euros in Europe (~$1283) but standard pricing for North American retail has not yet been set. We were extremely excited about the Evo3 Titanium, calling it one of the top five products of InterZoo 2010 and we foresee the PowerRoll Filter to hold that title for InterZoo 2012.