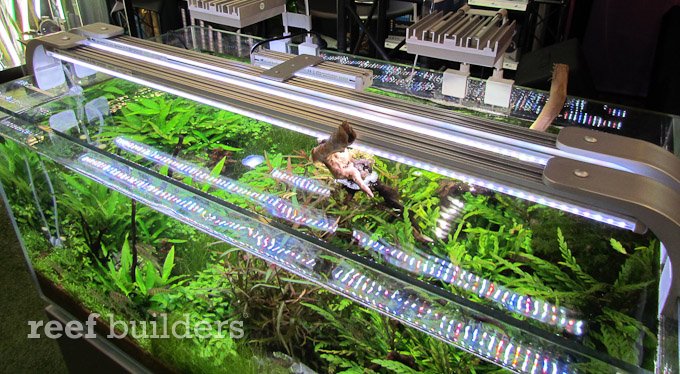 The SolarStinger LED Sunstrip by Econlux is a medium intensity LED striplight that, like the Sicce LED and Fluval LED striplight, produces its photon through strength in numbers. In lieu of using fewer high output one or three watt LEDs, the SolarStinger SunStrip uses a multitude of low output of LEDs in a variety of colors which helps with both color, light spread and thermal management. Since the LEDs of the SunStrip are so evenly spread out, it can afford to go with passive cooling and a thoughtful system of dorsally placed heatfins with a special groove to take advantage of a cornucopia of mounting options. 
The SolarStinger SunStrip comes in four color options; Daylight, Plant/Coral, Marine and Deep Blue. Each of the SunStrip color options use a variety of LED colors reminiscent of the Fluval LED striplight but in more discrete models of strips. The model that is most attractive to us is the Deep Blue SolarStinger SunStrip LED with four shades of blue including 470, 450, 420 and 395 nm so you can cover all popular colors of blue LEDs in a single striplight. Like the larger SolarStinger Cluster LED the SunStrip drivers have ports and optional wiring for dimming through 0-10v inputs.
EconLux is making the SolarStinger LED SunStrip in a myriad of sizes which can connect together using optional brackets. You can mount the SunStrip LEDs into canopies, existing T5 or T8 hoods, you can rest it on glass tops or mount it to the sides of the aquarium and cobble together all the sizes into a lighting device with the capability of a full-fledged fixture. There's even an RGB version of the LED SunStrip which can be remote controlled so you can get fine color adjustments on the fly, all the PAR you need from the Daylight and Plant/Coral version and every lick of blue you could possibly want from the Deep Blue model.
Retail pricing for the Econlux SolarStinger LED Sunstrip is not yet available but we'll be certain to let you know if and when these lights come to America in the future.