The Aquarium hobby is a pastime of observation and if you like detail and discovery, the Mesoscope 2 is an indispensable visual tool. The Mesoscope 2 improves on its predecessor in every way with a better attachment, better field of view, improved optics with less distortion and it is easier than ever to share what you see through its eye piece.
When it was first released, the original Mesoscope of 2005 was an exceptional tool which allowed aquarists to see an unprecedented amount of detail in corals, plants and rocks. In a short amount of time we were seeing Tegastes red bugs, strange new commensal creatures and getting real up close with coral tissues to evaluate coral health.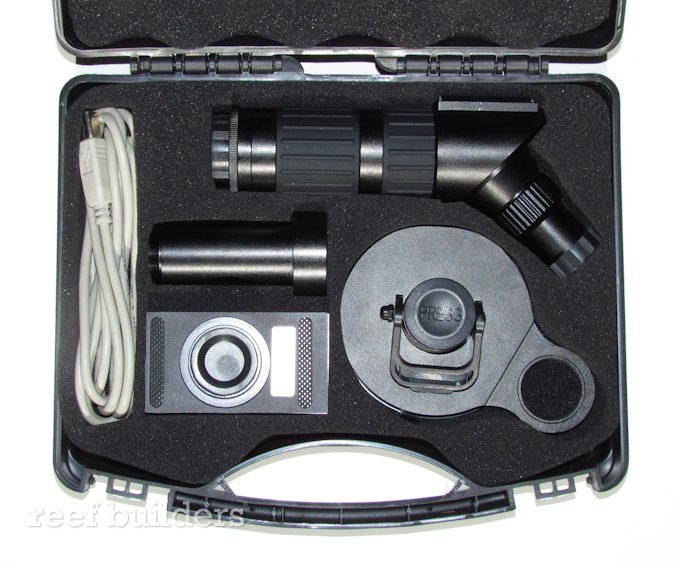 The process of navigating the visual field of a small to medium size aquarium with the first Mesoscope was a little bit hit n miss due to a highly magnified view with an abbreviated field of view. The suction mount which ringed the barreled optics worked but it was a little bit picky, tended to fall off when improperly mounted and worse, it occasionally failed allowing the precious instrument to succumb to gravity. ]
By every measure the Mesoscope 2 provides much improved experience where it is easier to see better close ups of the aquarium. Our first impression of the tele-macro viewer likened the Mesoscope 2 to a gun part, and that level of precision is evident during use. Even without taking pictures the Mesoscope 2's angled eyepiece makes it very comfortable to sit and watch a particular subject for extended periods of time.
After months of use and some travel the Mesoscope 2's large suction mount is extremely reliable mounting and dismounting from the aquarium glass with a flip of the high strength lever. The wider field of view makes it much easier to take your eyes on a stroll of your reefscape or aquascape, greatly reducing the time and effort to lock in on a particular target.
What is most attractive to some reefers and aquarists is the Mesosope 2's ability to make photographs. The unavailability of a DSLR adapter for the Mesoscope must have been the bane of its creator's existence as it was the first topic of conversation every time the viewer was brought up. Now in the twenty-teens the Mesoscope 2 does have a DSLR adapter available to make great quality photographs but the bigger ace is how well the standard Mesoscope 2 plays well with the small lenses of everyday smartphones which many of us carry everyday.
Above you can see gallery of images made on a handful of coral targets using only an iPhone 5 in just under twenty minutes. Photographic enthusiasts will love the quality of the pictures that the Mesoscope 2 can make with the DSLR adapter but the rest of us are looking for a simpler solution. In just moments it is possible to set up the Mesoscope, pull out your smartphone and fire up the photography app, and with a tiny bit of fiddling line up the camera lens to the Mesoscope 2's eyepiece and snap away. No threading, no assembly, and definitely no tripods required. This speedy simple process has encouraged us to take a lot of coral snapshots on the road with great pictures to show for it.
If a refractometer is an indispensable tool for evaluating the salinity of aquarium water then the new & improved Mesoscope 2 is also the kind of instrument that serious reefers can't do without. The $500 asking price seems steep up front but it pales in comparison to the general health of a coral reef aquarium system. Top tier LFS, coral farms and aquarium service professionals cannot afford not to have this tool in their arsenal.
The aquarium hobby should be so lucky that this level of optical engineering has been designed specifically for our aquarium applications and it'll be a matter of time until the wide ranging uses of the Mesoscope are discovered for fish breeding, coral growing and a host of other uses where an up-close look leads to answers and discoveries. [Ogles]
FCC regulations require us to inform you that we were given this product for review but our opinion and review of a product is never affected by how we acquire it