The Ghostly White triggerfish currently listed on Just Rare Fish is truly one of a kind, but also greatly over valued. Having been in captivity for four months, this beautiful white-bodied triggerfish has retained a bold coloration that is even better framed by its orange fins and tail. Surprisingly, the patch of tail spines indicating this is an undulated triggerfish have retained the most coloration by staying a brilliant orange.
Although a few xanthic undulated triggerfish have been collected over the years, these often change back to more normal coloration after a few days to a few months, but whatever is going on with this white one is different. It seems like the white colroation is more genetic than behavioral or environmental, and likely here to stay. While not exactly a true albino since it still has plenty of dark pigment in the eyes, the pattern of white body and dark eyes seems to fall in line more with a leucistic mutation.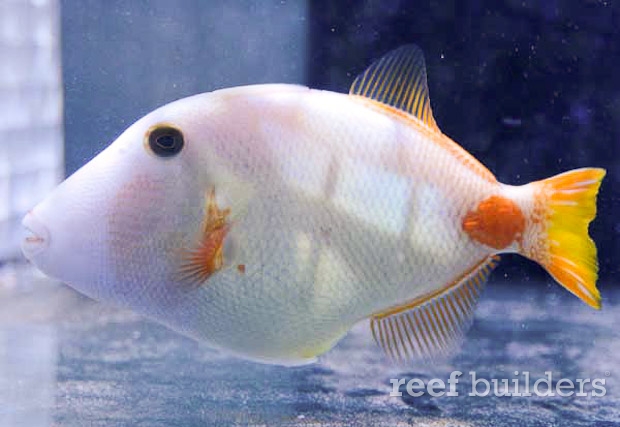 One aspect that is less palatable about this white undulated triggerfish is its stratospheric price of $8000! If a white yellow tang like Casper turns a $40 fish into a $1500 one, and a xanthic triggerfish jumps in price from $60 to $3500, then it stands to reason that this arguably rarer specimen should also be a little more, say like the $4000-5000 neighborhood but not more than double the cost, especially when you know deep inside that the Balinese fisherman who caught this ghostly white triggerfish barely got paid enough to feed his family for a day.
Opinions on pricing and value aside, this is one super wild triggerfish – we have to wonder if this white triggerfish will be the first of a many, as we've seen in the white yellow tangs which have become much more frequent since Casper popularized the type. One thing we can be sure of about this triggerfish, is if it survived in the wild with this "explicit" coloration you know this fish probably relied on the worst behaviors of undulated triggerfish pugnaciousness to stay alive.