Just under two weeks ago we swung by the offices of Innovative Marine and happened to stop by just in time to check out their first shipments of production made Nuvo Shallow Reef aquariums. Now we specify "production-made" because the tanks we've seen so far in the literature and the shows have all been pre-production but the tanks that are being made in masse are the final version, the real deal Nuvo Shallow Reef.
As good and polished as the Nuvo SR aquariums were that we saw at MACNA, the final sellable aquariums are an exceptional level of craftsmanship. Chamfered edges all around, or 'diamond beveled' we've also heard it called, trace every angle of the Nuvo Shallow Reef's aquarium glass. Every pane of glass is lined up perfectly and as thick as the glass is that Innovative Marine has selected for their new line, it is incredibly clear.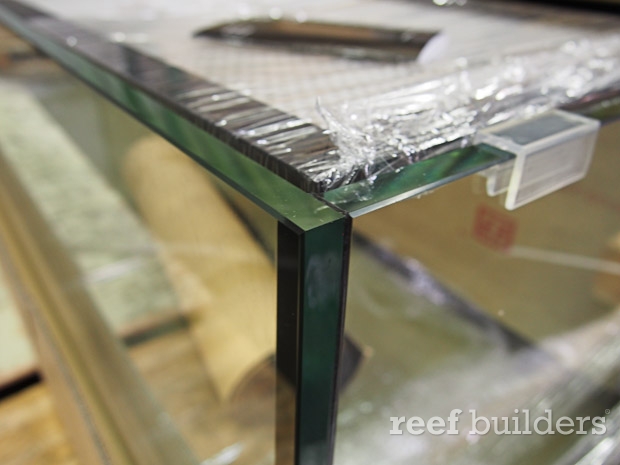 While on location we discovered that Innovative Marine is pre-assembling every aspect of the Nuvo Shallow Reef line, including the stands. Anyone who ponys up the real coin that these aquariums cost will be pleasantly surprised with the user experience of receiving a large All in One aquarium which is plug and play in the sense that all you'll have to do is unwrap the package. The tank even comes packed on top of the stand on its own pallet!
While it was impressive to see how much labor goes into the Nuvo SR aquariums before consumers receive them, it was even nicer to fast forward to Innovative Marine's lifestyle space. Within this area IM had already installed an impeccable layout of Caribbean invertebrates and captive raised clownfish. In this setting you can really see how the Nuvo Shallow Reef are really part of a larger vision by Innovative Marine to make the larger all-in-one into a lifestyle product.
The Nuvo Shallow Reef series is less for the diehard hobbyist than it is for our mothers, our family who like our tanks but don't want something as complicated as our little reef aquarium fusion reactors. However, once the hobbyists among us get a good look at the build quality and stop whining about not being able to drill and sump to their heart's content, we're pretty sure a new breed of reefers are going to learn to love working within the confines of the Nuvo SR's back filter area.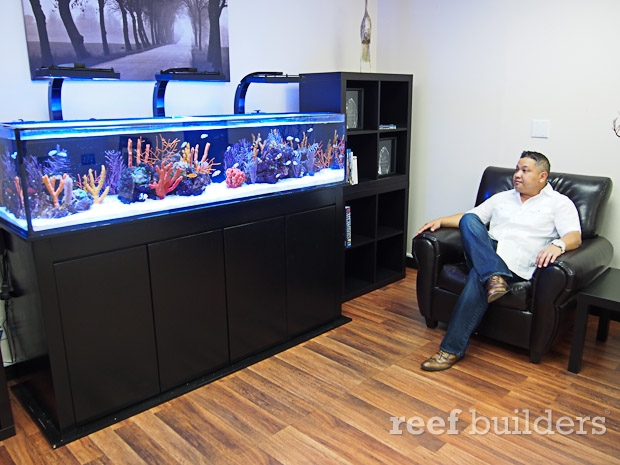 Remember how expensive a brand-name Starphire glass aquarium used to be just ten or even five years ago? Now for that same price Innovative Marine is offering unique aquarium format, with the stand, and more than enough filtration and gear to make it all work well, and room to expand and tinker and play in the back area.
The only thing about the Nuvo SR which is bring-your-own is the lighting system. It would be nice to have some bundled options of Nuvo Shallow Reef aquariums with Ecoxotics, AquaIllumination, Kessils or Ecotech Marine's LED offerings but these packages will likely materialize downstream of the supply chain, and we'll start seeing these as reefers and resellers become more familiar with the Nuvo SR's unconventional shape.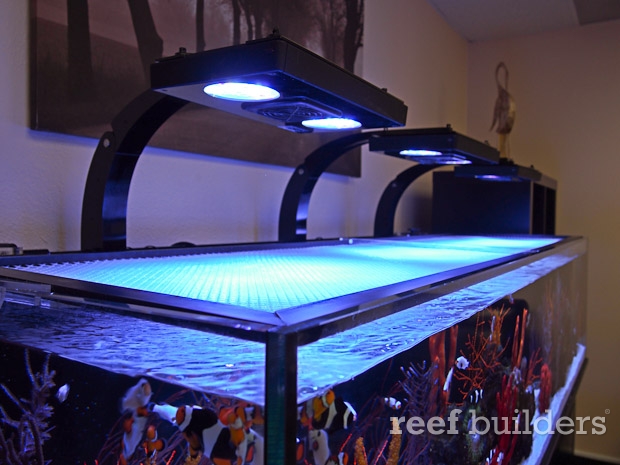 The spec sheet for the Innovative Marine Nuvo Shallow Reef has been covered and smothered in our previous reporting on this attention-worthy new product. At this point the first shipments of the Nuvo SR should have started making their way around the country. If history is any indication, we'll see the first few being set up at finer LFS, some lucky customers will be able to partake in the trickle of available tanks, and Innovative Marine will be playing catch up for a few months until the initial demand is satisfied.
Our first impression of the Nuvo SR is that this is going to be one product that makes a big splash in the aquarium hobby, for both fresh and saltwater tanks. The final product looks really great and the simplified equipment is going to increase aquarium success for a wave of new aquarium owners. The finished product speaks for itself in the pictures below; there's no substitute for seeing one in person yourself so be sure to look out for them at finer LFS and aquarium stores over the next few weeks.