We as aquarists tend to keep all sorts of creatures in our tanks, and some of them present a challenge to feed. We know what fish eat, and we know how fish eat, but sometimes the fish's schedule does not coincide with our schedule. Also, some fishes, such as seahorses, pipefish, and mandarinfish, are built differently than most fish in that they don't have a real stomach and must eat tiny amounts all day long. There are also fish that seem to have a higher metabolism than other fish do, such as Moorish idols, or just have a smaller mouth so they can't fill up at one feeding, such as the copperband butterflyfish.
In this post, I'd like to share with you my design for an easy-to-build target feeder for mandarinfish (which also works for pipefish).
Pod-hungry mandarins
A mandarin is a creature that was designed to eat tiny invertebrates, such as amphipods and copepods ("pods"). Pods are available in any-well-established aquarium, but an adult mandarin or pair of mandarins may either exhaust the pod supply or not get enough to keep them in top condition, which is breeding condition.
All fish should always be in breeding condition, as that is the condition they are always in when they are in the sea. From personal experience, I can also say that fish in breeding condition are more resistant to many diseases and parasites.
So to keep a fish like a mandarin (or a pipefish) in perfect condition, we may want to target feed it. However, we don't really want to stand there all day long with a turkey baster. That's where the feeder comes in.
Building the feeder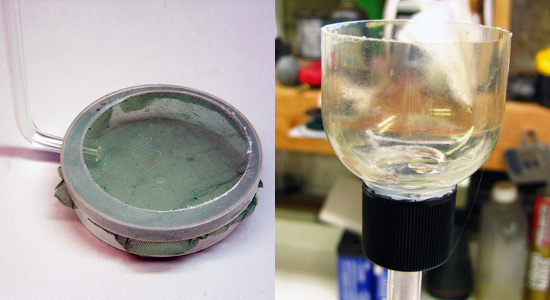 The mandarin target feeder consists of a flat plastic container, like the kind electrical tape comes in. Here are the steps for building it:
Drill a hole in the cover that's a little smaller than the diameter of the container.
Stretch a fine net over the opening of the container. I use an old net, but I think nylons will work as well. If you cut holes out of your wife's nylons, just be sure to cover the holes with duct tape so she doesn't notice.
Replace the cover to secure the netting and keep it taut.
Take an acrylic tube (like the kind you can get at a pet store or plastic shop) and bend a 90-degree angle in it. To accomplish this, I insert a spring into the tube and heat it with a hair dryer. Alternatively, you can just use a flexible tube.
Insert the end of the tube closest to the 90-degree bend through a hole of the same diameter in the side of the feeder. I cut the tube so the other end extends above the water surface.
Insert a funnel into the top end of the tube. I also glue some lead weights in the container, but you can use a rock or other heavy object to weigh it down.
That's all there is to it!
Deploying the feeder
Now I lay the feeder in my tank near the corner and hatch some baby brine shrimp. (I will explain how to build a brine shrimp hatchery at a later time.) Strain the baby shrimp so they are in a small amount of water, approximately 1/2 ounce, and pour them into the feeder.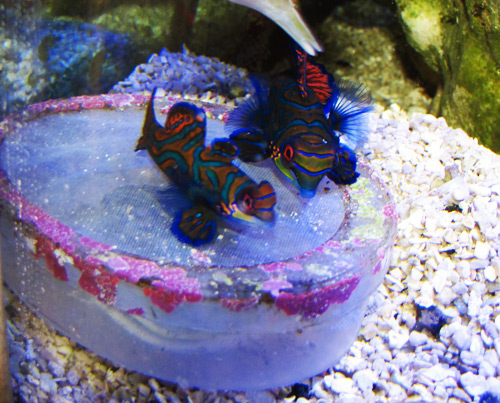 Most of the shrimp will stay in the feeder, and since they are attracted to light, they will swim to the mesh and try to get through—just as your mandarin is sitting there waiting to help them along so he can eat them.
I use my feeder every day, and my pair of mandarins has been spawning for about two years. My tank is very old, and I have no trouble keeping mandarins without additional feeding. This not only allows them to live, but also spawn, and I want all my fish in spawning condition.
And finally, a video of the DIY feeder in action: