Roa excelsa is a unique deepwater butterflyfish that is part of a very interesting genus of reef fish. The Excelsa butterflyfish has three sibling species including Roa modesta, Roa jayakari and the fairly new Roa australis. We've featured the modest butterflyfish, Roa modesta before, so it's time to give the superstar in the genus the proper awesome fish spotlight treatment.
Relatively recently the Roa genus was split off from the more widespread Chaetodon making the four species in the genus part of a very interesting offshoot of butterflyfish. Where your standard issue butterflyfish is part of the nearly 88 species of Chaetodon, Roa is an odd branch with just a few members like Chelmon and Amphichaetodon, but it shares some features in common with both Prognathodes and Heniochus.
At least a couple members of Roa including the Excelsa in focus today, have a preference for quite deep waters. And indeed, Roa excelsa usually is collected in Hawaii right alongside the equally illustrious orange-margin butterflyfish, Prognathodes basabei. However the sloping head profile, bold angular markings and very high 'war crest' of a dorsal fin are so much more reminiscent of a basic Heniochus butterflyfish.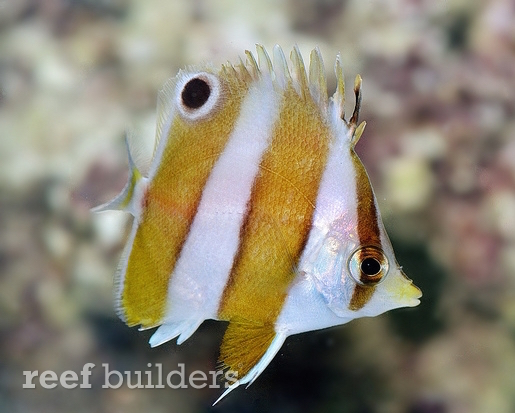 If you've seen Roa butterflyfish before, it was probably a Roa modesta which has the unfortunate nature of being a 'poor man's excelsa' butterflyfish. Roa modesta is found in the coastal waters of Southeast Asia at relatively shallow depth so this species does pop up in regular fish stores from time to time.
However, compared to the real-deal Roa excelsa, Roa modesta is the Chelmon muelleri to a true copperband butterflyfish. Roa modesta is a prototype for the genus which got better with Roa jayakari, and reaches a zenith of color, pattern, body shape and attitude that culminates in Roa excelsa.
The full attitude of Roa excelsa comes to light when you see it head on, with its prominent and large dorsal spines reminding any would-be predator that this fish is hard to swallow. The bold triangular white and black markings give this Roa species such a dramatic appearance that it is no surprise that rare fish collectors yearn for this very deep water species.
This fresh new batch of Roa excelsa come to us courtesy of Blue Harbor Japan which acquired a whole reef slope of deepwater Hawaiian butterflyfish. The images taken by staffer Kengo Zeze are some of the best we've ever seen of the species, precisely because these are some of the best specimens of Roa excelsa we've ever come across.
As an aquarium enthusiast of these rare and special deepwater fish, the only thing that we like more than seeing a single healthy aquarium specimen in an aquarium is seeing a whole biotope of butterflyfish. The sight of these two Roa excelsa and five Prognathodes basabei swimming together in their own dedicated aquarium, with realistic reef wall, cool water and reduced lighting is probably the best way to frame these living works of art.